Here at Spotlightr we get asked quite a bit about what LMS we recommend.  If you intend to build out a website complete with a course, then we currently recommend you use WordPress and the LearnDash LMS plugin.
Keep in mind we are not affiliates and we in no way benefit from you using LearnDash.  We want you to understand that this is a completely unbiased opinion of LearnDash and therefore different from the other articles you may read on this subject.
When configuring your LearnDash course the absolute best way to present your video lessons is with Spotlightr.  Not only do we provide tons of branding options and learning features, but we protect your videos from being downloaded via encryption.
And is you use our WordPress plugin it's even easier and more efficient.  More on that below.
First let's get into the purpose of this article which is all about LearnDash's Video Progression feature.  We want to present to you the pros and cons of using this feature along with any pertinent information we fell you need to know.
LearnDash Video Progression – What is it?
Before we get into this important LearnDash feature, let's touch on the LearnDash architecture for just a moment in case you aren't familiar with it.
In LearnDash you create Courses which contain Lessons, Topics, and Quizzes.  While Topics and Quizzes are optional and certainly used, the Lessons are what create the bulk of the Course and are the heart of LearnDash.
Within a Lesson you can add various learning materials such as videos, text, PDFs, audio, etc.  The vast majority of online learning is done via video, so of course LearnDash is going to put video at the forefront of it's learning methods.  You can add one or more video to every Lesson you add to LearnDash.
One other important item to first understand is LearnDash's Linear Progression feature.  This means that students must progress through each Lesson/Topic/Quiz one at a time in the order they presented and cannot skip around.  The other option is "free form" which means students can skip around to any lesson or topics they want throughout the entire course.
If you want to use Video Progression then your Course must be set up to use Linear Progression here: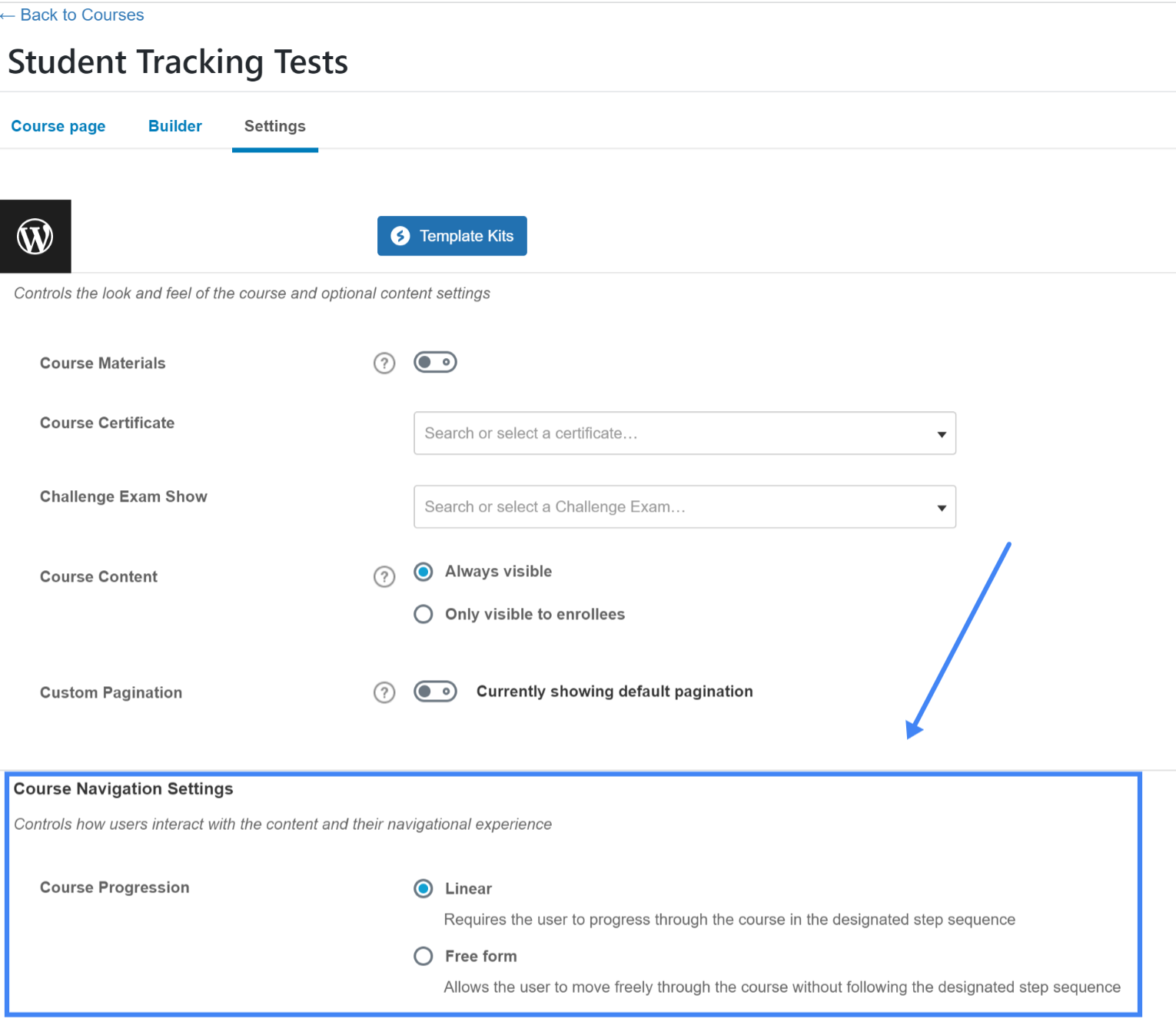 OK got it…so what is Video Progression?
Now that that is out of the way, let's define Video Progression…
The Video Progression feature requires that your viewers watch your video until the end before they can mark the Lesson or Topic complete.  It's a simple yet powerful feature.
Why Should You Use It?
If you want to encourage your students to actually watch the video material, as opposed to just marking the Lesson complete without having watched anything, then you can take advantage of this feature. 
One thing to keep in mind:  your student can simply scan the video forward till a few seconds before the video ends and just watch the last few seconds.  This will in essence "cheat" this Video Progression feature.  However, there is a way to mitigate that which we will show below.
What Are The Drawbacks?
Well, it could be frustrating for some students if you require them to watch an entire video before moving on if they are very familiar with the material already.  However, even if the student is familiar with the material they will just have to accept the fact that a requirement of the course is that you watch the entire set of videos, even if they are familiar with the material.
There may be some technical frustrations involved if you do have have your Course set up correctly. 
For example, if you leave your Course as Open (instead of Free or any other Course access setting) then Linear Progression isn't enabled and cannot be enabled.  This means that users can skip around all over the Course and don't have to take the Lessons in order.  We discussed this in the beginning of this article.  
Long story short, in order for this feature to work you need to have the course set to anything except Open and must have Linear Progression enabled.
When you create your Course there is a section where you set this in Settings:
How To Use It?
While you can do this for Topics and Lessons, we are just going to discuss Lessons.  It works the same for both.
When you are configuring your Lesson, you just need to go to the Settings tab and you will see the Video Progression option.  It's turned off by default.  Just enable that: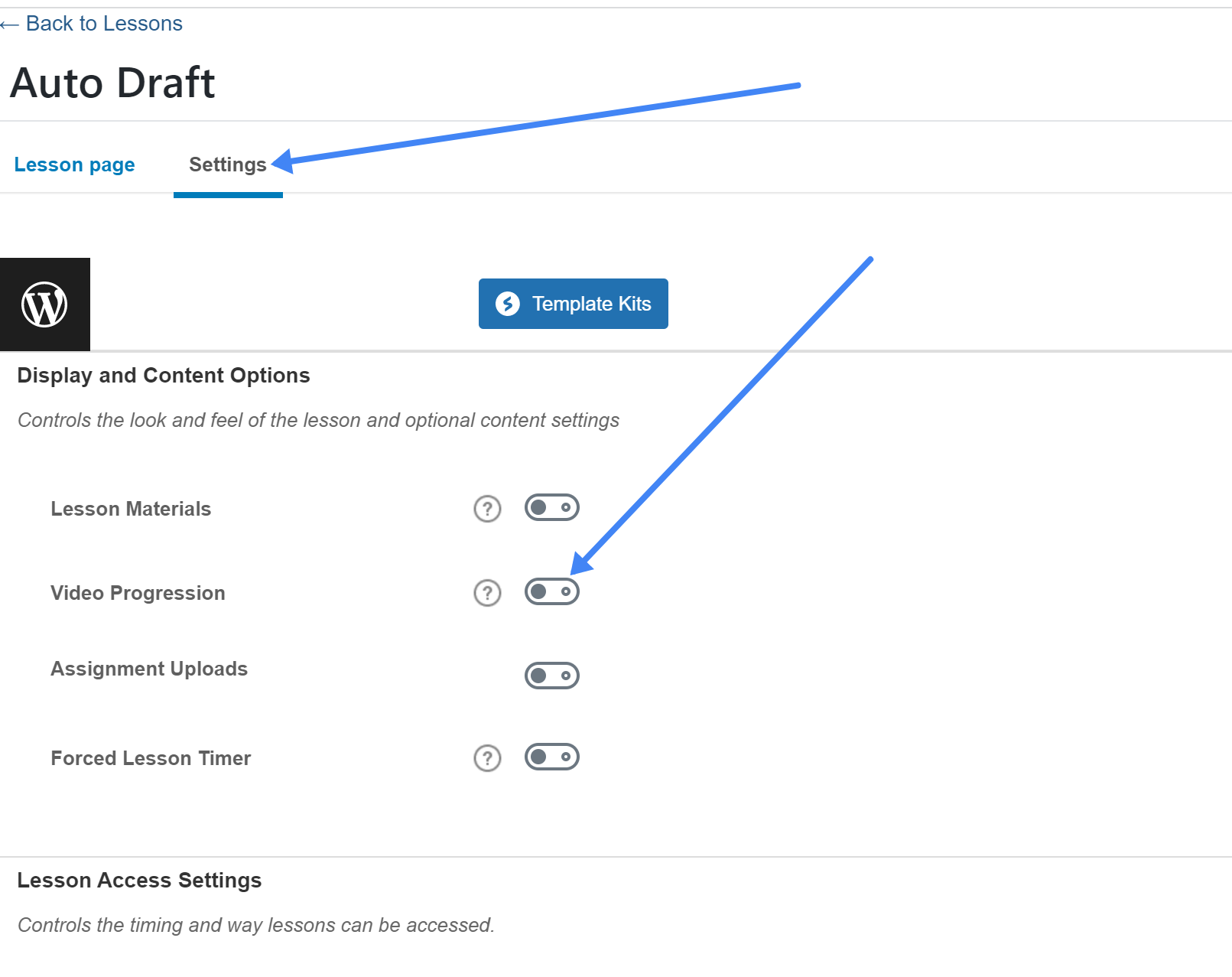 Just be aware that adding a video like this will add the video to the top of the Lesson page.  You can add it to other places on the page by using the [id_video] short-code.
How Does It Work With Spotlightr?
It's best used in coordination with our free WordPress plugin.  First install our WordPress plugin by following the directions outlined here.
When you enable the Video Progression option you will see an option to use a Spotlightr video: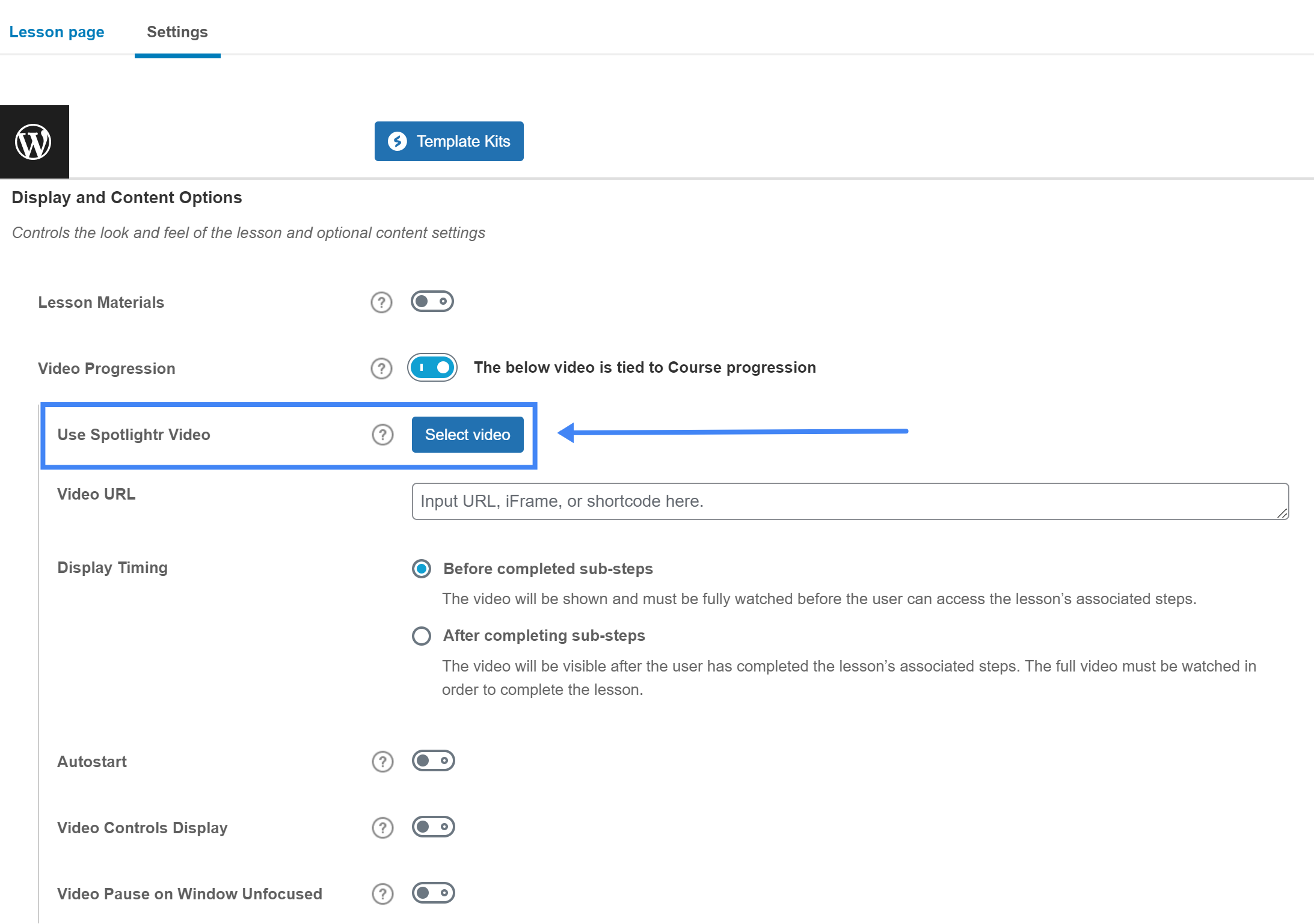 Just click the button to Select video and you will be presented with your Projects from  your account
Browse to the video you want to add and click the button to add the video: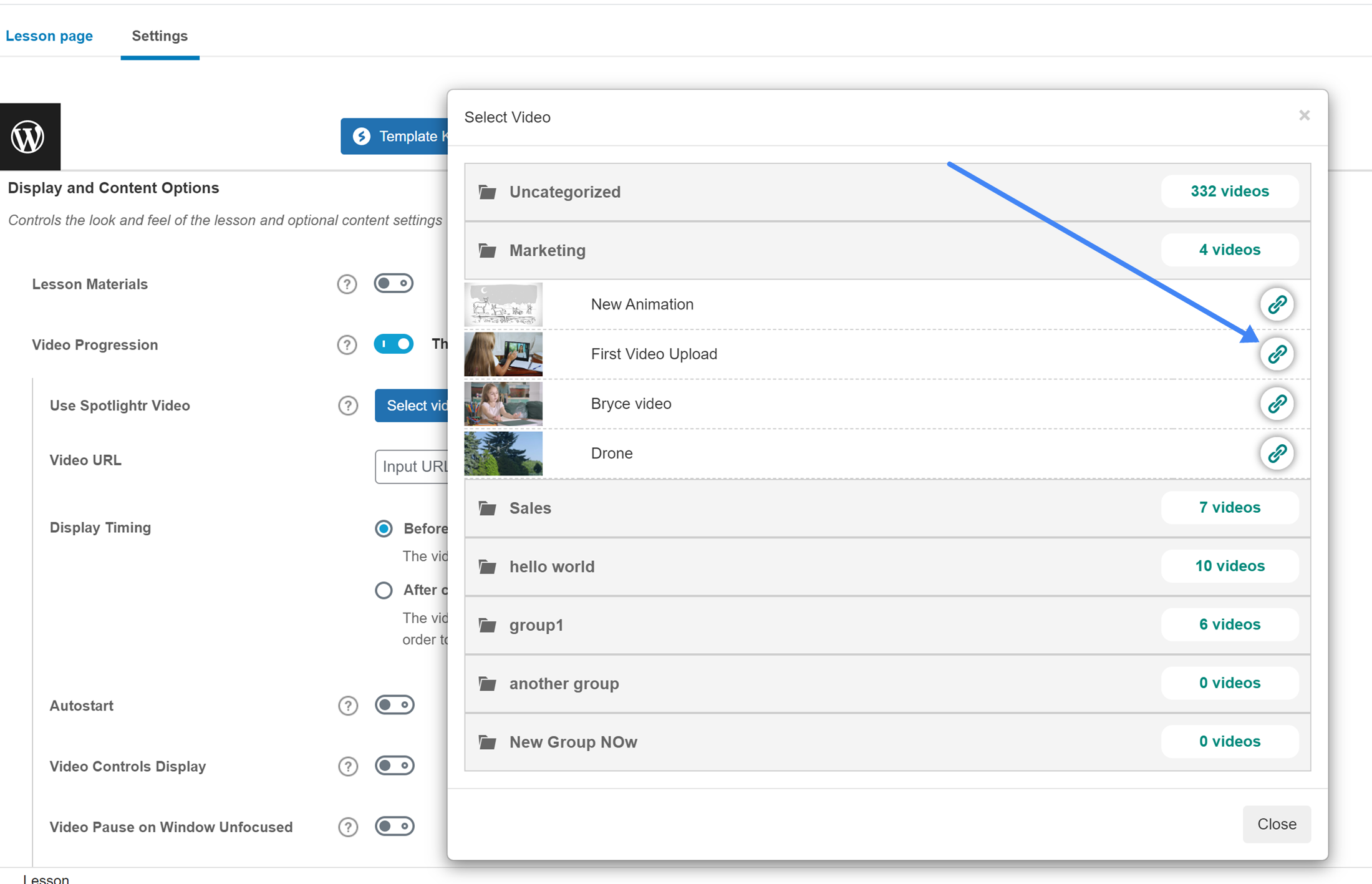 Choose any Publishing options and then click on Publish Video: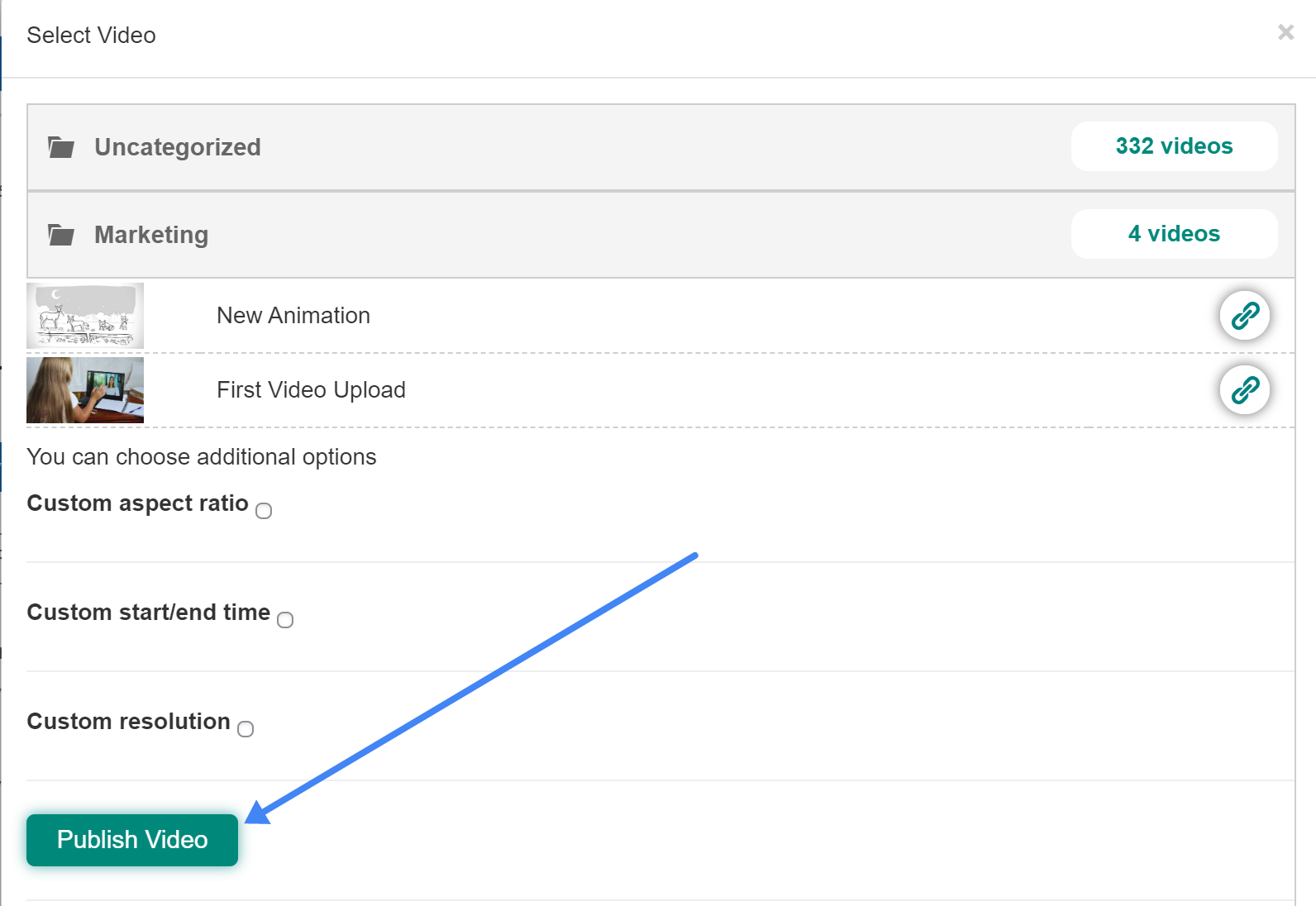 You'll then see the embed code automatically added to the appropriate field:

Video Progression Settings
Let's now review some other options you have for Video Progression.  We'll first start with the Display Timing and then the final 4 optional player settings: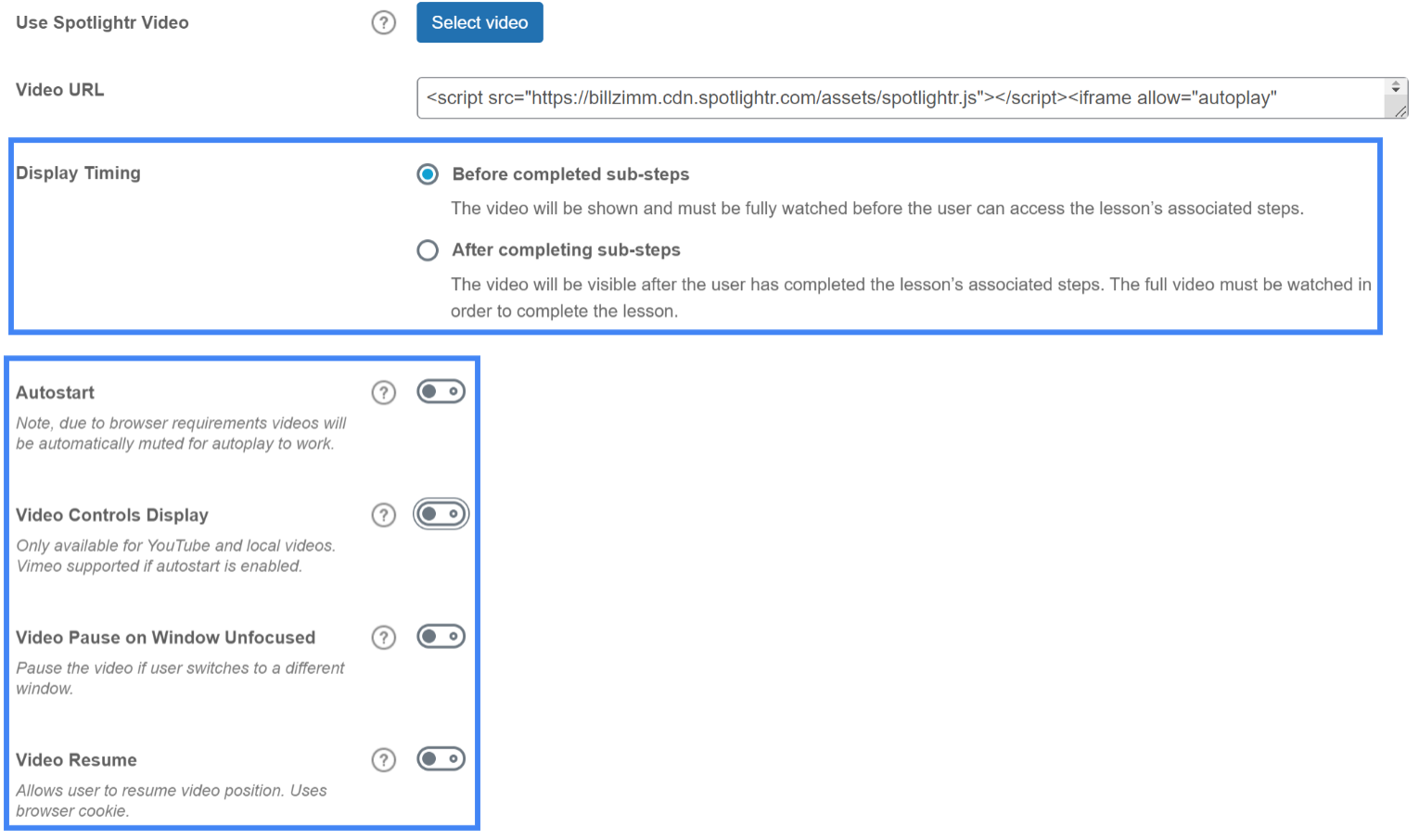 Before completed sub-steps – This is the default setting.  This means that the video will be shown right away and must be watched in completion before the student can access anything else related to the Lesson, like Topic or Quizzes.
After completing sub-steps – This means that the video will be hidden from the student and till be visible after the student has completed any Topics or Quizzes related to the Lesson.  Once those are completed, the student will have access to the Lesson video.  Keep in mind that the student still has to complete the video in order to mark the Lesson as complete.
What you decide to use here is completely up to how you have your Course organized.  Most people use the default setting, as they want the main Lesson video to be watched first and then followed up by the Topics and/or Quizzes.
We also have some other options that can be configured inside of LearnDash's Video Progression:
– Autostart
– Video Controls Display
– Video Pause on Window Unfocused
– Video Resume
These options are all best configured inside of the Spotlightr app instead of LearnDash.
Not only does LearnDash has some limitations with these features, but you can configure these inside of your Project theme and only need to be configured once.  Then every video you add to that Project will have the same settings applied.
Autostart
This will start the video automatically when the page loads.  We recommend you configure this via the Spotlightr settings as you can configure this just once inside the Project theme.
Note that due to browser policies, if you set the video to Autostart then the video will start out muted.  There will be a button on the player that the user must click in order to enable the audio of the video.
A very popular feature we have with Autoplay that the LearnDash option does not is the option to reset the video to the beginning once the "unmute" button is clicked.
Here is a demo video of how that works.
You can find this feature inside of your Spotlightr theme in Player Settings >> Autoplay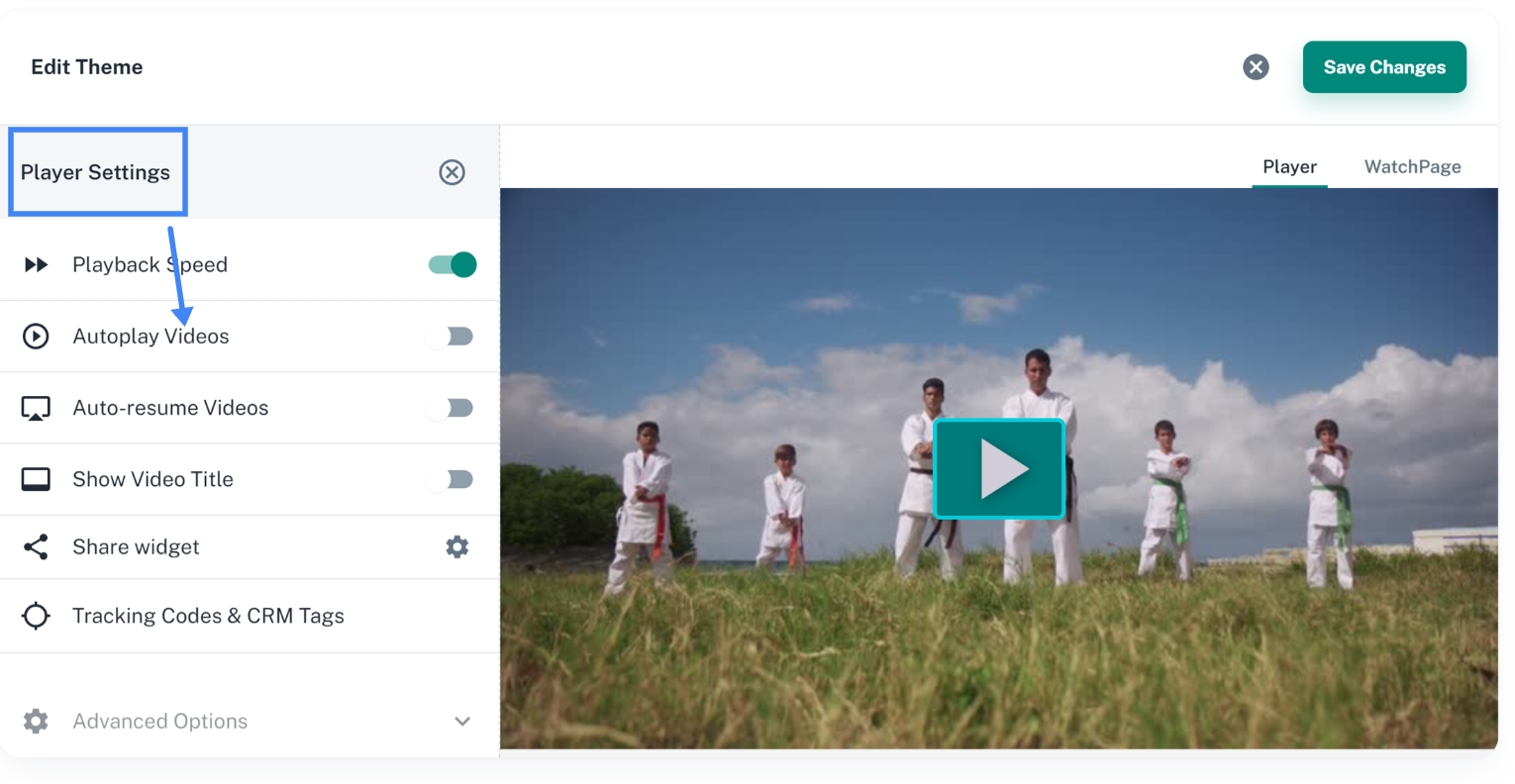 Video Controls Display
The goal of this feature is to prevent students from clicking the video timeline right before the end of the video.  If this is done, the video will finish and then the Lesson will be able to be marked complete.
So by removing the video controls, you prevent students from fast forwarding the video and forcing them to watch the entire video before they can mark the Lesson complete.
Here's how it works if configured inside of Learndash…
If the Autostart feature is enabled inside of LearnDash then the video controls will automatically be hidden.  But you can't hide the controls if Autostart is not enabled.  This does not make much sense to us which is why we encourage you to use the Spotlightr app to configure these features.
With Spotlightr each feature is independent of one another so you can configure your video exactly how you want.
Here's how it works if configured inside of Spotlightr.  You can do a few different things within Spotlightr…
Hide All Controls – This allows you to completely hide all of the controls at the bottom of the player.  The user can still click the player to play the video and click to pause it, and that's it.
Here is a demo so you can see how that looks.
This can be enabled in your theme in Settings >> Advanced >> Hide All Controls: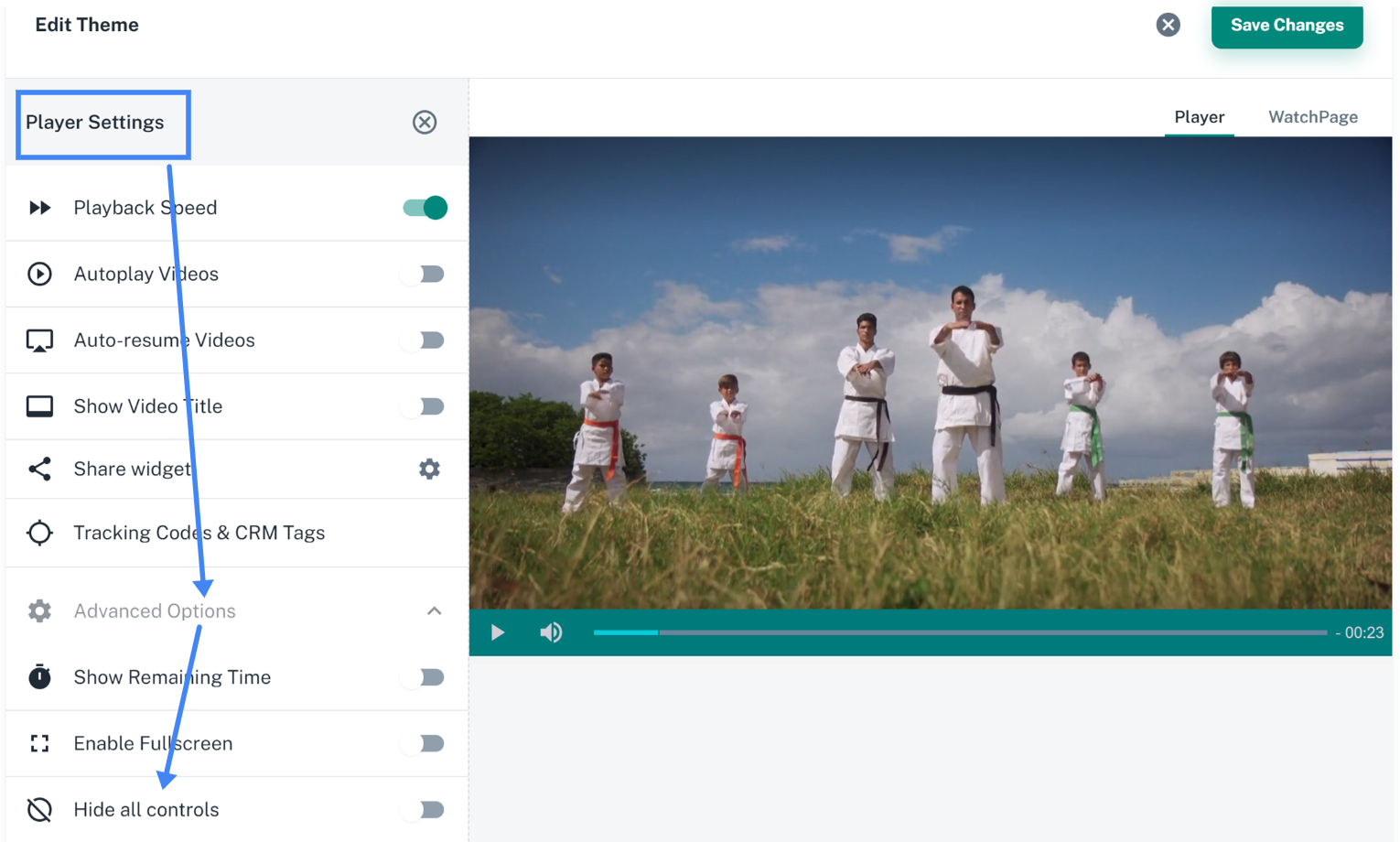 Hide Player Timeline
You can also hide the timeline only.  This will still keep the play/pause button and any other buttons you have configured for your player controls but hide the timeline so that students can't skip ahead.
Here's a demo of how that looks.
This can also be found in your theme Player Settings >> Advanced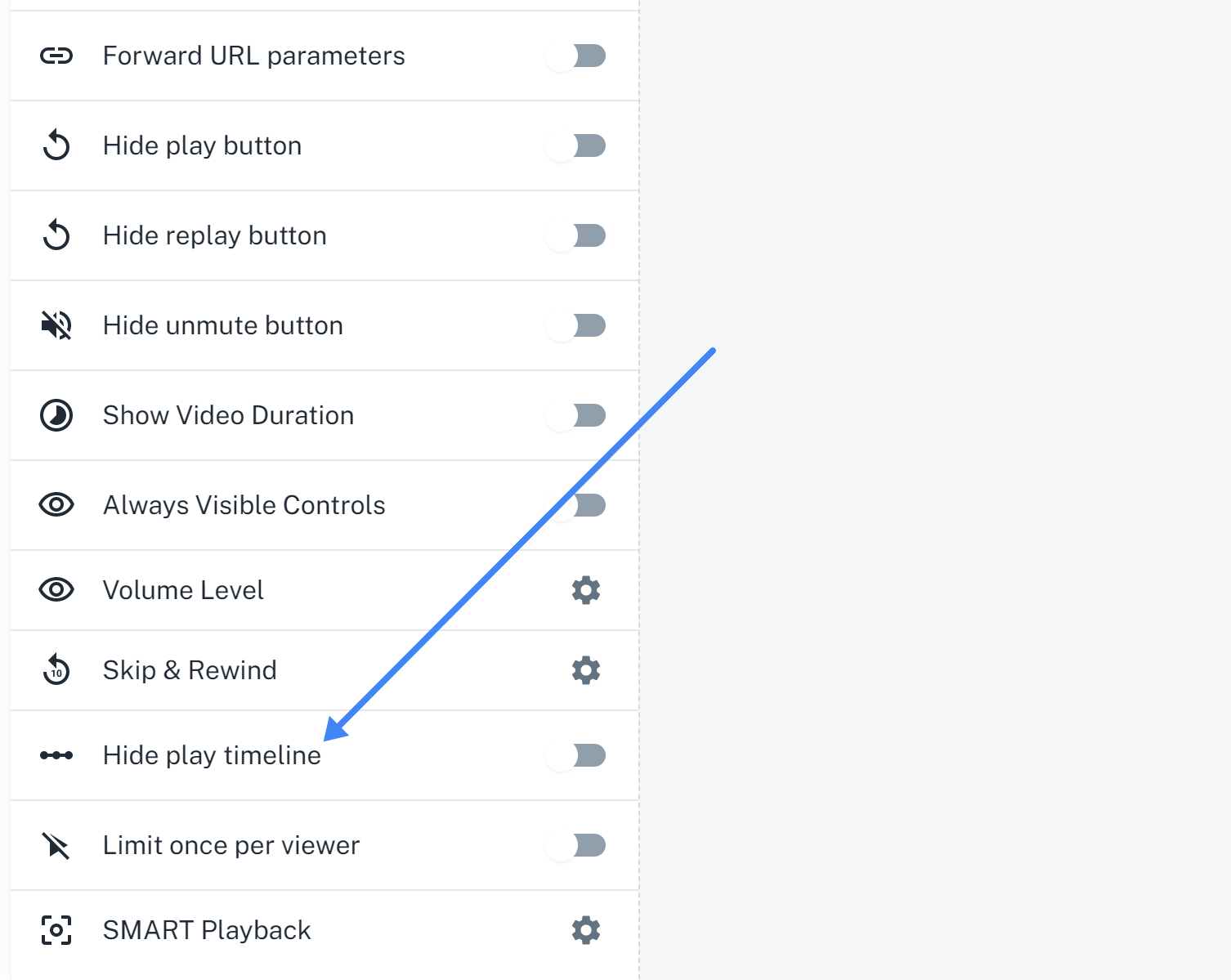 Either of these settings will help you discourage students from fast-forwarding their videos in order to mark the Lesson complete.  Feel free to experiment with them and see which one would work best for you.
Video Paused on Window Unfocused
The goal of this feature is to assist students in staying focused on the material and helping them to not skip any important parts of a video if they scroll the page or switch the page.
We call this feature SMART playback. 
Check this page for a demo of this feature.
Again, this can be found in the Advanced Settings.  It can be configured to pause the video when the students scrolls down away from the video and/or when the student goes to another browser tab or page.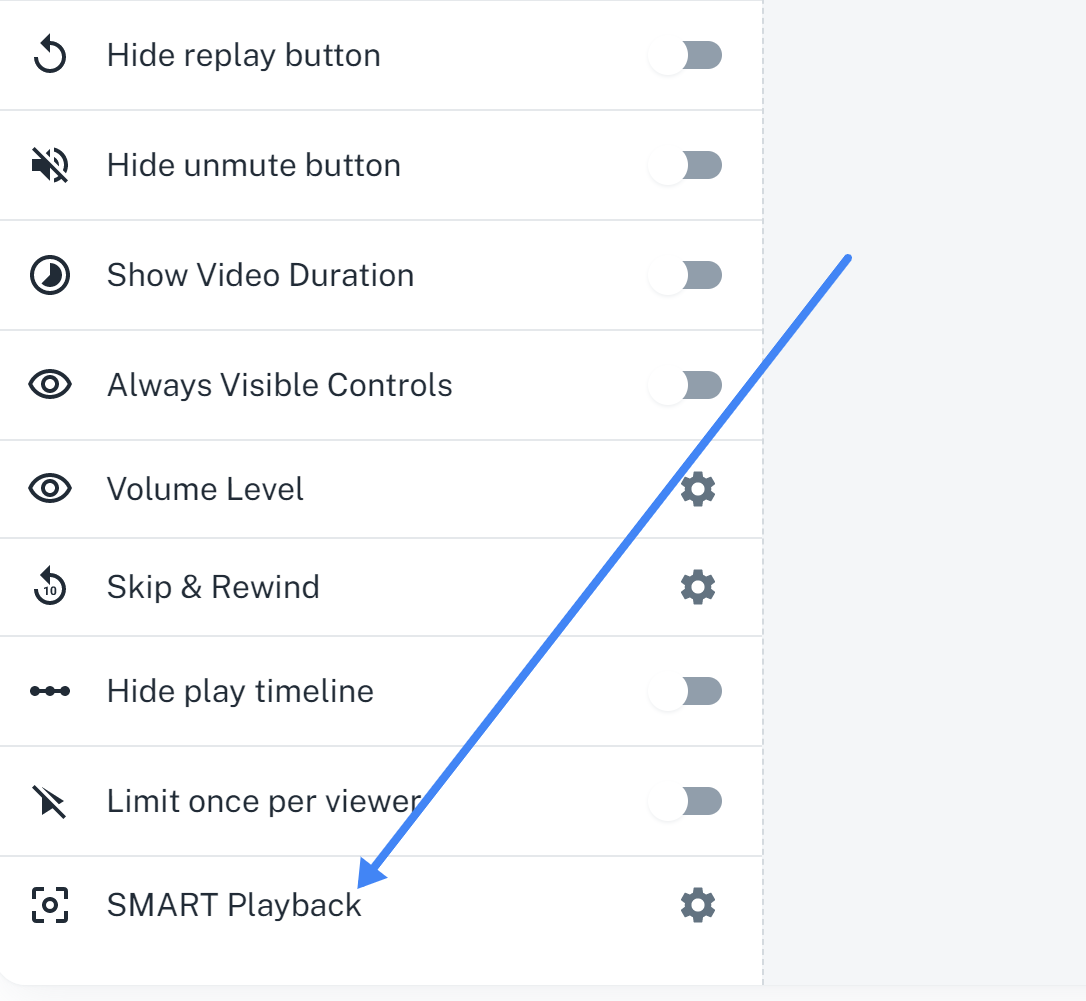 Video Resume
If the student closes the tab/window and comes back at a later time, this feature will ensure that the video starts from where it left off.
This option works similarly whether it's enabled via the LearnDash Video Progression settings or via the Spotlightr app.
Again, we recommend setting this via your Spotlightr Project theme.  This will ensure every video you add to that Project will have this setting enabled, so you don't have to enable every time you add a video.
Here's a demo video of how this works.
It can be found under Player Settings: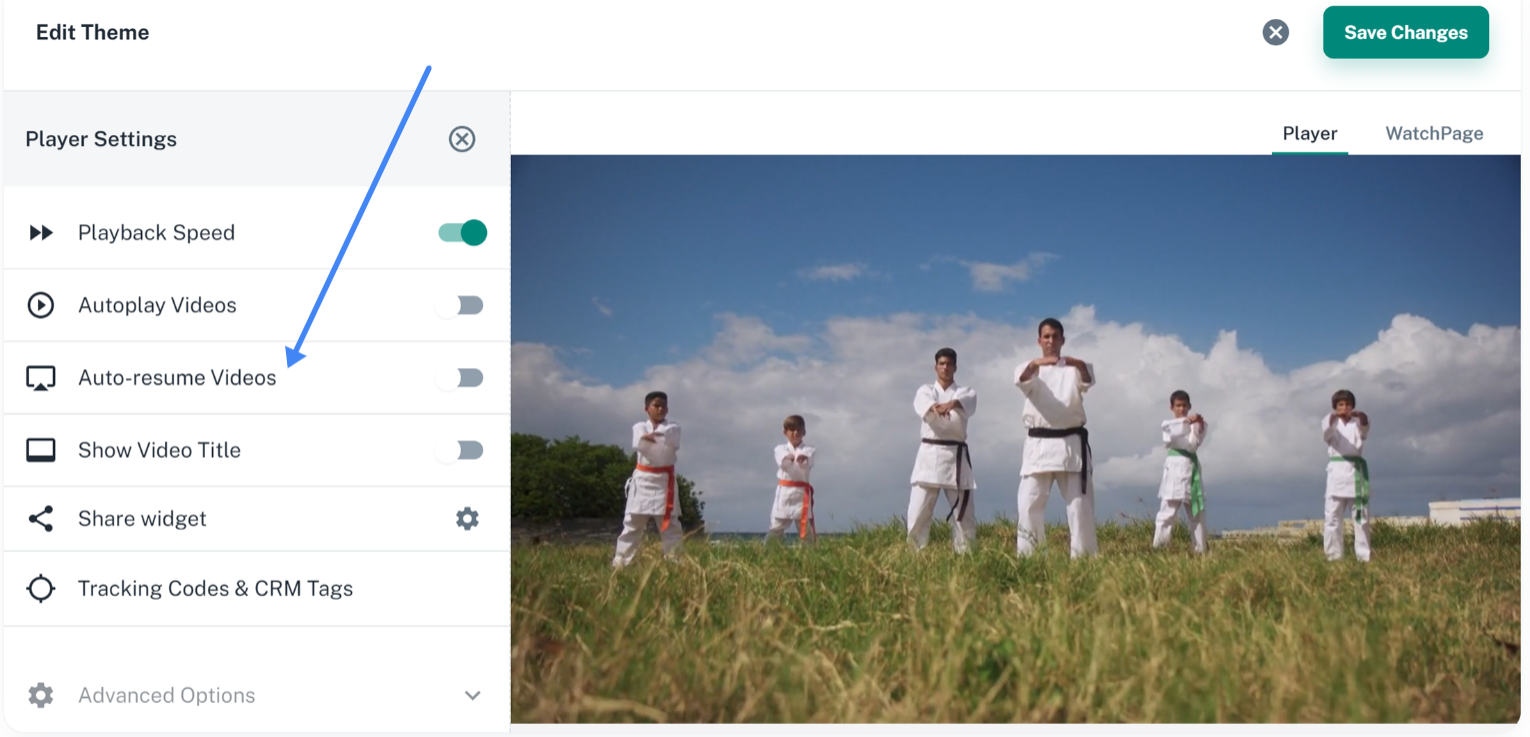 What's Next?
That wraps up our guide to the LearnDash Video Progression feature.  We will update this article as LearnDash changes and updates their plugin if there are any changes.
If you don't yet use Spotlightr, you can sign up for a free 14-day trial and see how quick and easy it is to get your videos uploaded, branding, and protected.
We are built and designed for teachers and course creators!
Spotlightr Video Hosting for Your LMS
Spotlightr video hosting is made for Learning.  Keep your videos on-brand and customize with more options than any other hosting service.
And with our video encryption, your valuable video courses are
safe from illegal downloads and sharing.
Try Spotlightr for 14 days, risk-free.  No credit card required.