If you're a content creator and want to take your business to the next level by creating courses, one of the first things you'll want to look into is a course creation tool. LearnDash vs LearnPress might both land on your shortlist — but which one is the best?
Before we continue, it's important to note that we are not affiliates for either of these plugins and have no motivation to be either positive or negative about either product.  This comparison is completely unbiased (except for any mentions of Spotlightr, of course.  We're the best).
OK, now that's out of the way…
In this article, we will look at LearnDash vs LearnPress from five main perspectives:
– How easy are they to customize?
– How about marketing?  Do they include any tools or training?
– How technical do you need to be?  What's the learning curve?
– How much do they cost?  Hidden costs?
– Do they accept 3rd party video hosting?  
Additionally, we will sum it all up by looking at some of the main pros and cons of using either one.
Customization – LearnDash vs LearnPress
You'll want your course to reflect who you are, as well as the specific message or brand that you're trying to communicate.
Both LearnDash and LearnPress are WordPress plug-ins, so they will be very flexible in terms of customization. However, some features set them apart.
LearnDash
LearnDash is a powerful WordPress plugin that gives you a lot of control over the customization of your courses. You can design your courses exactly the way you want them, without having to worry about whether the platform will be able to support your vision.
There are tons of 3rd party plugins that integrate with LearnDash that help you build it out the way you want.
As an added bonus, you can also customize LearnDash using code for fine-tuning specific elements of the course. However, that is not absolutely necessary, as plugins solve most issues and address most design requests.
LearnPress
Out of the box LearnPress course and lesson pages will look pretty similar.  You can customize it however you want as it's built on WordPress, but there are not as many 3rd party addons for customizing as there are for LearnDash.
All in all, LearnDash will give you more control over the customization of your courses, while still being fairly user-friendly. LearnPress just doesn't have the same 3rd party plugin support that LearnDash has.
If you want complete freedom to design your courses exactly as you imagined, LearnDash is the better option.
Marketing
In order to create a successful online course, you will want to be able to market it effectively. Unfortunately, neither platform offers any dedicated marketing tools or features — but they do have ways of integrating with other services and platforms to increase your reach.
LearnDash
LearnDash has plenty of 3rd party plugins that allow you to integrate with various email marketing services, such as MailChimp and ConvertKit. You can build out any marketing pages you need using any number of page builder plugins. Nothing is native to LearnDash, but you do have a lot of options available to you.
LearnPress
LearnPress is built on WordPress just like LearnDash, so building out marketing pages and funnels and connecting to your favorite tools is probably doable. Though with LearnPress it can be a little more tricky as they don't have nearly as many plugins built directly for them like LearnDash has.
It does have built-in support for WooCommerce which can be used to set up an eCommerce store that sells your courses.
Both LearnPress and LearnDash allow you to connect your courses and lessons to your CRM to apply tags when users start or complete a course, for example. Though there are much more options available with LearnDash when doing this via the WPFusion plugin.
All in all LearnDash is going to be the winner here just based on the amount of plugins built just for them, as well as the number of features in those plugins..
Technical Abilities
How easy is it to use? How much tech knowledge do you need? Can you just pick it right up and set up your course?
LearnDash
When it comes to using LearnDash, you don't need to be a tech expert or even a WordPress guru. Being familiar with WordPress from the get-go will definitely help. If you've never worked with WordPress before, there will be a learning curve.
But even with that learning curve, you don't need to be a programmer. WordPress is made so non-programmers can build and customize websites.
The LearnDash platform is well-documented, and it also has an extensive support center that can answer most of your questions. It also has a very active Facebook group.
LearnPress
Being a WordPress plugin, LearnPress is just as easy to use as LearnDash.  If you are familiar with WordPress already then it will be easy to pick-up and set up your course.
Both of these plugins are fairly easy to use.  The biggest question is how familar you are with WordPress. If you are a complete newbie it will definitely take time to understand the ecosystem of WordPress and how everything works together.  
Cost
Of course, you'll also want to know how much you pay for each plug-in and what you are getting from it. Here's a quick overview of how much LearnDash vs LearnPress cost:
LearnDash
LearnDash comes in three pricing tiers: Basic ($159), Plus ($189), and Pro ($329). The main difference between the plans is the number of sites you can use the plugin on:
– Basic: 1 site
– Plus: 5 sites
– Pro: 25 sites
Additionally, the Plus and Pro plans come with a few extra features, such as access to LearnDash's LMS importer tool and the ability to create custom certificates.
LearnPress
LearnPress, on the other hand, is free.  Though they do have many add-on plugins that cost money, some of which you may find are necessary.  For eample, if you want to use Stripe to manage payments that'll cost you $39.99.  You are only able to take Paypal payments with the free version, so you'll need to pay for one of their add-ons if you want to sell your courses with different payment options other than Paypal.
So, who wins here? LearnPress is free and you can certainly use the free version to get your course out and selling.  Just check the add-ons that you might need to get an idea of any future costs.  LearnDash, while not free, is certainly very affordable.
Video Hosting for Course Creators
Both LearnDash and LearnPress work in WordPress, and while you are able to upload video direct to your WordPress install, this is not recommended.  You will definitely need to use a video hosting platform.  
You can use Youtube for free.  But just be aware that using Youtube does have some undesirable effects on your brand and your student experience.  
Vimeo is also an option, but as a course creator you may want a Vimeo alternative that specializes in eLearning.
With a video hosting company you'll get better performance, clean and professional looking video players, and customization and branding options as well.
The Pros and Cons of LearnDash vs LearnPress
Let's take a birds-eye view of the pros and cons.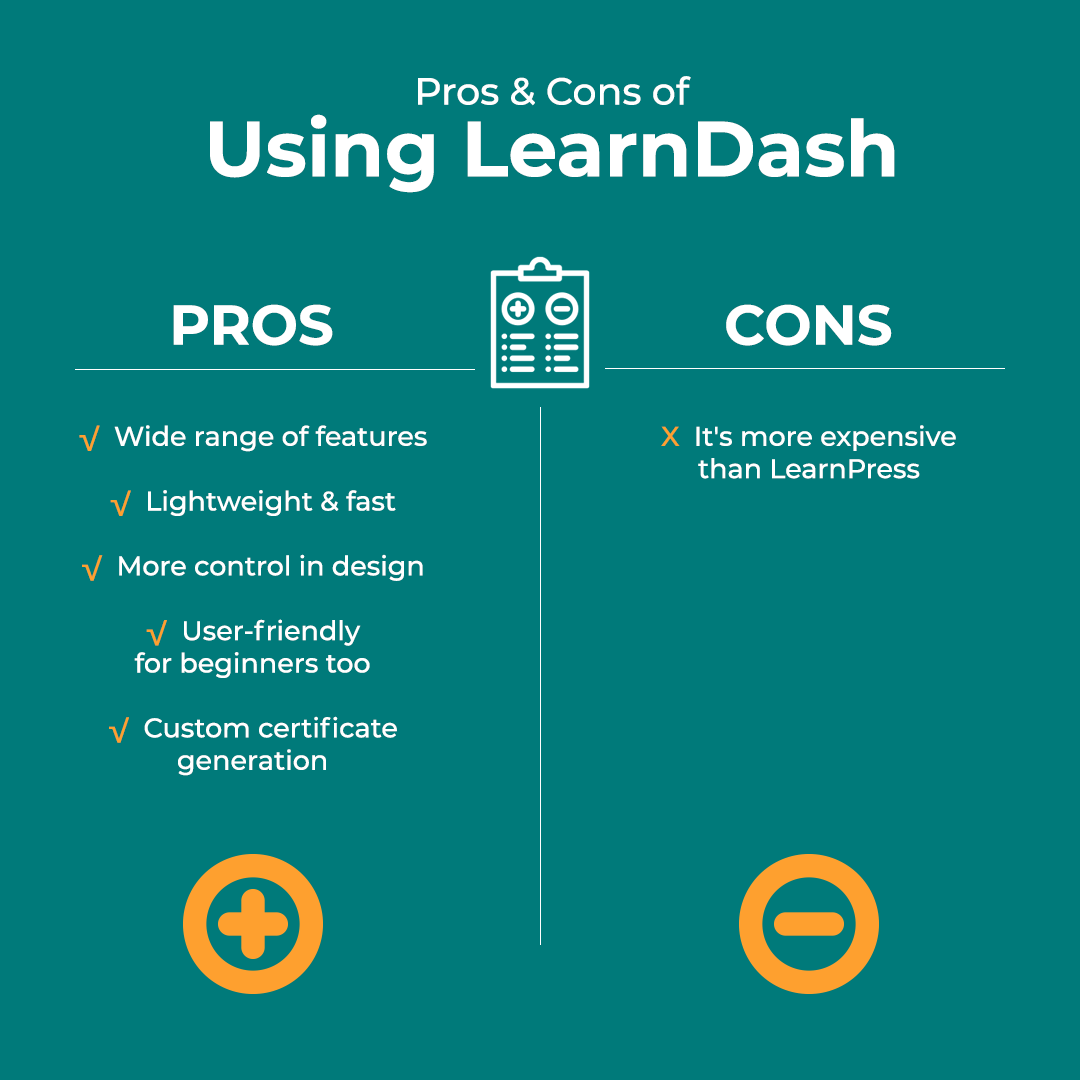 LearnDash Pros
One of the great things about LearnDash is that it comes with a wide range of features and bells and whistles, but it's also very lightweight and fast. This means that you can create a course that looks great without being a burden for servers to load.
With LearnDash, you get more control over the design of your courses. Plus, you don't need to be a tech expert to use it. The plug-in also offers a few features that LearnPress doesn't (such as the ability to create custom certificates)
LearnDash Cons
One of the main cons of LearnDash is the pricing. The Basic plan only gives you one site, but it costs about $160, which is a lot more expensive than LearnPress (about $160 more expensive, to be more specific.)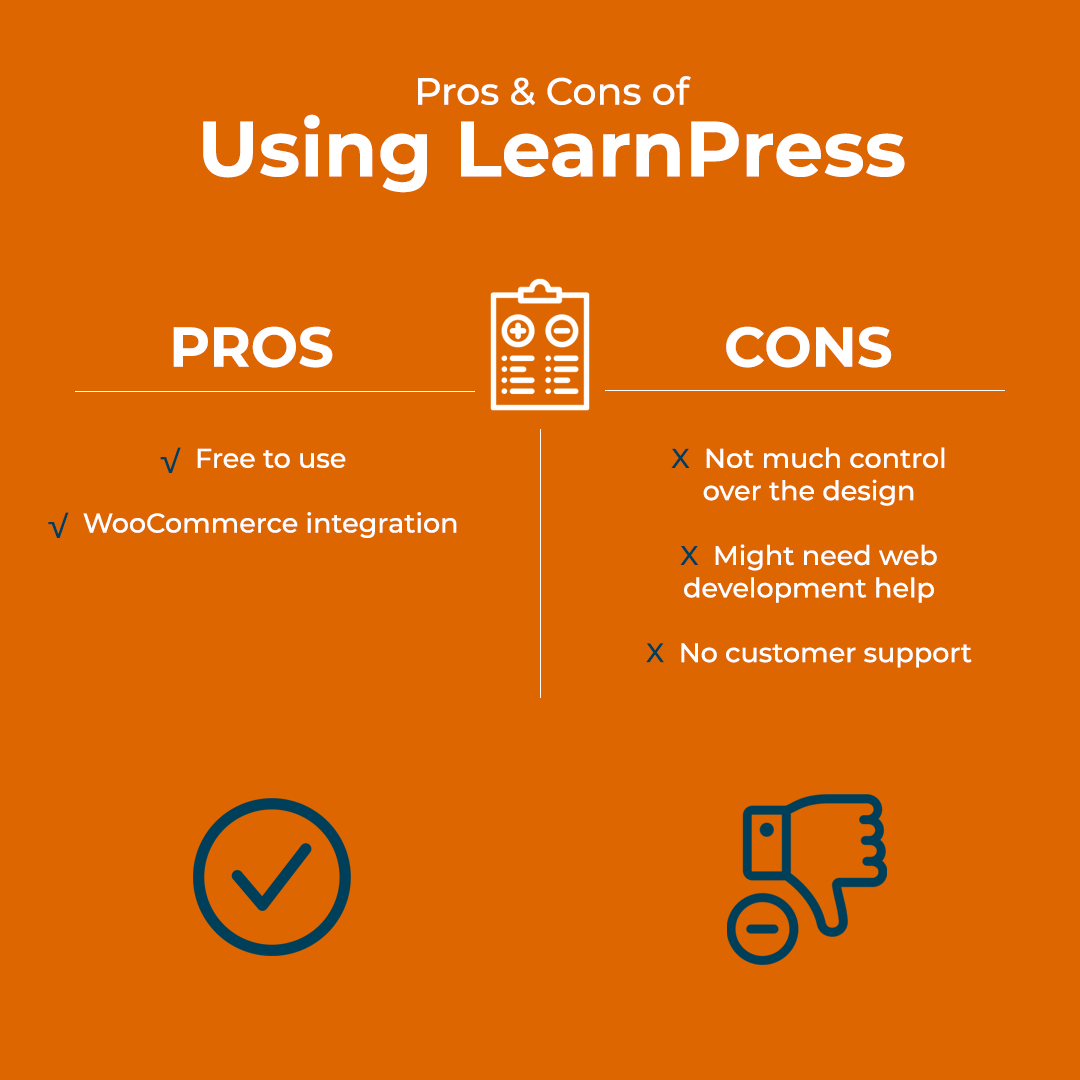 LearnPress Pros
As we mentioned before, LearnPress is free to use. It also offers a few features that LearnDash doesn't have (for example, its WooCommerce integration makes it a good option if you want to sell other digital products as well).
LearnPress Cons
On the other hand, LearnPress doesn't offer as much control over the design of your courses and you might need to hire web developers to help you use some of its features. Additionally, it's free price tag also means that there is no customer support if you run into any problems while using it.
So, what's the verdict?
One consideration to take that hasn't been mentioned yet is customer feedback across the web. If you do a bit of digging you can see lots of complaints about LearnPress, specifically about their customer support. This probably has a lot to do with the fact that LearnPress is just one small product of the parent company ThimPress. They mainly concentrate on theme development and theme sales.
Their documentation is also very sparse, which when combined with bad support, can be very frustrating.
Though that's not the only reason why we would say LearnDash is the clear winner here. If you're looking for a platform that is easy to use and doesn't require any coding knowledge, LearnDash is a better option for you. They are more flexible with more options and more 3rd party support. It's overall the better WordPress plugin LMS.
#1 Video Hosting For Course Creators
All the tools you need to build your course, customize your player with tons of branding options, protect your videos from piracy, and market your course to sell more seats.  Sign up for a free 14 day trial today, no credit card required!