LearnDash and Ontraport are two popular tools for online teachers and content creators for getting their courses online and marketing their business. If you are already using LearnDash and Ontraport, or thinking about it, then you will want to consider adding more functionality to your tech stack by using one of the following integration methods.
What Does Ontraport Do?
In short, Ontraport is a tool that helps you automate your sales and marketing. Their main features revolve around email marketing, CRM, sales pages, and payment processing (through payment processor integrations/ gateways.)
Ontraport is a great choice for online educators because it can help you create automation funnels that can be applied to students based on what they do inside of LearnDash. For example, they finished "X" course so send them "Y" email and register them for "Z" course.
What Does LearnDash Do?
LearnDash is a WordPress plugin for creating online courses. It's a complete solution that includes everything you need to create, sell, and deliver your courses. With built-in support for quizzes, exams, certificates, and more, LearnDash is a top favorite among educators.
Ontraport LearnDash Integration: How Are They Used Together?
Many users connect Ontraport to LearnDash because it's a great way to automate student interaction with courses. For example, you can use Ontraport to send out automated emails when someone signs up for your course (or when they finish a lesson, quiz, or other activity.) You can also use it to process payments and keep track of customers/ students.
One of the most popular ways to use both Ontraport and LearnDash together is by selling memberships to your courses. This can be done using either the native membership features in Ontraport or by using a WordPress plugin like Memberium (which integrates with Ontraport.)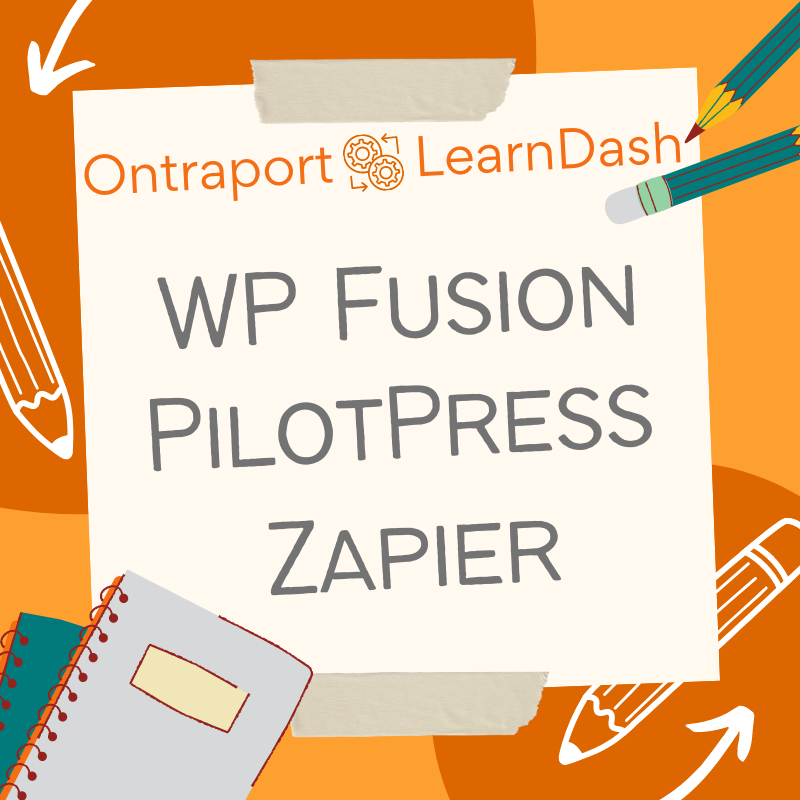 3 Ways to Connect Ontraport and LearnDash
You can connect Ontraport to LearnDash in three main ways:
Using PilotPress
PilotPress is a free plugin that links your Ontraport account and WordPress site. This plugin does not connect directly to LearnDash, but gives you the ability to create a membership site with content that can be protected via access levels and automatically gives students access to certain content. You can also drip content out to students every week, month, etc.
Some other functionality included with PilotPress:
– Client portal that customers can use to update their cards and manage their membership subscriptions
– Create sign-up forms that create subscribers and contacts
– Custom log-in forms that are compatible with with the any access protection you set up for members
All you will have to do is download the PilotPress plugin from WordPress and install it on your site, then connect it to your Ontraport account.
The main advantage of using PilotPress to connect your Ontraport and LearnDash accounts is that it is free and easy to set up. If you only really need to set up membership levels to protect LearnDash content then this will likely work well for you.
Using WP Fusion
WP Fusion is a WordPress plugin that can be used to integrate Ontraport with LearnDash. This solution will be the most robust and give you the most options as it directly connects to LearnDash and supports communication to and from each other.
Any new students that register for a course can be automatically added to Ontraport. And then you can use Ontraport tags to segment students and automatically perform a variety of actions.
Here's what that means…
You can apply Ontraport tags to students based on actions that they take, for example if they start a new course or complete a course, or if they start or complete a lesson. You can also tag them if they pass or fail a quiz.
And then once tagged you can:
– Restrict access to a course or a lesson based on that tag
– Automatically enroll that student to a particular course or a LearnDash group
And don't forget, by tagging them when they complete lessons and courses you can keep track of where they are in your course-work. You can also send data from quizzes taken in LearnDash and add that to custom fields in Ontraport
And what may be the most important aspect to this integration is the advantage of being able to sell more courses. Based on their tags you can send students to certain sales pages when they try to access a course, or send them automated email sequences.
The downside to using WP Fusion to connect Ontraport and LearnDash is that it's not free. Their pricing starts at $247/ year and can go as high as $540/ year, depending on your needs. However, most users who've tried WP Fusion say the price is worth it.
Using Zapier
Zapier is one of the single most popular tools for connecting two software platforms that don't have a built-in integration. Zapier allows you to connect over 4,000 different software platforms (including Ontraport and LearnDash) without any coding or technical knowledge required.
Yes, there is a learning curve. There's a learning curve to pretty much every online app you will use. If you are even a little tech-savvy then you shouldn't have any issues figuring it out. If you are an extreme novice, then you might need to watch a few videos to see how others are using it to put pieces together and get that "aha" moment.
Zapier provides one-way communication between the two, so you can set up a "Zap" to be sent from LearnDash to Ontraport (or from Ontraport to LearnDash). For example, you can set up a trigger so that when a student completes a course it then triggers something to happen in Ontraport like adding them to a new email drip campaign.
You need to check on the pre-built Zapier integrations to see what events in LearnDash can trigger an event in Ontraport. (Although you can still create connections if something isn't pre-built. You'll just need some coding experience).
Other things you can with Zapier are:
– Update a contact when they have completed the course
– Create a contact when someone enrolls in a course
– Automatically tag someone in Ontraport when they finish a lesson
Zapier does have a free version for up to 100 tasks/month, and then pricing starts at $19.99/month and goes up from there depending on what you need.
You Need The Best Video Hosting For Courses
Spotlightr is the only video host that supports your courses, your marketing funnels, and your budget.  Sign up for a free 14 day trial today and see for yourself.  No credit card required.