In order for people to buy from you, they need to know, like, and trust you.
That's true no matter what you're selling or who your clients are.
But it's particularly important in the healthcare industry, where a lack of trust can have a direct impact on a client's willingness to seek out care, share information, and follow recommendations.
Needless to say, we were thrilled when Frank Kjerstein agreed to chat with us about how he's used video to build trust with clients online.
Frank is a Denmark-based psychologist who specializes in psychology for the average Joe. Along with his team, Frank is working to remove any lingering stigma around contacting a psychologist — something video has helped with tremendously.
We talked with Frank about what makes his approach to psychology unique, attracting "good fit" clients, the challenges of maintaining client confidentiality when using video, and more.
What makes your business different from other psychologists?
"First, we have no waiting time — which all of our competitors do," says Frank. "In Denmark, the national average for the first session with a psychologist is roughly three months…when you finally get [an appointment] your life is even more broken than if you were able to access our services when you have the need."
Another thing that sets Frank and his team apart from others in the field is their accessible, human approach. "We speak plainly, we don't speak 'academic', we don't speak in tongues… we're basically everyday Joe's psychologists."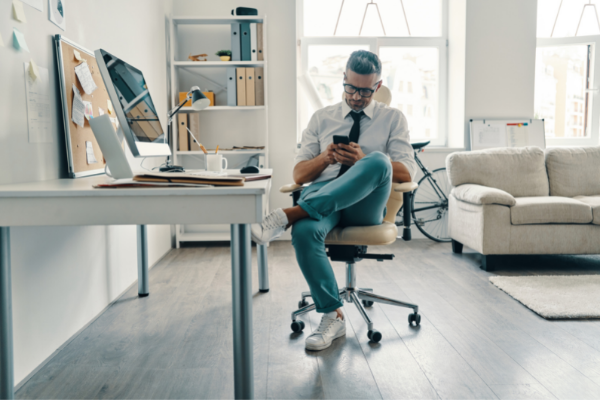 How has video helped you attract the right clients?
Frank says that video has helped his team present who they are and what they do in a very understandable and relatable way. This has made it more efficient for them to attract the right kind of leads — clients that need their services and are compatible with the way they've branded and recruited.
"We spend some energy to be clear in our communication, who are we a right fit for and who we might not be as relevant and fit for," explains Frank. "Video is just perfect that way because you can easily show that you're also a 'plain Joe' yourself. [Clients] can just evaluate immediately, 'Is this for me? Is this someone I can relate to and intuitively trust?'"
Attracting good fit clients is important, so Frank says his team has made an effort to communicate in a way that also pushes the wrong type of clients away. "We don't want to be known for, you know, holding the keynote at a conference. We don't want PhDs, we want plain Joes. I had to make sure the copywriting was as intended and the demographics match what we were actually trying to achieve."
To accomplish that, Frank hired a professional videographer to help film 14 testimonial videos. These videos tell client stories in a way that's highly relatable, while giving a glimpse into what prospective clients can expect from working with Frank and his team.
"Seeing the clients after the session talk about what they gained from it, what it was like to be with a plain Joe psychologist, has just been easy to communicate what we're trying to do and what resources you can expect from it," explains Frank.
Are there challenges with using video in a field like psychology?
Frank says that, because of confidentiality rules, it's not common for psychologists to have as open a video testimonial page as they have. This goes for other professions, too, like lawyers and accountants.
"We had to make some legal agreements to make sure that we could actually show these videos (even if people change their minds) because our license could be in jeopardy."
Given these legal considerations, Frank knew that YouTube wouldn't offer the level of control and security he needed. That's when he turned to Spotlightr.
"Having YouTube push this everywhere by algorithm, it's out of our control. So what we've done by using Spotlightr is take full control of where and when our videos are shown… Spotlightr was an obvious choice in that regard."
Instead of getting led astray by the YouTube algorithm, Spotlightr's cleverly timed calls to action (CTAs) make it easy for potential clients to take the final step of actually contacting a psychologist.
"Once they have seen the video page, they see our faces and we're very approachable…they also see someone like themselves, maybe even 14 if they want to," Frank says of the testimonial videos. "Then the video ends with a CTA. They can just click right on the video 'Book a session'."

So they can go right from watching the video to booking a session?
"That sounds of course very effective in terms of marketing and leads, but for a psychologist it makes it possible for people to act when they have the courage," explains Frank.
"Most people are actually a bit scared of calling a psychologist…because you still need to call if you can't book online. With us you can just do it online, you don't need to confront the psychologist just yet."
In addition to video testimonials, Frank has also used Spotlightr to embed videos on the booking page in order to reassure prospective clients and help them get over any lingering hesitation.
"On the booking page we have a video of myself and two other psychologists who talk them through how to fill out the form. We also mention that we are approachable and accessible," adds Frank. "So once you get to the booking, we are human in that aspect as well."
What would you tell someone like you who's thinking about using video?
Frank says that asking clients for a testimonial can be intimidating, especially in a field like psychology, but that shouldn't stop people from doing it. " I know it's scary to ask for a video testimonial, but it just makes you so much more accessible."
Frank was surprised to discover that working with a photographer to create the testimonial videos was actually fun. "It was like the day before your wedding being treated and pampered in every aspect," laughs Frank.
If Frank had to do it all over again, one thing he'd do differently is film several testimonials at a time instead of doing them one by one. "I'm glad that once I got it rolling I had so many say yes, because then I could just keep going," says Frank. "But doing it again, I would wait until I had two or three. I wouldn't do just one at a time."
You can learn more about Frank and his business at https://www.djursland-psykologen.dk/.