Happy Spring!  We've spent the last few months on mostly improvements to already existing features but we did squeeze in some new stuff.  Some of the new features we important, but subtle.  Let's get into it.
Live streaming was released to everyone on the platform.  This was a big release and we're excited about where it will go.  Check out our knowledge base entry for this feature if you haven't had a chance yet.  We look forward to your ideas on improvements and features.
Projects can now be archived which is useful for clearing out old stuff that you still want to keep so your project listing stays clean and easy to navigate.
Comments can now be left on videos which we believe makes your learning content that much more interactive.  Viewers can leave comments and you as the instructor and publisher can reply to comments.
We added support for MP3 files, to already supported WAV files, giving you more flexibility on your audio uploads.
Let's get into the full list of improvements and bug fixes and then get some more details out on some key new features released over the past few months.
Apr 11, 2023 – Current platform version 5.1.30
New Features & Improvements
Archive Projects
Live Streaming
Comments on videos
HubSpot Rework
Added ability to edit translations
Additional audio track, mp3 files
New API documentation
Optin form improvements
Team member invitation
New color handling
Added export for all videos from main project dashboard
Re-enabled Audience / Reports automated emails
Player toolbar improvements
Responsive watch page content
Transcript generation UI improvements
Added parts of seconds to thumb time selection
Theme favicon in galleries
Added API key login option for WP plugin
Analytic reports UI / functionality enhancements
Wistia import improvements
3DS Purchase improvements
Theme creation improvements
Popup / gallery embedding improvements
WYSIWYG improvements
Ability to delete access codes
Improved volume bar handling
Improved handling of the background gradient on gallery pages
Better handling of the individual analytics engagement chart
Quiz select time from video instead of manual input
Comments option show on timeline
Playlists in small player bug fix
Fixed global search issues
Fixed Trailer Video Search in Gallery
Fixed various password lock issues
Fixed overlays not updating in preview
Improved gallery UI elements
Multiple password theme and individual conflict
Popup embed fixes
Fixed multiple load counts
Live stream performance / experience improvements
Fixed interactive transcripts showing when not selected
Editing transcripts and translation fixes
Playlist video changing fixes
Subtitles fixed on iOS
Video thumbnail embedding aspect ratio fix
Tracking fixes on embedded modules using ?contact=
Quiz status corrections in reporting
Fixed Gallery table pagination
Integration rework for Zapier
Adding MailerLite integration
Adding Drip integration
Adding ConvertKit integration
New overlay templates
Archive Projects  
If you have old projects that you don't want to delete but don't in the way of your day-day-, just select the project you want to archive and click the new archive button here:

And then click here to archive: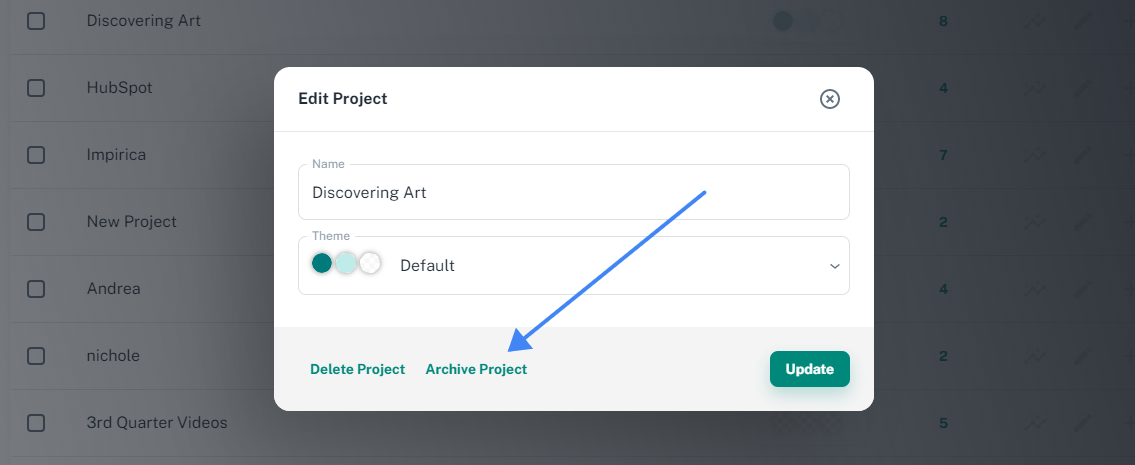 Now a small icon will apper here to incidate you have one or more archived projects.  If you ever want to unarchive the project, just click this icon and select the project:

Comments
With comments you can communicate with your students right inside the video.  Students can leave a comment and then you can reply to them.  They can also be public or private.
*Coming soon – Email notifications for account owner and also viewers.
Check out this short demo video:
Live Streaming
Hold live training sessions or webinars right from your Spotlightr accound and with your Spotlightr player, completely customized to you and your brand.
Once the stream is finished, it will save right to your account automatically for publishing.
This tab is available on the same page you add your videos, and our knowledge base entry should help you get that set up!

Hubspot Rework
It's worth mentioning here because there's some pretty sweet stuff you can do with this integration.  We just reworked the integration due to some Hubspot changes. But with this integration you can:
1 – Collect leads from your videos and send them right to Hubspot
2 – Use your lead info to add personalization to your videos.  For example, welcome them to the video by each viewer's name.
3 – Dynamically move them to different Hubspot lists depening on their video viewing.  For example, move add leads to a new list if they watched 50% of a particular video.  This is great for segmenting your leads to give them more direct marketing messages!
Check our complete Hubspot integration break-down for a more in-depth look at all of this functionality.
Here's what's next…
More integration work.  We're going to add Drip, MailerLite, and ConvertKit.  We also need to do make some changes on our Zapier integration.
More integrations may come as well, stay tuned!
We are also going to be updating all of our overlays templates with new designs.  This should be good!
We appreciate you!