Happy New Year!  2023 is going to be fun.
Spotlightr 5 is humming.  Since our last update we've been continued to tighten everything up.  Feedback from our customers has been incredibly helpful.  With your help, we've moved a couple of things around and added a bunch of improvements making S5 even better.
We've added a ton of improvements and squashed some bugs.  And as of today we are starting alpha testing our new live streaming feature!  This was probably the most heavily requested feature of 2022 and it's here.
While live streaming is an awesome new feature, we made a lot of other small improvements that really add up to make Spotlightr even better.
On the Gallery front, we added video descriptions and additonal settings for the appearance of your thumbnails.  Your theme settings now all carry over to your gallery page and videos as well.
Your theme settings now carry over to all module watch pages.  So your gallery and playlist watch pages can now be completely customized just like your single video watch pages.
We added Chromecast support.
You can now have a sub-domain (and custom domain) for every theme that you create.  This is great for those of your who handle multiple domains or multiple clients.
More details on some of these below.  And check the very next section for a complete list of what's new and improved.
Jan 24th, 2023 – Current platform version 5.1.19
New Features & Improvements
Sign-up/log in with Google
Create theme from single video (if not present)
Theme settings now carry over to module watch pages (playlist, gallery, quiz)
Add quiz results to audience report
Improvements to metric widget
More simplified first project creation
Bandwidth reporting rework
Gallery video descriptions
Gallery thumbnail appearance setting
Chromecast support added
Separate sub-domains now available for each theme
Added options to IP watermark
Added position controls for unmute and share button
Watch page content now available to show on Gallery videos
Overlays added to Themes
Volume bar now vertical
Added upload image ability to all WYSIWYG editors
CSV export improvements
Added preferred optimized resolution on theme level
Vimeo video migration improvements, including skipping failed videos
Overlays now sorted by start time
Added ability to download transcripts generated
Pre-roll video improvements
CSV download added for individual contact views
Added WYSISYG editor to custom HTML overlays
Playlists in small player bug fix
Playlists analytics bug fixCRM tax bug fixes
CRM tax bug fixes
Gallery access code fixes
Play button bug on mobile fix
Thumbnail display in global search bug fix
Hotspot overlay bug fixes
Legacy license bug fixes
URL validation for certain links bug fix
Playlist playback bug fix
Fixed heatmap display in audience reports
Team account password reset bug fix
IP address in analytics bug fix
Integrations Rework
Continue optimzation of v5
Unifying analytics
Gallery Updates:  Descriptions, Thumbnail Settings, & Additional Content
I made a quick video showing you the updates and improvements…
Chromecast Support
Viewer can now cast your video to another device.  As long as both devices are on the same network a small icon will appear in your player controls.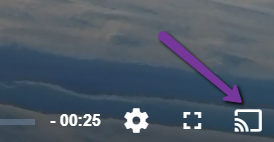 This is enabled via your Theme.  Just navigate to your player settings then advanced options: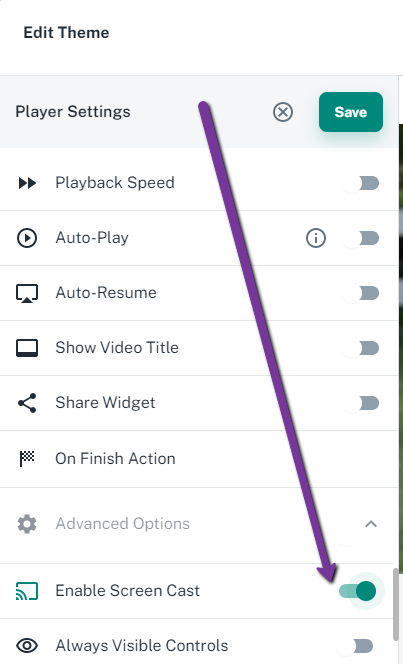 IP Watermark Options Added
Additional options for the IP watermark have been a popular request.  You now have the option to change the size, the location, and the opacity: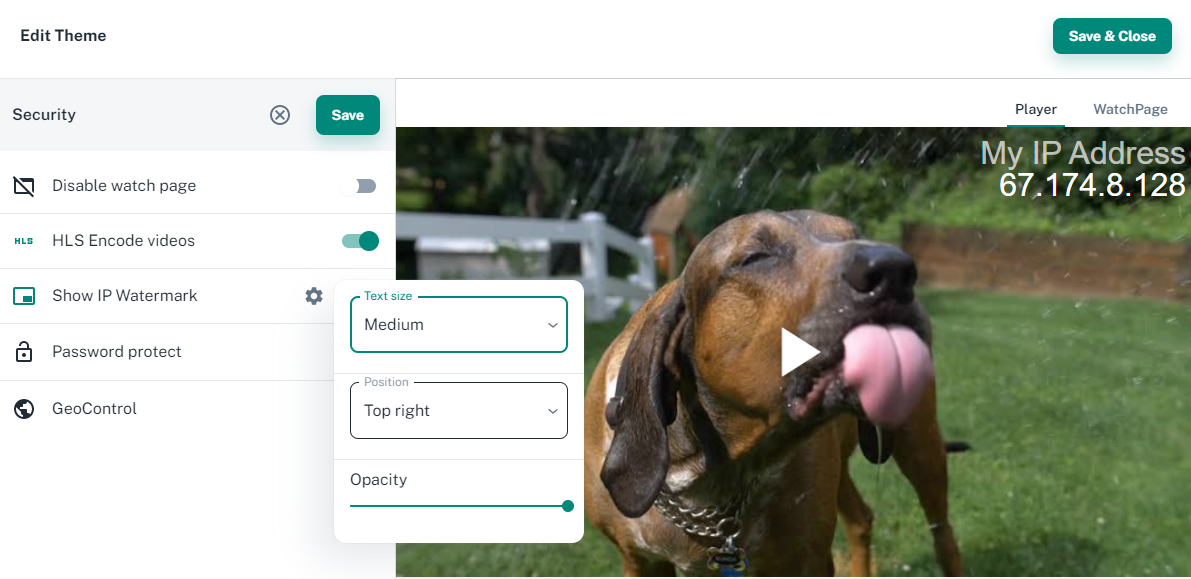 Live Streaming
Currently in alpha testing but we can give you a sneak peek.
You will need to use broadcasting software and then configure it to work with Spotlightr.  That process is super easy.
Once it's live you will see a new tab where you add videos:

Then you'll be given a stream key and server URL.  You will need to use broadcasting software and then enter these 2 fields into that software.  Once entered you start your stream via that software.

There are many you can use.  We recommend OBS as it's free, robust, and easy to use.  You bascially just open it, go to your stream settings to enter the stream key and server URL, and then click on Start Stream.  That's it.
Once you are streaming you can share the watch page or embed the player somewhere and the stream will play from there.  When you are done streaming it will save the video automatically to your Spotlightr account so you can post the replay somewhere.
Here's what's next…
Live streaming will continue to be tested.  We're hoping to release the beta to customers in a few weeks.
Our analytics work is continuing.  We are releasing small improvements to them and they are adding up.  If there is something you'd love to see with any of our analytics or reporting please reach out.
Integrations rework will be starting in February.  It'll be a large scale effort and something that is long overdue.  We want Spotlightr to work seamlessly with some of the more popular tools out there.