The dog days of summer are upon us and we've been busy as usual.  Simplifying and reimagining some of our features has been one of our priorities for this quarter, so while changes we make can be small we believe that they will make those features easier to use for new users.  Spotlightr has tons of features, so one of our recent focuses has been to try to simplify things as much as possible.  We've already reworked a few features and we'll continue to do so in 2021.
We've also been very busy just making things more stable overall.
Not much as far as new features go this for this month's release notes.  We are close to releasing Themes though and we are very excited about it.  It should be available in mid-August.  We haven't talked about this much, but this will allow you to create a theme for your videos that will be easily applied for every new video you add.
So your entire watch page, embedded players, and even your custom domain can be applied to a Theme.  We've also added more customization options for your watch pages.  More about this later, so watch out for updates on our blog on this feature.
Team accounts are also close to release.  You will be able to add people in your company or team and set their permissions for using the Spotlightr account.  This has been a highly requested feature that is close to fruition.  Look for those by the end of August.
Daily reporting now available for bandwidth usage
Email publishing options
Fixed bug with evergreen player controls
Bandwidth reporting improvements
Playlsts set to use new player by default
Improvement to mobile overlay controls
Video poster improvements
Dashboard chart improvements
Youtube video auto-play fix
Border style correction
Improved REST API for replacing video sources
Fixed timeline issue
Improved JS API handling of edge cases
Group and apply settings for uploads fixed
Managing groups update and improvement
Misc changes to tutorial tooltips
Supporting EUR in gallery payments
Quicker thumbnail refreshes when changed
Misc dashboard changes for simplified UI
Improved alignment and spacing of various icons in controls
Email preview image source fix
Rework of Social / SEO feature
Fix for video thumbnail on iOS
Improvements to My Videos dashboard functionality
Fix for share images on Facebook
Custom width and height fixes
Playlist fixes
Custom thumbnail optoin to apply with clone player settings
Themes
Team accounts
Popup publishing option rework
Screen-recording extension
Youtube API improvements
Email Publishing Options
Back in early spring we made some changes this feature but we neglected to highlight it.  Our Publishing options includes an Email option which is a feature that allows you to create a GIF image from a portion of your video and use that image in your email campaigns.  It's a great way to increase clicks in your emails.
So with the changes we made, there are a few items to note…
First, we reworked the interface of this feature to make it more intuitive.
Second, you can now easily adjust the destination for where your audience is taken when they click the GIF image.  Either a custom link, presumably a page on your own website, or your Spotlightr Watch page.
Third, we added a feature to be able to copy/paste the GIF image right into Gmail.
Let's take a look at the image below…
So for the example on the left, I am linking the GIF to a custom link on "mydomain.com".  I'll be able to simply copy that image link and paste it right into Gmail.
On the right, I'm linking the GIF to the Watch Page and chose HTML.  With this, I can use either the image link or the full HTML code to add the GIF to the email.  Which I use will depend on the email service provider I am using.
More on that feature in this help article.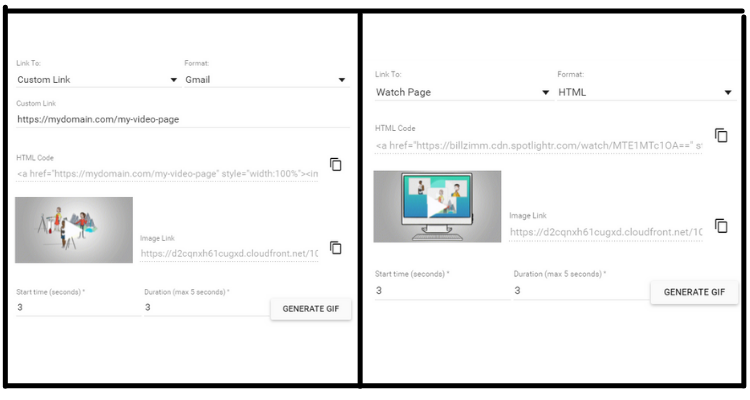 Better Bandwidth Reporting
It's now possible to not only see your bandwidth usage by day, but also parse the data by date and by video.
For example, you can now choose one particular day and it will show you which videos were watched that day and how much bandwidth was used for each one.
You can also filter by video and it will show you how much bandwidth was used for it over a period of time.
In the image below, you will see what is shown when you click on the Usage link on your Dashboard in your bandwidth section.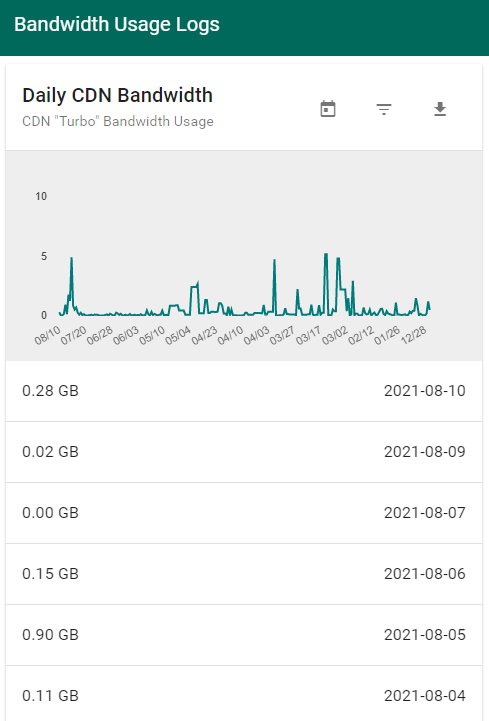 Here's what's next…
Themes and Team Accounts!  They are both rolling out in the next few weeks and should both be out by the end of August.  Themes first, then Team Accounts.
After that?  For third quarter, so by the end of September, our goal is to roll out our screen recording Chrome extension, more funcationality to our Email publishing, and a rework of our Popup publishing option. 
That's our roadmap for now.  If things changed, we'll let you know in the next update!