Wooooosh!  This first quarter of 2022 flew by!  What happened?
Well, the launch of our new plans was pretty successful.  Tons of teachers and course creators just starting out have taken advantage of our Spark plan.  It's perfect for new websites and/or small courses and super affordable.
Because of some of the infrastructure changes, we were able to increase the amount of storage and bandwidth we can offer.   So our Polaris customers paying $29/month and getting 100 GB of storage and 100 GB of bandwidth were able to switch to our new Polaris account and pay just $20 more per month for 6 times the amount of storage and bandwidth (new Polaris plan is $49/month with 600 GB of storage and 600 GB of bandwidth).  
You can get all the details on our new plans on our Pricing page. 
And we also switched from offering a Free Forever plan, which had very limited features, to offering 2 week trials to our plans.  You can register for a trial without a credit card and have full access to all features for a full 2 weeks.  
We released some nice features enhancements to our Quiz Module and spent the rest of the time squashings bugs and building our app interface.   We decided to rebuild a few things rather and repurpose code, so the beta release will be delayed by a few months.  But in the end we are looking forward to simpler and more intuitive interface that hopefully people will love!
We also began work on our new WordPress plugin which will enhance the experience for anyone using WordPress (and especially those of you using LearnDash).
March 31, 2022 – Current platform version 4.2.63
New trials for all plans
Various new features for Quiz Module
Added subscribe options from billing
Tap to call improvements
Optin bar improvements
Quiz timeline interactions
Fullscreen iOS behavior improvements
Updated list of languages for subtitles
Team accounts and themes fix on ENTERPRISE / STARTUP
Share link custom start time fix
Email gif improvements for HLS, freeing 1st sec
Bugfixes on missing or incomplete user and playerSettings data
Youtube handling and thumbnail improvements
Pre and post roll video fixes
Update storage after any video import
Gallery revenue users and consumption rates
Updating theme timeline position fix
Transcribe errors fixed
YT API source update
Custom Thumbnail w/ Disable preload fix
Switching resolutions continuation improvements
Fullscreen enter / exit fixes
Added ability to export gallery access codes
Stripe Webhook error fixes
Pre roll zero display fixed
Increased default upload limits to 10GB per file
Improved engagement chart display
Thumbnail loading order improved in favor of CDN
Updated video transcription audio generating property
Improved handling of gates locks when creating
Thumbnail handling, image and video improvements
Removed overlays & actions from video insights
Fixed gif generation from video edit page
Analytics disregarding ignored IP listings
SMART playback issue fixed
Updated style of player notifications
Vimeo migration process (include resolutions, thumbnails, correct storage, deletion etc.)
Quiz questions now allowed at same time
Disable right click on video
Player alert notifications in full screen
Theme icon color bug resolved
Gallery: Video to open bug fixed
Removed all fast forward animations
Gallery: Warnings displayed when embedded
Additional resolutions available for vimeo hybrid
New application user interface
WordPress plugin
Live streaming
Spotlightr Quiz Module Improvements
We've released some added customizations as well as better looking quiz questions overall to help you keep everything on brand.
Here's how a simple single choice question looks for example: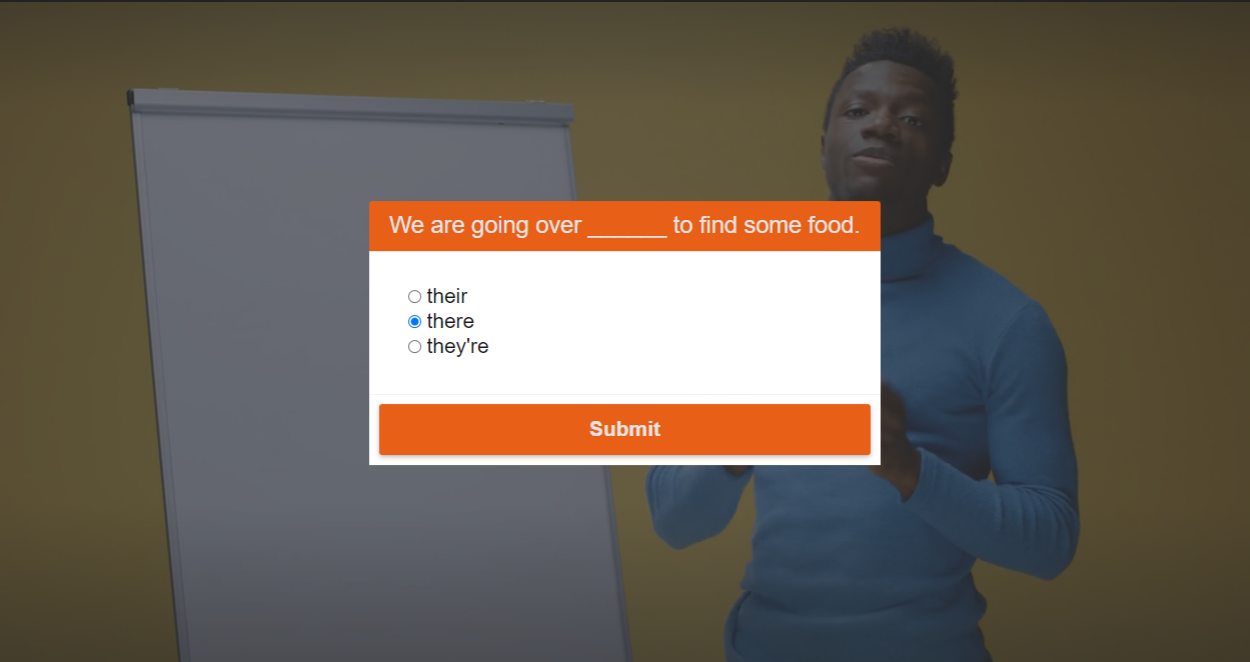 Now I'll add a description and then change the colors.  The colors of the question, the description, and the button are all cusomizable.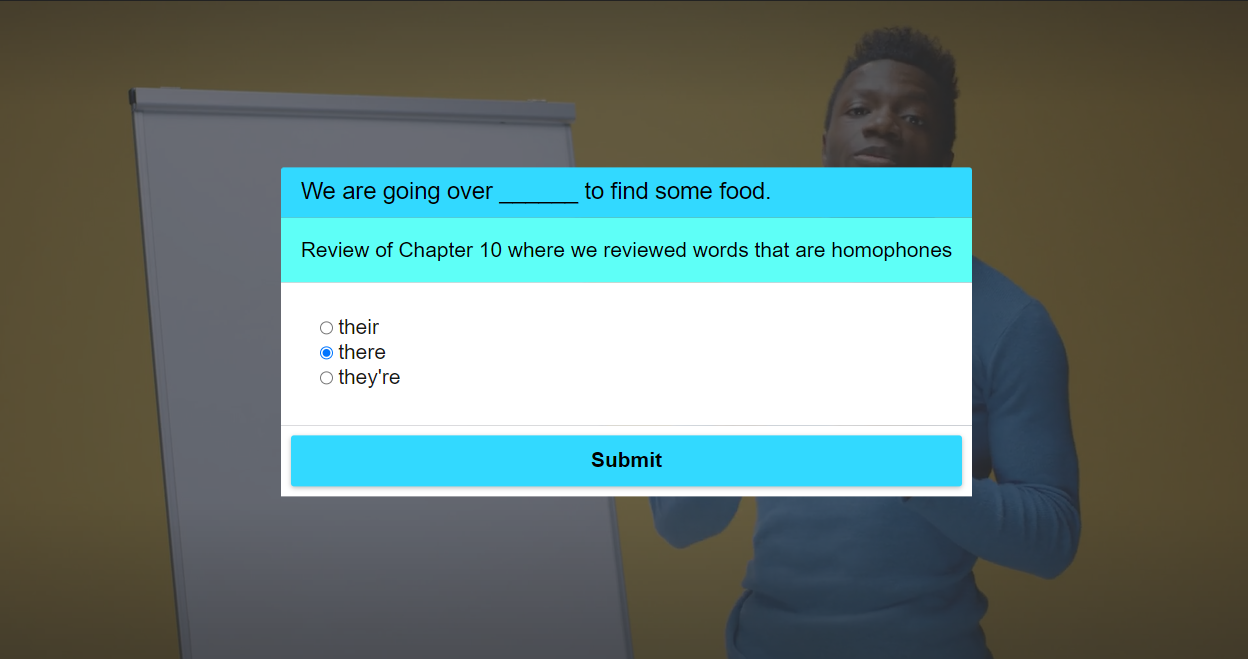 In this example, I changed the question and button colors to a dark green and changed the description to white to match the question background.
You'll notice there is now a "Show Hint" text which is not clicked yet.  And the "Submit" button is faded because an answer has not been selected yet: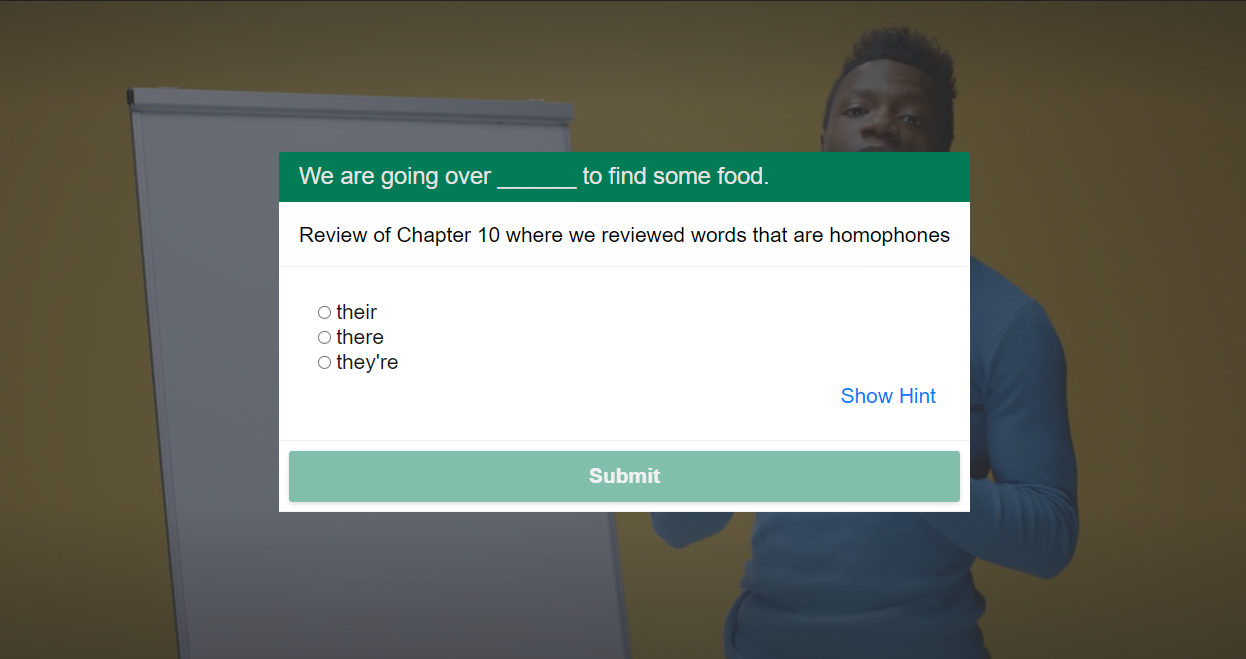 Now you'll see I clicked to reveal the "hint" and selected an answer.  Once an answer is selected, the button fade is gone and the button is now clickable.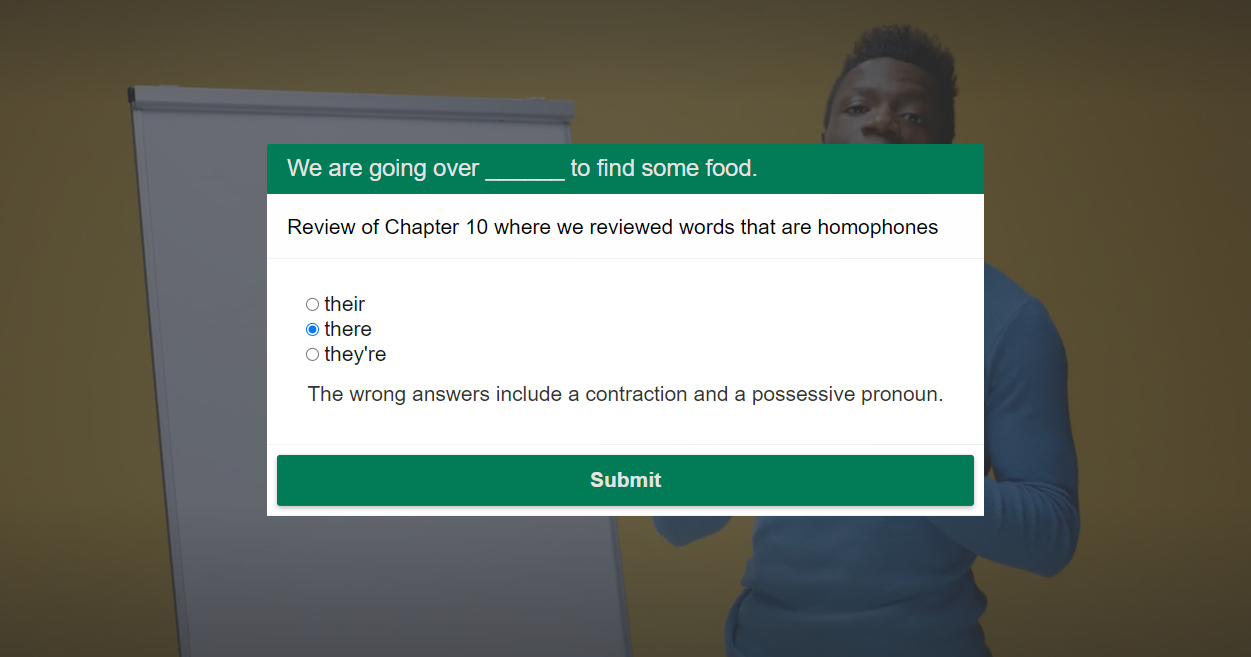 Here's a video with some quick examples.  The first question is single choice and the second is a text answer.
The third is a "crossroad" question where you can choose an event based on what answer is selected.  Here are the events you can use:
1.  Contine – This just continues on with the video
2.  Jump to time – This jumps to a different time in the video
3.  External link – This redirects the viewer to any URL
4.  Change video – This switches the video immediately to another video
In the example below, both answers are using the "External link" event 🙂
Here's what's next…
The WordPress plugin should be ready for beta testing in early May and the completely new app interface in June.
As I mentiond in our last release notes, the new user interface will be more simple to use, more intuitive, and designed specifically for our core market which is online educators and course creators.
That's all for now!  In an upcoming article I will share with you some "sneak peeks" at our new app and user interface.