In April and May we continued to improve the new player. Although we were anticipating having the old player available for a few more months, we came out ahead of schedule. So at the end of May we were able to sunset the old player options inside of customer accounts.
Any videos with the old player embed codes and watch pages will still continue to work for the foreseeable future, though we do recommend you start migrating old codes into new codes. If your site has so many embedded videos that it's too time consuming to do them one by one, please see this help article on how to add a script to your site to achieve the same.
We also introduced a few other new features including payments for Galleries and a video poster for thumbnails, both of which we'll discuss in more detail below.
New UI for thumbnails
Video poster as thumbnail option
Added light theme for Galleries
Added payments for Galleries
Download video button added to Video Settings
Set default resolution option in Publish settings
My Files added back and reworked
All new way to save and enable/disable features in right panel
Various Galleries display and analytics improvements
Various pre-roll fixes
Chapter marker titles adjustment
Overlay preview timing improvements
Video loading sequence improvements
Evergreen video on a particular date fix
button overlay improvements
Opt-in consent on email lock
Improvements to overlay animations
Fix for IP watermark in full-screen
Progress bar realignment when resizing
Mobile improvements for Galleries
Improved timing controls of overlays in edit
Chapter markers now listed according to time
Diplay of Gallery revenue
Watch page improvement on mobile (text under video)
Double tap fix for mobile
Scroll jump issue fixed (when video matches window height exactly)
View video notifications fixed
Fixed video display in some WP back-end editors
Dropbox video import fix
Get Response integration fix
Geolocation capturing fix
Resolutions created on unsecured videos
Border style fixes
Sunset 4.1 options inside of platform
Galleries are getting more features and improvements like different templates and styles
Improved bandwidth reporting (more refined reporting for customers)
Popup publishing option rework
Screen-recording extension
Live streaming
Youtube API improvements
Email publishing improvements and added features
Payments for Galleries Module
As indicated in our last release notes article in March, the next step in our Gallery module was to include support for payments via Stripe. This feature was achieved and launched and we also held a webinar to discuss the feature and take questions. You can check-out the replay here.
By connecting your Stripe account to Spotlightr, you can create one-time or subscription payments for access to your Galleries. Please check these help docs for full documenation on how to set up your Galleries, set up Access Codes, and set up payments.
Video Poster for Thumbnails
We completely reworked the user interface for the thumbnail feature to make it easier to use, and also introduced the option for video posters for your thumbnail. These are actual video thumbnails, not gif's that look like a video. We did this because performance is much better if you use an actual video file as opposed to a gif file.
At the top of the feature you can now choose between image and video and then your options will be presented based on which one you choose. Please check our documentation on this feature for additional help and details.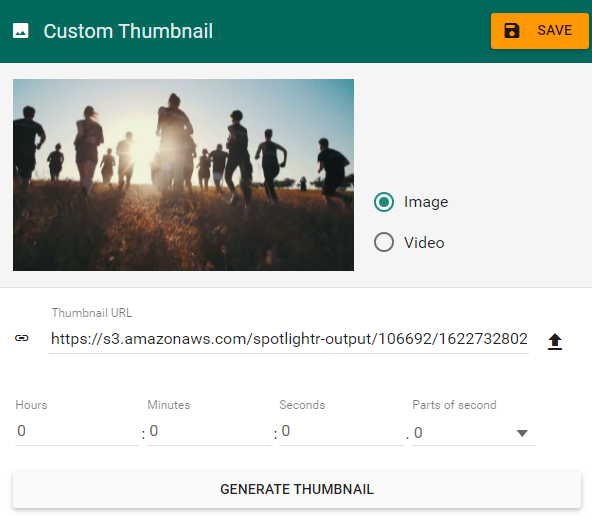 Video Download
There is now an option to download your original file from the Video Settings options. Again, this is the original file that you uploaded.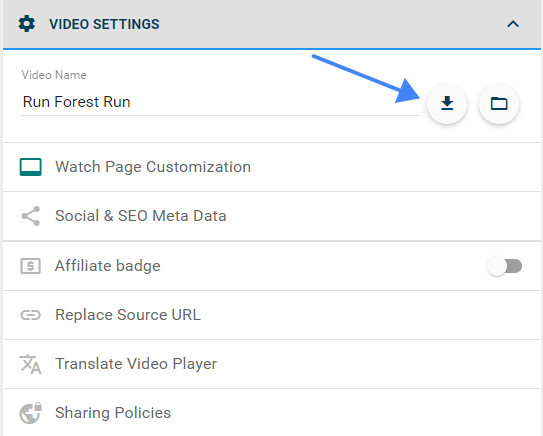 My Files Added & Reworked
Some time ago we removed the My Files section in your Profile settings as it was not really valuable for our customers. We've since reworked that section and we now feel it's valuable and usable for customers. You can find this by clicking on your Profile on the bottom left and then select My Files.
Here we will list the original file name that was uploaded to Spotlightr and then indicate which video that file is being used on.
From this section you can delete that original file that you uploaded as well as download it back to your machine.

Default Resolution Served
For any uploaded videos you can now set the default resolution you want served to your viewers. For example, if you upload a 1080 file but you want your viewers to see the 720 version by default just to ensure good performance for everyone, you can select that in your Publish settings.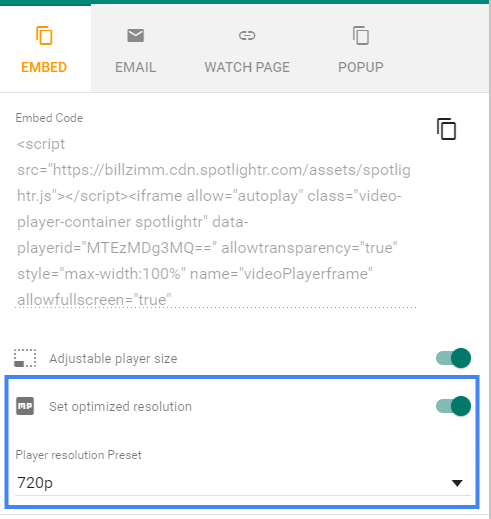 Here's what's next…
We're pretty excited about the rest of this year. Now that all of the player and infrastructure improvements are behind us, we can concentrate on feature improvements and big, new feature requests.
On deck is a brand-new screen recording extension, live streaming functionality, and a rework of our publishing options for pop-up/modal video as well as email publishing.