There are times when SaaS companies go through lots of changes, updates and improvements but practically none of them can really be noticed by customers.  That's the case with the last few months for us at Spotlightr.
We've been hard at work with the new WordPress plugin and the new app design.  Both are due out this month in June.  I haven't really mentioned this at all yet, but we are also completely revamping our website as well.
This is all part of our rebrand that started about 1.5 years ago is still evolving.  Now it's really finally taking form.
As usual our weekly releases continued to update the platform as indicated withing the lists below.  And then I'll get into some sneak peeks at the new app interface.
May 31, 2022 – Current platform version 4.2.70
New Features & Improvements
Highest resolution persistency improvements
Email validation improvements
Reports historical data improvements
CDN bandwidth consumption reporting improvements
Notifications added for embedded quizzes
Group view loading performance optimizations
Gallery thumbnail update
Gallery styling updates
Updated recommended sizes for overlay template images
Improved analytics reporting
GBP support for gallery payments added
Disabled right clicking entire player app, modules etc.
Checkout page improvements
Custom code execution improvements
Engagement graphic logic and reliability improved
Hotspot positioning player time update fix
On finish action fixes
Missing thumbnail handling placeholder
Password recovery email fixed
IP Watermark scaling on smaller screens fixed
Pre-roll & auto playing main video conflicts resolved
Auto-resume on Mac when resizing fix
Evergreen Webinar fixed
Playlist play button fixed
Evergreen Webinar Fixed
Gallery scrolling on iOS fixed
Fixed gallery / quiz / playlist heatmap analyticsEmbedded gallery audio issues when exiting after playing fixed
Gallery payment display fixed
Addressed multiple same video popups on same page issue.
Play button on mobile devices sizing
New application user interface
WordPress plugin
Live streaming
New App Sneak Peek
We don't have any big improvements or new features to showcase this month but I'll take this opportunity to show you a look at the new app in alpha testing now.
Keep in mind there are still changes being done.  Things moving around a bit, labels are being updated, etc.
This is the new main Dashboard.  Very simple, very clean.  Everything is now organized by Projects.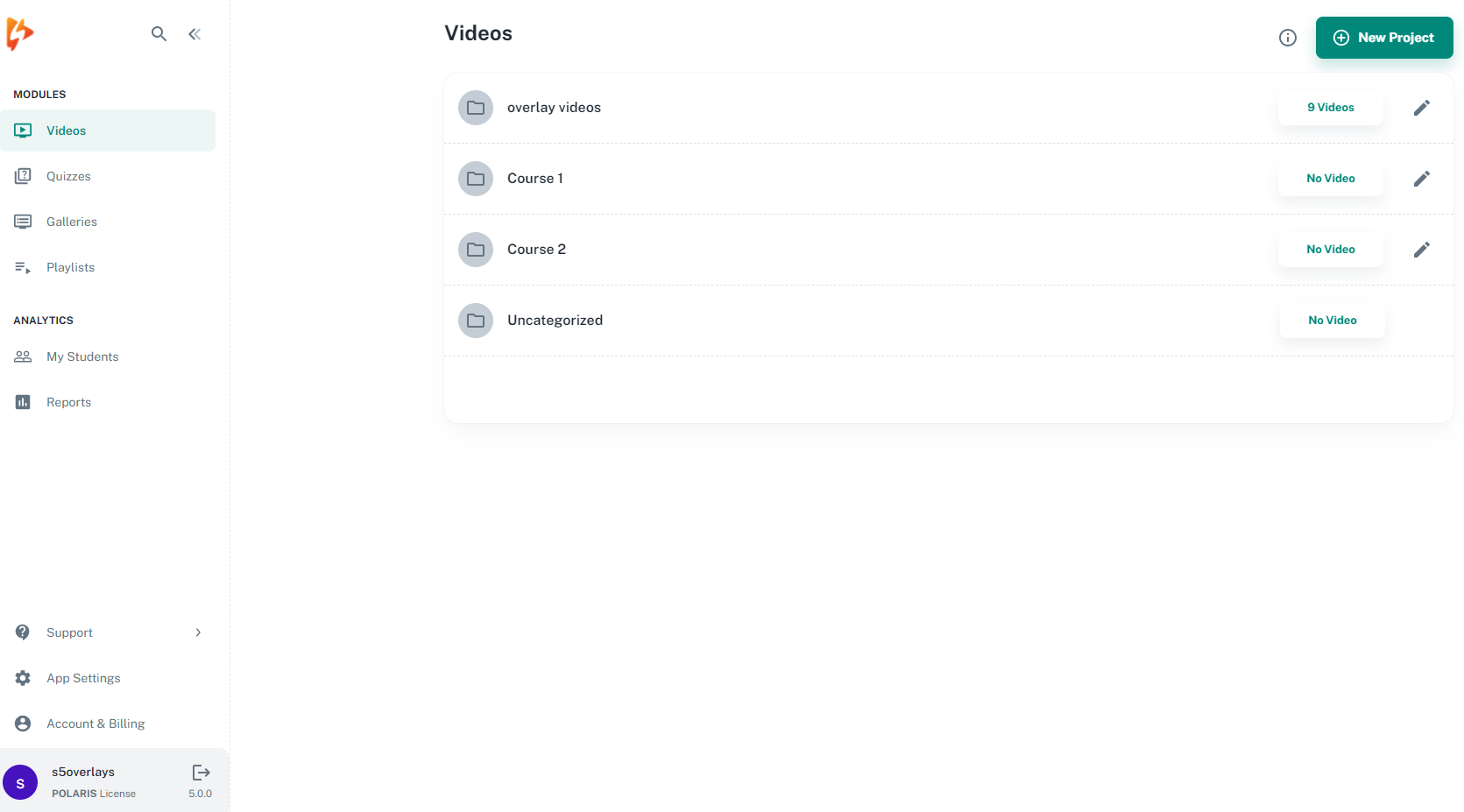 The individual editing page is scaled down with the amount of options available.  Most options will be configured insde our Themes, as explained more below.  The goal here is a much simpler, more efficient uesr experience for adding videos to your Projects and Publishing them.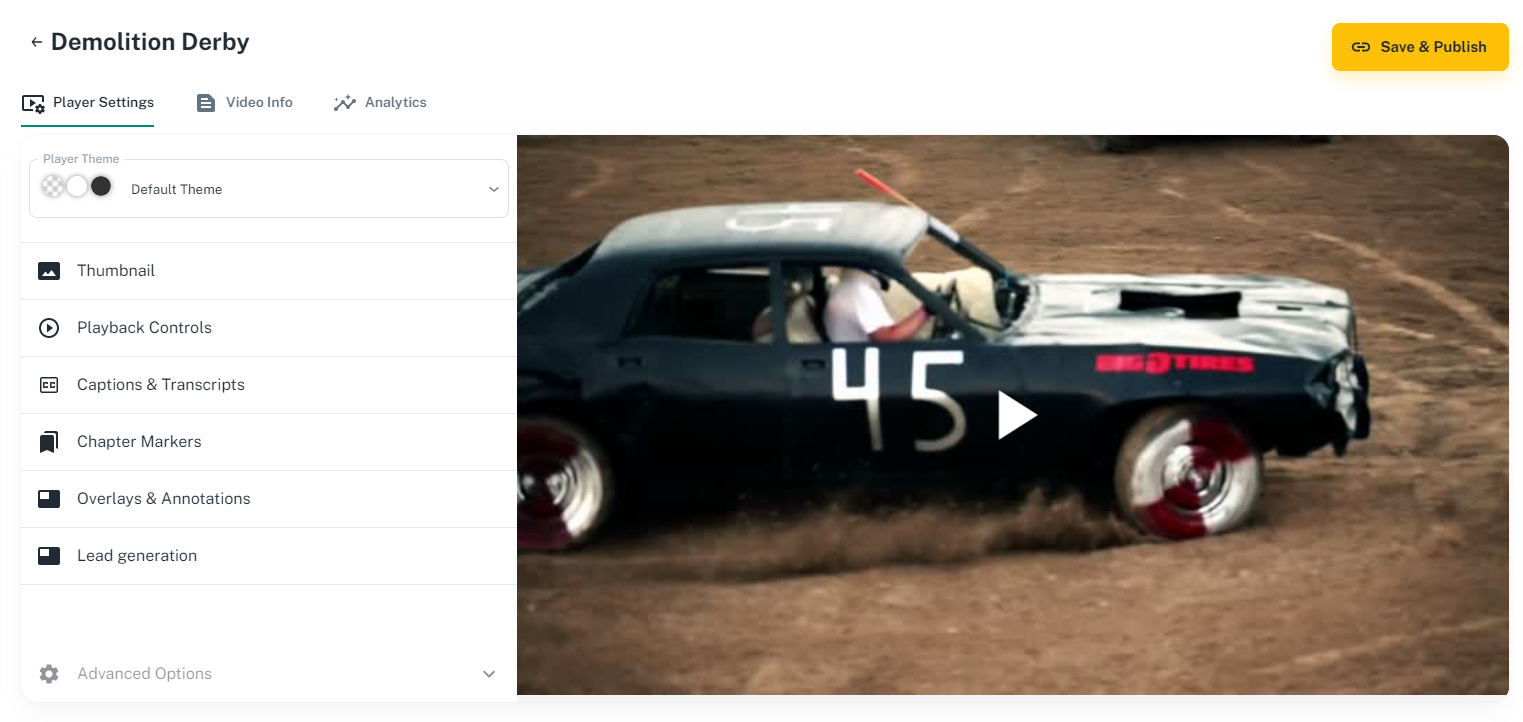 Here's the new page for adding videos to your Project.  Where previously we had all of our mass importing in a separate space, all single and mass video uploading/migrating is now done from here.
Upload one video at a time or upload multiple videos at the same time.
The second option, Link, allows you to add single links from Youtube or multiple links at the same time.
And the third option, Migrate, is for migrating your video files from Wistia or Vimeo.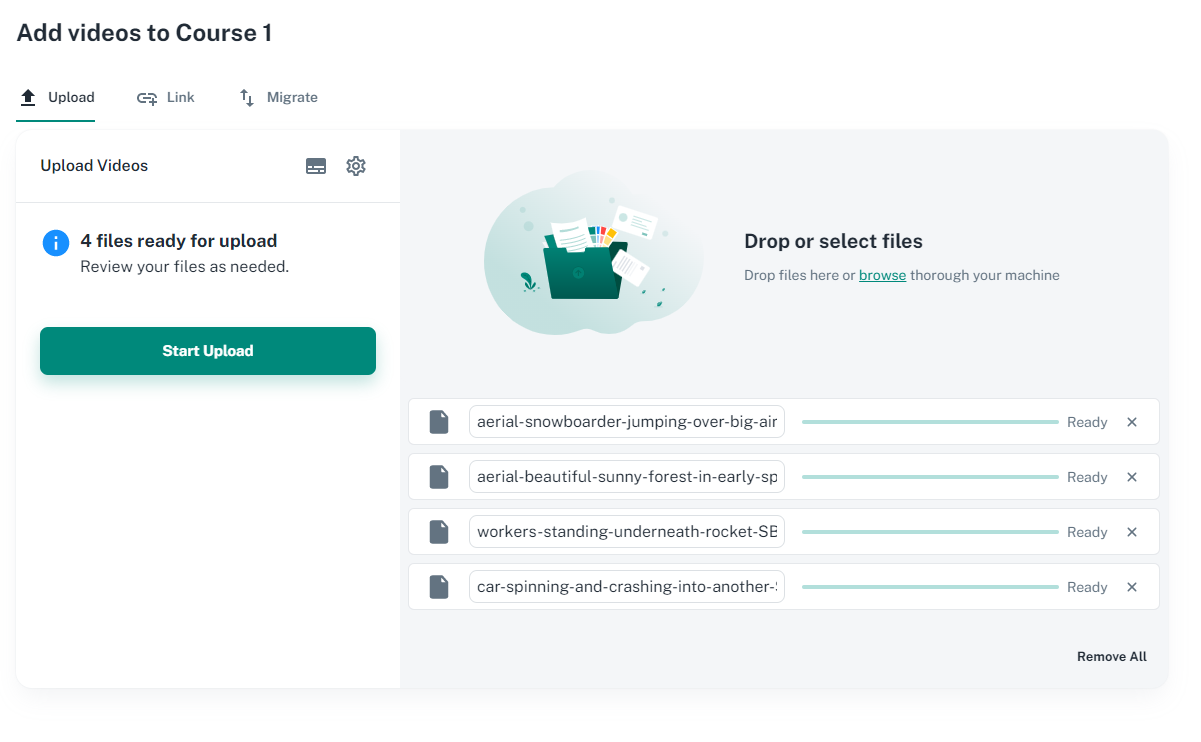 This is the new single video Analytics page.  Again, true to our goals for this entire redesign, this new page is more simple and easier to read. 
And maybe most importantly, the initial loading time and all actions taken inside the page are lightning fast. 
The features of this page should be much more enjoyable to interact with now.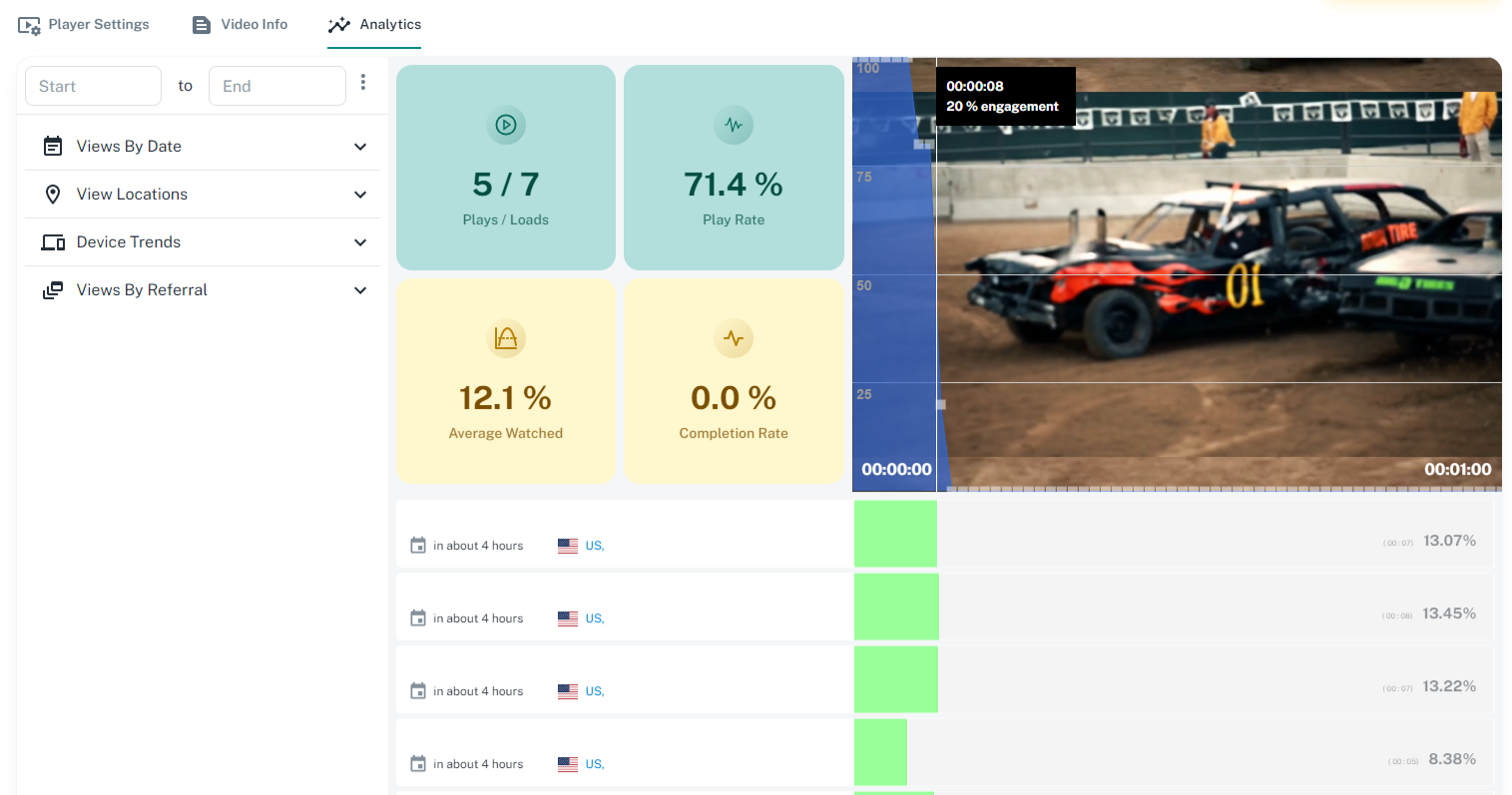 One of the biggest parts of this new update is for the Themes.  Themes is a new feature introduced this year and is now an even bigger part of the application.
You can now configure your entire player and watch page page settings and then apply that Theme to just one video or entire projects.
We will change the name from Themes to something else more representative, as previously this was only used for player colors, play button customizations, watch page headlines, etc.  Now it encompasses the entire feature set.
Most of our customers will only need to configure this once and your work is over.  Then just upload your videos and all needed settings will be automatically applied to them.  All that's left is to select your Publishing option, like getting your embed code or watch page URL.
Again, simplicity and efficiency!  We are excited to get this into your hands and hope you agree it's a vast improvement overall.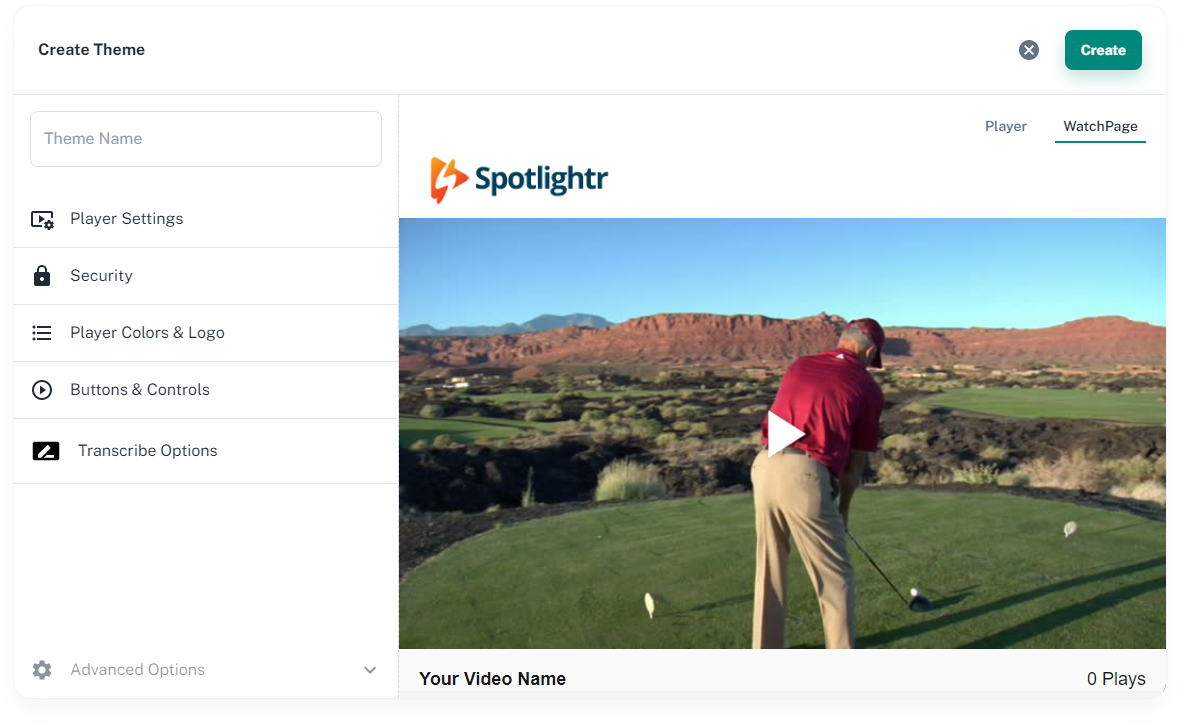 Here's what's next…
We have a working WordPress plugin ready now for use, but there is one large feature we decided to add for the first release so that pushed us back.  We originally thought the first version of the plugin would be released in early May but it's extended now and looking like mid to late June.
New app is still on schedule to begin beta testing this month.  It's already in alpha stage and has been for a few weeks.
I look forward to our next update where I will have more big updates to show you and talk about!