New plans are coming!
Here on this page is the first time we are announcing this.  In a few weeks we are going to be releasing brand new plans for Spotlightr.  Just in time for Christmas cheer!
In the fall of 2020 we started offering only one plan, the Polaris plan, to start our "new" company with the rebrand to Spotlightr.  Our interest was to make things simple for our customers.  One plan with all features and plenty of storage and bandwidth.
But based on valuable feedback we've received over the past year, we will be releasing new plans that will fit our customers that are on different paths of their journey.
More on that in a few weeks when we announce it everywhere!
Besides the new plans, over the last few months we've been working on continued platform simplification and improvements.
We were also able to squeeze in a few new features.  Check it all out below…
December 1, 2021 – Current platform version 4.2.46
Spotlightr Chrome Extension
Interactive Transcripts
Audio-only Player
Ability to generate and select different resolutions for Youtube videos
Player file CDN optimizations
Watch pages CDN optimizaitons
Hide playlist on load issue fix
Themes favicon & title issue fix
Access code for Galleries bug fix
Blank playlist issues addressed
"Save as" dialoge when downloading video fixed
Deleting multiple files from My Files bug fix
Thumbnails with () in filename fixed
Live conference no title fixed
Coupon error validation bug fix
Improved dashboard video selection
YouTube autoplay bug fix
YouTube slow streaming resolved
Live conference timezone fixes
Export video csv, 4.2 links + theme domain links
Mass import improvements
Support for ublock extension blocking some requests
Play button flashing bug fix
Mobile play button animation fix
App typos / branding improvements
Hotspot improvements & fixes
Eliminated playlist video switching animations
Custom thumbnail for linked videos issue fixed
Overlay display improvements
Overlays save error fixed
Fixed endless loading in edit mode
New "Manage Groups" permission in teams
Playlist theme improvements
YouTube live link fixes
Analytics graph adjusted
Popup animations eliminated
Play animation when you skip / rewind removed
Login bug for Galleries fixed
Video thumbnail fix
Different loading sequence to avoid black flash
Thumbnail handling and preview fixes
Playlist thumbnail fixes
Subtitles CORS on player
Publish options cleanup
Playlist mobile display improvement
Improved encoded version device assignment
Background for dashboard rows with no thumbnail
Revert skip/close option on overlays
Removed fields from email publishing
Reworked App Settings
vooAPI method to submit analytics on demand
Play animation showing always
New monthly/yearly plans
Funnels rework into quiz module
WordPress plugin
Live streaming
Spotlightr Chrome Extension
We wanted to make a very simple, easy to use extension that was also extremely useful.  We think we accomplished that goal.
Record yourself and/or your screen and then your video uploads automatically to Spotlightr. Your Watch Page URL is immediately generated to quickly copy and share.
And since the video is automatically uploaded to Spotlightr, it's also there so you can take advantage of any of the Spotlightr features that you need.  Or just copy the Watch Page and send it right away.
You can also get your publishing embed codes and access all of your videos already inside your account with just one click.
You can download it via this link.  And check this video for a quick demo:
Interactive Transcripts
When you add your VTT file, there is now an option for Interactive Transcripts: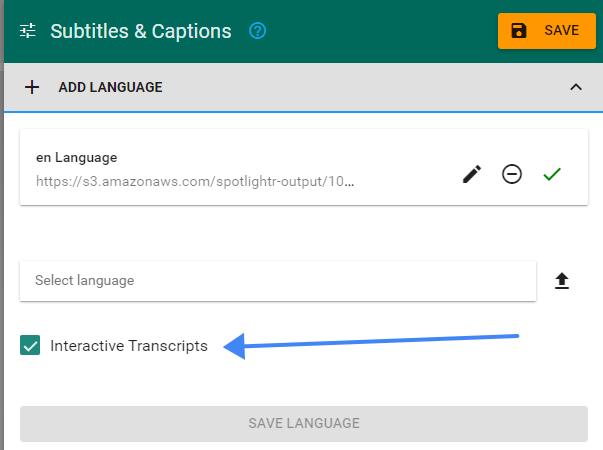 Once activated, you will now see a new icon in the player controls.  When you click that, the transcript of the video will appear with a search bar: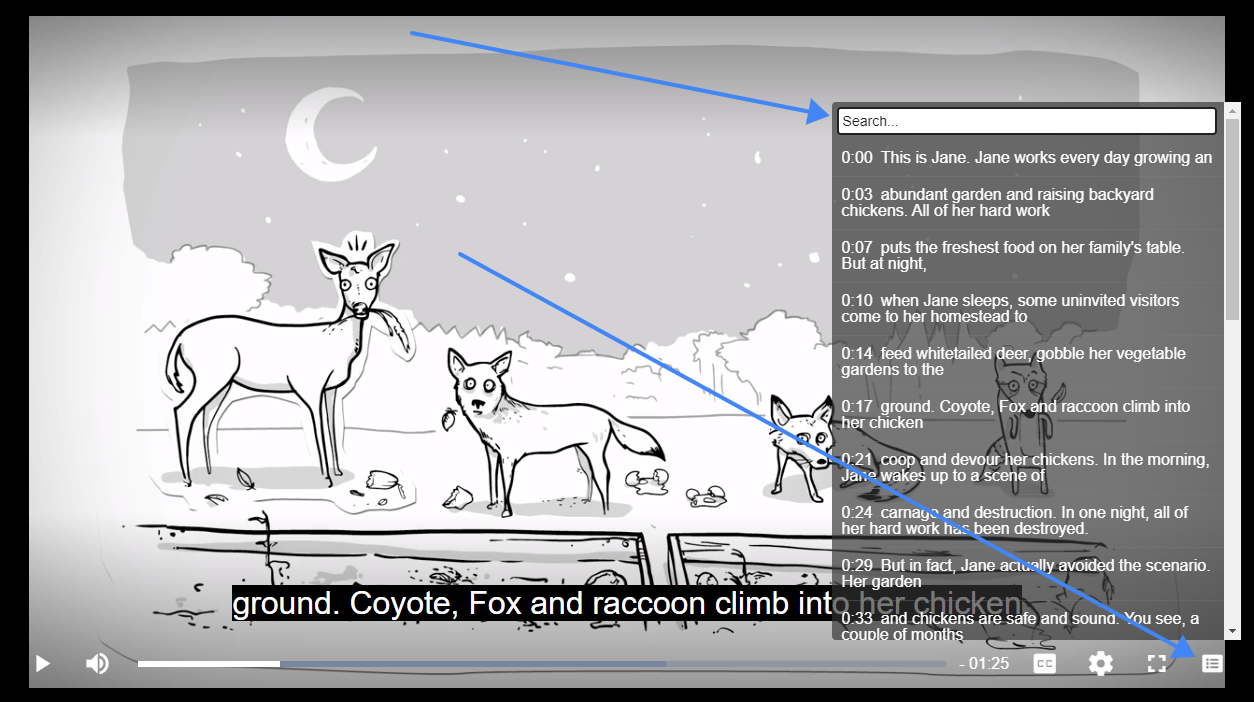 Audio Only Player
We now offer an audio player for your mp3 files. Just enable the audio player in your embed code options:
Here's an example of how it looks:
To use this you just need to enable the audio only option in your embed code options: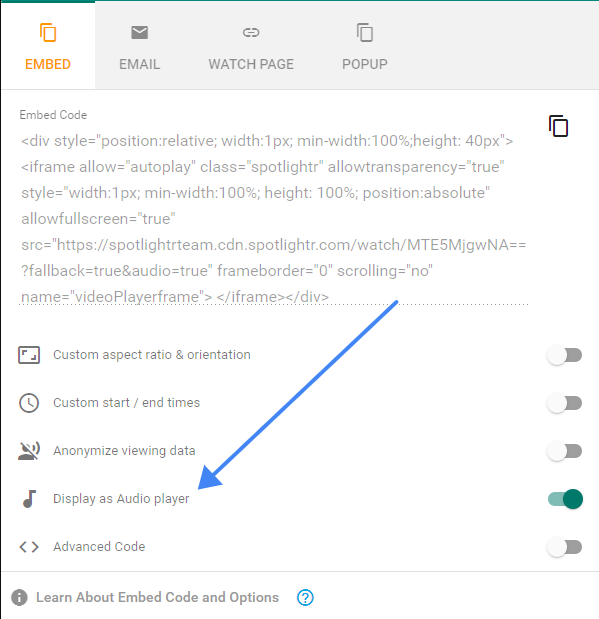 Youtube Resolution Options
When you link a Youtube video, you are now given options as to which resolutions you want to serve.  These will also be available to viewers from the player controls so they can choose which resolution to watch.
Here's how it looks when you add the video to Spotlightr: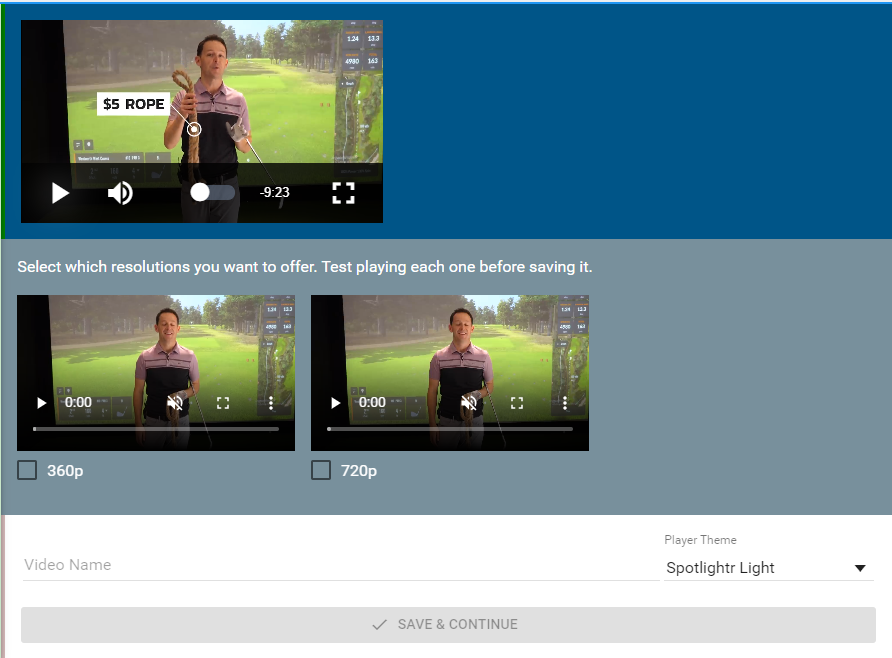 Here's what's next…
New plans are coming before Christmas!  Once those are out we will continue with our new Quiz Module that will replace our current Funnel module.  That will likely not be out until January.
After that our next goal will be to release our new WordPress plugin which should have some awesome functionality for all of your WordPress fanatics.