In August and September we wanted to make sure we got out a few big features that were planned for the the third quarter and we were able to deliver.
Those new features included big updates with the introduction of My Themes as well as Team Accounts.
My Themes was a result of our desire to make it easier for our customers to configure their branding for their video players and Watch pages all from one place, in addition to being able to set their own custom domain(s).  Previously we had these options in different places so we wanted to consolidate all of that into one place.  Now customers can create a Theme that includes all of those configurations, and then apply it to one video or multiple videos in their account.
Team Accounts have been a very heavily requested feature so we were finally able to deliver on that.
More information on those two new features later in this article.
We also added Custom CDN functionality for our customers with very high CDN requirements.  This allows you to connect your Spotlightr account and videos in Spotlightr storage to any CDN provider you wish via a custom Spotlightr account.  Allowing our customers to connect direct to a CDN provider can drastically lower their costs.  Again this feature is for those customers with extremely high CDN requirements.  If you'd like to know more about these custom plans please contact our helpdesk.
Some big improvements were also made to a few of our publishing options…
If you use our Email publishing option which generates a GIF image for you to use in your email campaigns, you will be excited about the addition of support for actual video inside your emails.  We also added new functionality to our popup publishing option.  More details on both of these big improvements below.
My Themes
Team Accounts
Custom CDN
Added HTML sections for Galleries
New embed code (script now used in Advanced embed code)
Added transition from thumbnail to video start
New Gallery layout with new design options and backgrounds
Email publishing added custom button for GIF & video support
Popup publishing option rework
Various small UI improvements
Various branding updates in the UI
Fix for multiple playlists on same page
Fix for Disable Pause feature
On Finish action fix
Watch Page timeline fix
API doc updates
Image history updates
Fix for Personalization not working in certain overlays
Fix for Gates templates
Image Card overlay design improvement
Simple Annotation overlay design improvement
Full Screen Text overlay design improvement
IP watermark fix for videos in Galleries
Fix for videos showing as different sizes in Galleries
Formatting issue fixed for Identify Contact overlay
Bandwidth reporting improvements
Optin overlay design improvements
Chat box overlay design improvements
Youtube Live video link fix
Added support for video speed at 1.25x
Application settings UI rework
Various Playlist bugs & improvements
Gallery bug fixes with audio and scroll bars
Hotspot overlay bug fixes
Various small improvements for My Audience module
Screen-recording with video Chrome extension
Interactive transcripts
WordPress plugin
Funnels rework
Youtube API improvements
My Themes
As mentiond earlier in this article, we had our branding options in a few different places throughout the app.  The colors and style for the player in one spot, Watch page fonts, colors, logo, etc in another spot, and finally our custom domain configuration in a third spot.
Now with Themes you can configure that all from one page and apply your themes to new videos or previously uploaded videos.
Here you configure some custom options for all of your Watch Pages for videos using this theme.  There are some Watch Page settings that are individual to every video, but anything set here will be set for any video with this theme selected:
And then we have a Watch Page sample preview here to you can preview your changes.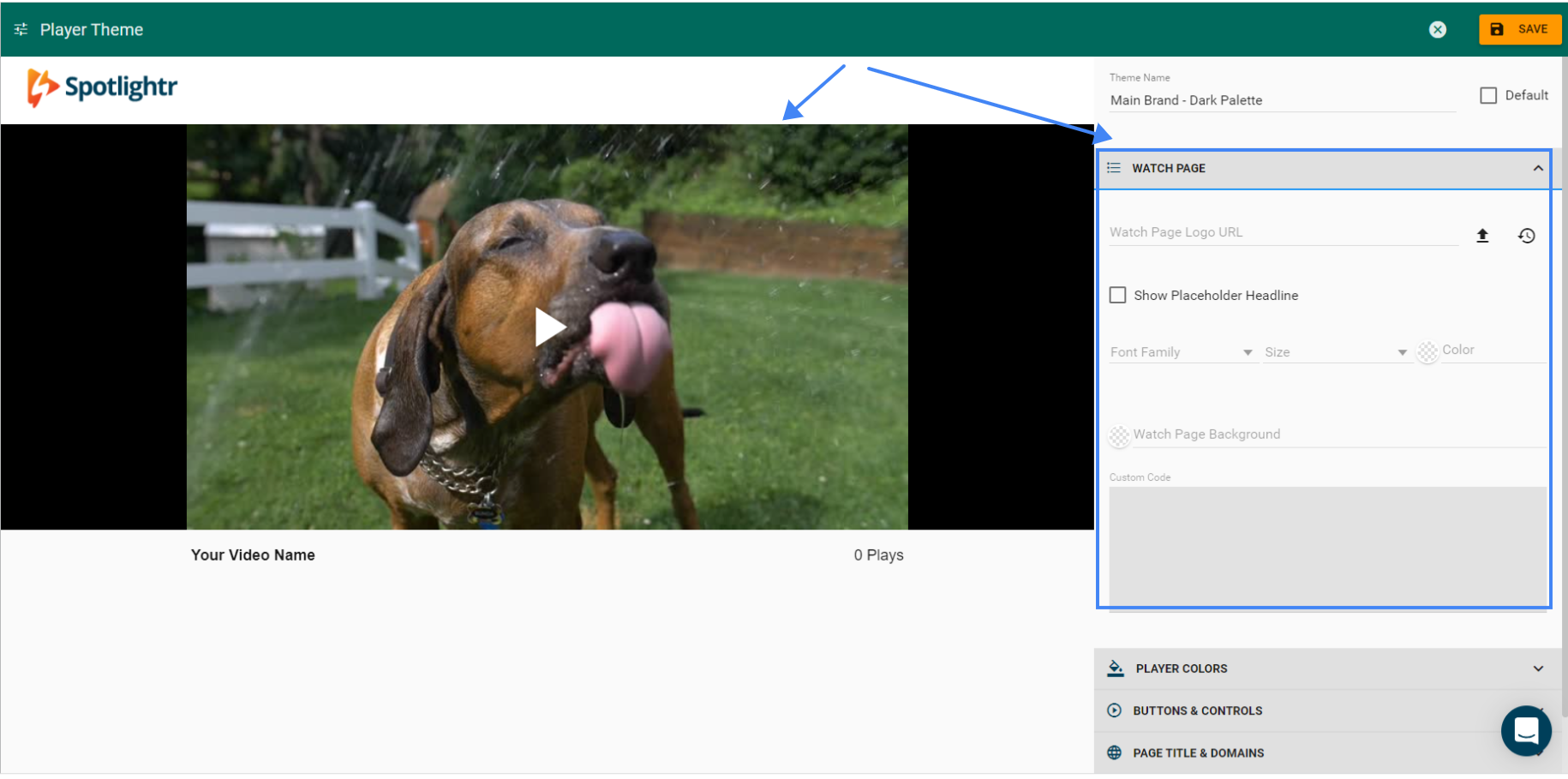 Here you can see I configured some of the options, making the page all white, adding a custom logo, changing headline style and color, etc.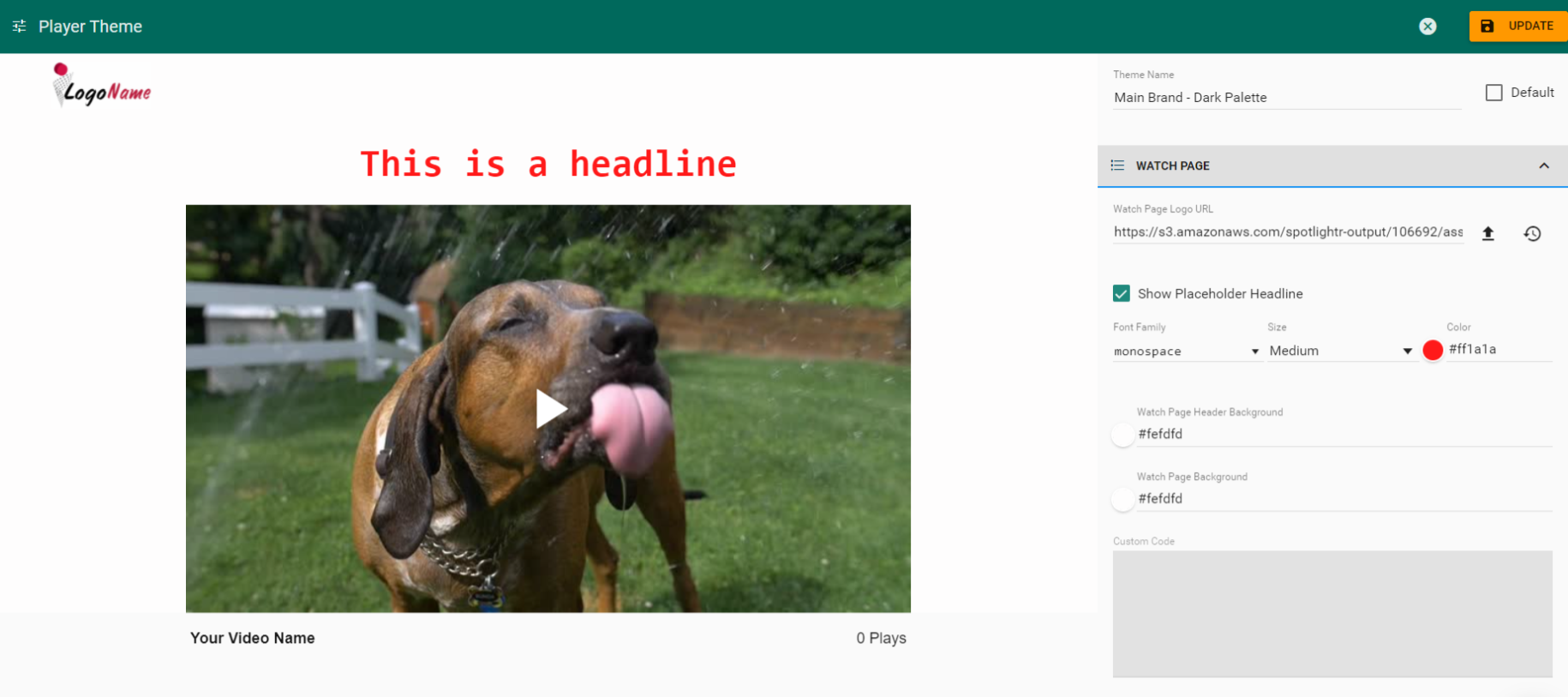 Further customizations include colors for the entire player like the player controls background, player icons and text, player bar, play button size, style, shape, and animation, etc.
And finally you can also set your own custom domain that will appear on your Watch Pages.  So instead of the URL of your watch pages being:
https://mybrand.cdn.spotlightgr.com/watch/454555
…it can be
https://mysubdomain.mydomain.com/watch/454555
…or even just
https://mydomain.com/watch/454555 
For more information and step by step instructions please see our help article on Themes.
Team Accounts
With team accounts, you can give access to members of your team and assign specific permission levels.  You can set them as admins who have permission to everything, or select exactly which features you want them to access.  
Here you can see the permissions you can set.  For more details and info on this feature please check our help article.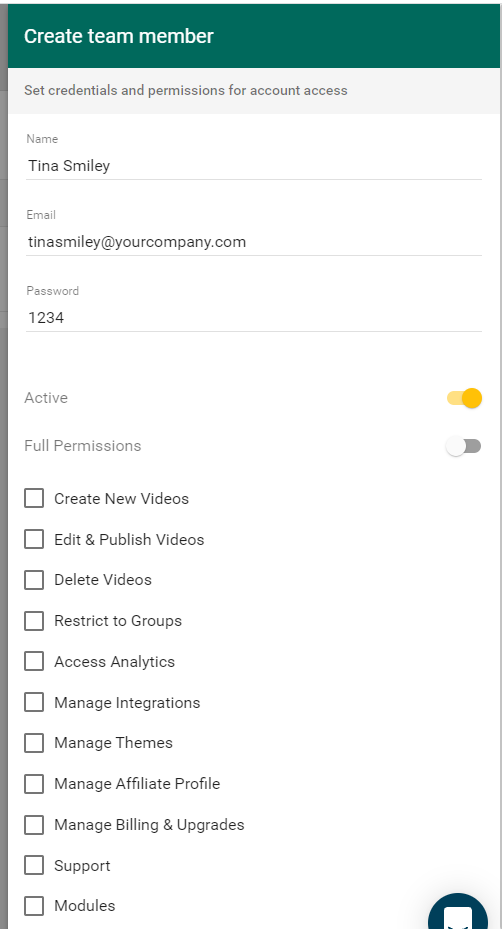 Custom CDN Providers
If you require 50 TB or more of bandwidth per month, please reach out to our support desk.  We can put together a custom plan for you so that you can upload, manage, and customize your videos via Spotlightr and use a CDN provider of your choice.
Being able to use a CDN provider directly is the most cost-effective way to serve your customers and at the same time be able to use the Spotlightr platform for everything you love about us!
Email Publishing
We have a few nice updates which really changes the game for this feature.
First, we updated the play button configuration that shows on top of your GIF image.  In addition to the default button which was the only option before, we've now added 2 other optoins for you to choose from.  And if none of those three really works for you, you can upload your own custom image.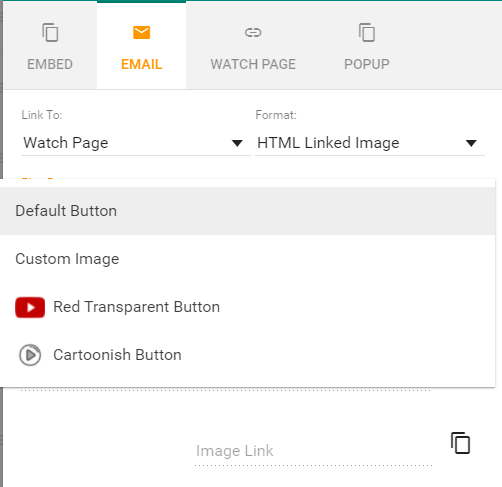 The next update, most importantly, is that we now support the ability to add actual video right inside of your email.  Now keep in mind that not all email service providers support video playing in side of emails, but this is a game changer for email marketers.
For more info and details on these features, please see our knowledgebase article.
Popup Publishing
This option now gives users the choice between 3 different clickable elements that would launch the video in the modal window:
Video Player – this will show a video player users would click on
Text Link –  enter text of your choice that would launch the modal when clicked
Image –  we will generate an image to use, or upload your own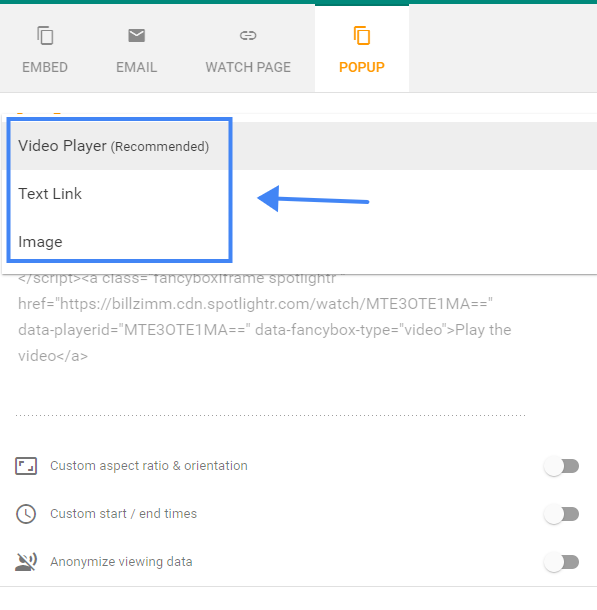 Here's what's next…
We are about to release Interactive Transcripts which will allow your audience to search and brwose the captions in videos.  So if you want to find the spot in the video where something is talked about, just search for it and it'll take you there!
Our Chrome extension is still in Alpha stage but it's really shaping up.  You can record your screen, yourself, browse your videos, grab your embed codes…all from the extension.  I think it'll be super useful for alof of you.
After that we are finally getting to our Youtube API improvements and reworking our Funnels features.