Spotlightr 5 has been the main focus of the latter part of the first quarter and all of the second quarter of this year.  We've been diligantly worked and testing and tweaking and our excitement has been building.  The newest version of Spotlightr is now ready for you!
In this article we want to briefly show you "big picture" changes we made…
If you're in a hurry and just want to get to Spotlightr 5, you can go direct to the Spotlightr 5 login page (your credentials are the same) or navigate to the v4 help menu as shown in the image below.
But please do come back here to review what we did!  It'll save you some time in figuring things out.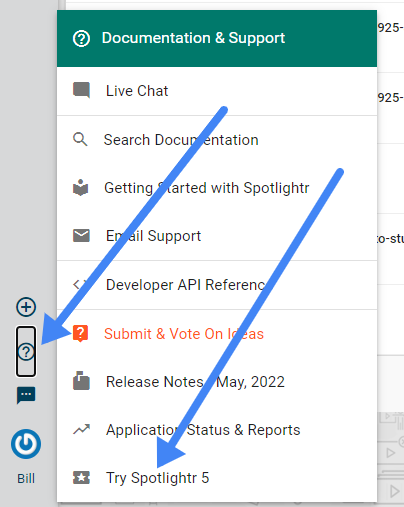 Speed
The new app is blazing fast.  I wouldn't say the old app was super slow, but it could have definitely done with some improvements and that is what we did.  When you switch back and forth from the old to new you'll really notice the difference.
Whether it's switching between modules are configuring settings, you can whirl around with minimal loading and pauses.  
Videos Organized by Project
We have changed the hierarchy to be managed by Projects.  Where previously videos were just listed in a Dashboard with optional Groups to be used to organize them, we now have Projects at the top of the hierachy.  Every video must be in a Project, and Projects are assigned Themes which form the baseline settings of your player and watch pages.
Moving over from Spotlightr 4?
If you are moving over from Spotlightr 4, then your Groups will automatically become Projects.  Any videos not in a Group will be put in a Project called Uncategorized.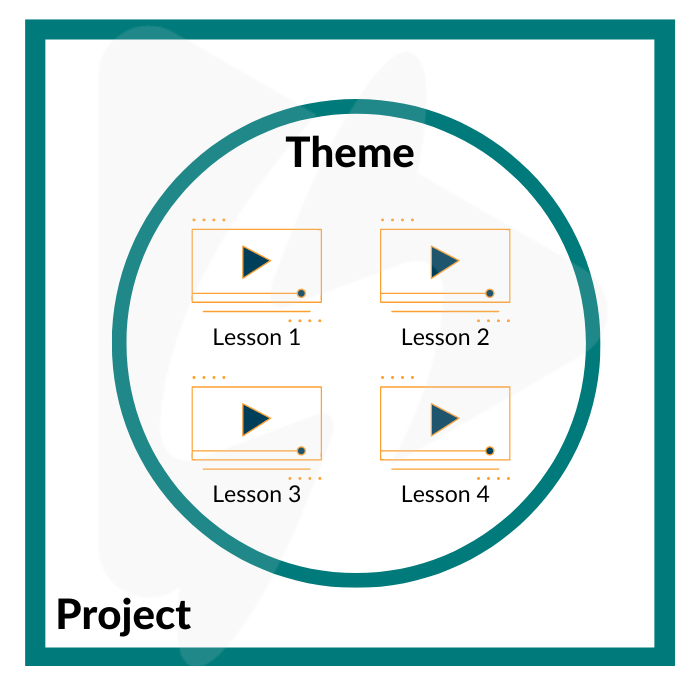 New Importance to Themes
Themes were a new feature in Spotlightr within the last year.  We've expanded on this idea of Themes to include a large majority of options for your player and your watch pages.
Here is how your new work flow would look with the newly important Themes added:
1.  Create a Project
2.  Create a Theme and configure settings that will you want applied to every video in that Project
3.  Upload videos to that Project.  The Theme you just created for that Project will be applied to all videos in that Project
4.  Configure individual settings for that video, if any.
The goal here is to enable you to create a Theme and set up that Theme so that all of the video settings, or at least almost all of them, are already applied to any video you add to that Project.
This will cut down on the amount of time needed to configure your videos!
We anticipate the majority of our customers to be able to create a Project, create a Theme, and then every video they add is immediately ready to go.  No other configurations will be needed.  Just upload and grab your embed code.
Moving over from Spotlightr 4?
If you are moving over from Spotlight 4 and have Themes already then those will be moved over to Spotlightr 5.  Again, we've greatly expanded what is configured in each Theme so be sure to check out your Themes once you are in Spotlightr 5.
Brand New Look & Feature Organization
The entire look and feel has been redone and the features have been organized differently.  When combined we believe the experience to be much easier and satisfying to use.
We put only the most important features in front of you with the rest a click or two away.  This way you are not overwhelmed with so many options in your face, and have the most used features at your fingertips.
All Modules Re-Worked
The Quiz, Gallery, Audience, Reports, and Playlist modules have all been completely re-worked.  They are now set up and organized in a way that make them quicker and easier to use.
Just to show you a quick example, here is how the redesign of our Gallery module configuration page turned out.  Obviously the changes will be more apparent when you use it, but this is just to give you a quick look at the kind of changes we made: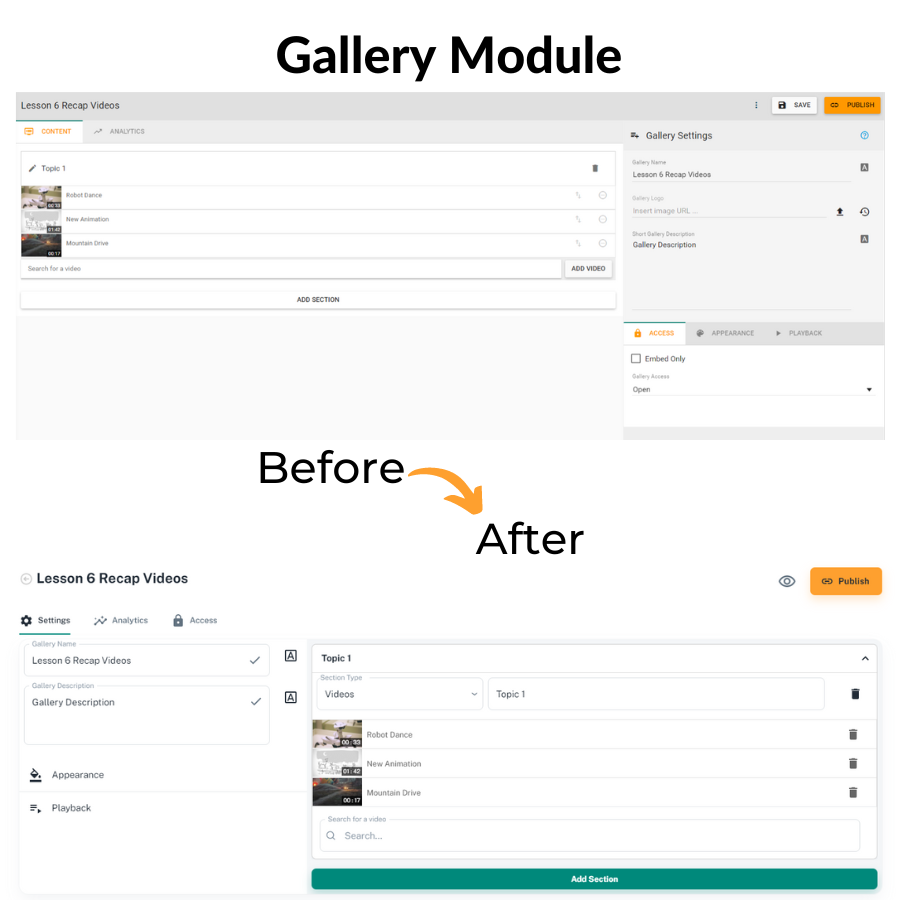 Record Your Feedback 
Totally optional but just wanted to mention it first.
While you are clicking around v5 and checking things out, uploading videos, etc it would be AWESOME if you would open up your favorite screen recording software and record your first impressions and feedback or any suggestions you may have.
The video can be as long or short as you'd like but this type of feedback is HUGE for us and would be really appreciated.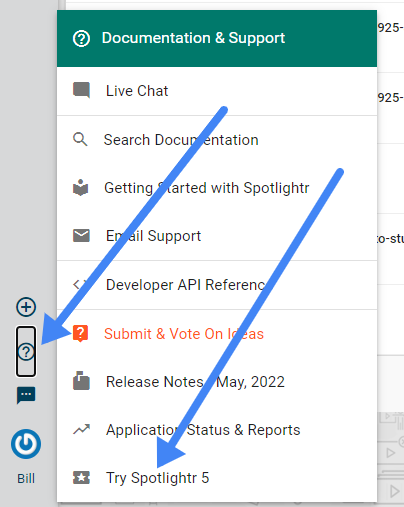 And then similarly you can switch back to 4 from 5 here: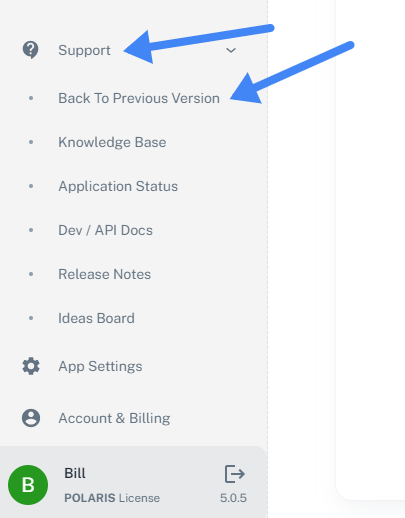 Keep in mind that anything you do in v5 will also be reflected in v4 and vice versa.  We would strongly urge you to NOT switch back and forth between the versions too often.  Because of the way we set up version 5 with Projects and Themes it may cause some confusion if you continually switch back and forth.
Both versions will be available simultaneously for a while but not forever, so we certainly encourage you to make the complete switch over to v5 as soon as possible.
Send Us Questions, Comments & Bugs
If you find a bug please report it.
And please give us your feedback.  Don't be shy.  Love it?  Hate it?  Have some questions?  Have some thoughts on improvements?
Get us on live chat or email support@spotlightr.com.  No feedback or comment is too short, we want it all.