Surprise! We're Telling You Straight Away (The Answer is Camtasia)
Let's get right to the point. After all, you have videos to create.
At the end of this post, we're going to recommend Camtasia over Snagit for most video course creation use cases.
This isn't a paid endorsement (both tools are offered by the same company, anyway). We'll outline the reasons for this recommendation in a moment, for anyone curious as to the why.
But the gist?
The More Powerful Features of Camtasia Make It Worth The Higher Cost, For Video Course Creators
Camtasia's features are better suited to a more dynamic and creative presentation, overall. More importantly, they'll provide more of a leg-up to growth initiatives than Snagit or another solution like Loom.
Simply put – you can just do more with Camtasia when it comes to video.
Everyone has different needs, however, especially when considering where they are in their journey as a course creator. An argument can definitely be made to start with Snagit and to scale up later when ready (we'll walk through this kind of flow in a moment).
And the best-case scenario might even be to grab both as a bundled package, depending on your own workflows and budget. That way, you can utilize the powerful screenshotting tools of Snagit in your overall tech stack as a business, in addition to getting the power you need from Camtasia, when it comes to your video screen recording.
Unlike most other pieces you might read on this topic (that just list features and benefits), in this post we're going to more specifically outline when and why either Camtasia or Snagit might be a better choice for you, ultimately circling back to our rationale for the above "final" decision.
And if you want to check out other products and how they compare, be sure to check our piece on Casmtasis vs Screenflow.
OK let's get into it…
What do they bring to the table?
Snagit is designed to help you capture, edit, and share what you see on your screen. It offers integrated features that allow you to add context and creativity to your screen recordings, helping you to make more engaging and informative course material.
With this tool, you can:
Instantly save to places like Microsoft Word, Powerpoint, Excel, Outlook, Google Drive, Gmail, and Dropbox
Record your screen, audio, and camera, capturing your whole desktop or just a window
Trim video you've uploaded or captured using this tool
As you'll find in this Snagit vs. Camtasia comparison, Camtasia gives creators even more tools to work with.
In addition to the same features Snagit offers, Camtasia lets you:
Use or create templates, helping you to deliver consistent and professional-grade video.
Save your favorite presets and tools for quick editing.
Incorporate cursor effects, transitions, and annotations, helping you to emphasize key elements or changes in your instruction.
Include audio effects and music for a more engaging and lively experience.
With a broader range of editing and animation tools, Camtasia allows you to customize your content however you'd like. But before you assume more is better, a comprehensive tool like this has its downsides, too, including higher cost and a larger learning curve.
Screen Recording
Both Snagit and Camtasia offer simple screen recording, but that's where they diverge.
Snagit gives you the option to capture just your screen or capture both your screen and camera. Regarding what is actually recorded on your screen, you can choose between recording the entire screen or limiting Snagit's focus to a single window.
Camtasia takes screen capture one step further by letting users capture individual regions or a single application. That gives you more control over what you capture and how your students experience your content.
While Snagit's and Camtasia's screen capture offerings are not significantly different, Camtasia still offers creators a little more flexibility and control. Depending on your needs, this may be enough to declare a winner. 
Video editing
When it comes to editing your video, Snagit and Camtasia each give you a different set of tools to get the job done.
Snagit allows creators to trim their clips, insert basic elements like arrows and callouts, and portray steps with visual labels. You can also customize the colors for all these visual elements.
Again, Camtasia offers the same video editing features as Snagit and then some. Camtasia gives users a library of ready-to-go video templates. Not a fan of their templates? That's fine. You can make your own from scratch.
With Camtasia, you can save your favorite effects for easy access across projects. And in addition to basic callouts, users can add animations, transitions, cursor effects, custom intros, and music to their screen-recorded videos. For those using the TechSmith smart player, you can even embed quizzes and surveys directly into your videos.
If complex customizations are important for your content, Camtasia may pull ahead here. But if you just need the video editing basics, then Snagit may be the best choice.
Snagit Works Great for Minimum Viable Products
In the age of the internet, much has been written about the virtues of developing a Minimum Viable Product (MVP) to test a product and/or business model. For any video course creators seeking to create and test an MVP, a free trial and even an eventual purchase of Snagit could make a lot of sense.
Snagit does a good job of covering the basics you'll need for your MVP. With some prep time to plan your content, you can quickly use Snagit to record videos for testing an initial, simplified version of your course.
Snagit features that help course creators get started quickly and cheaply with their lessons.  This image gives you a good summary: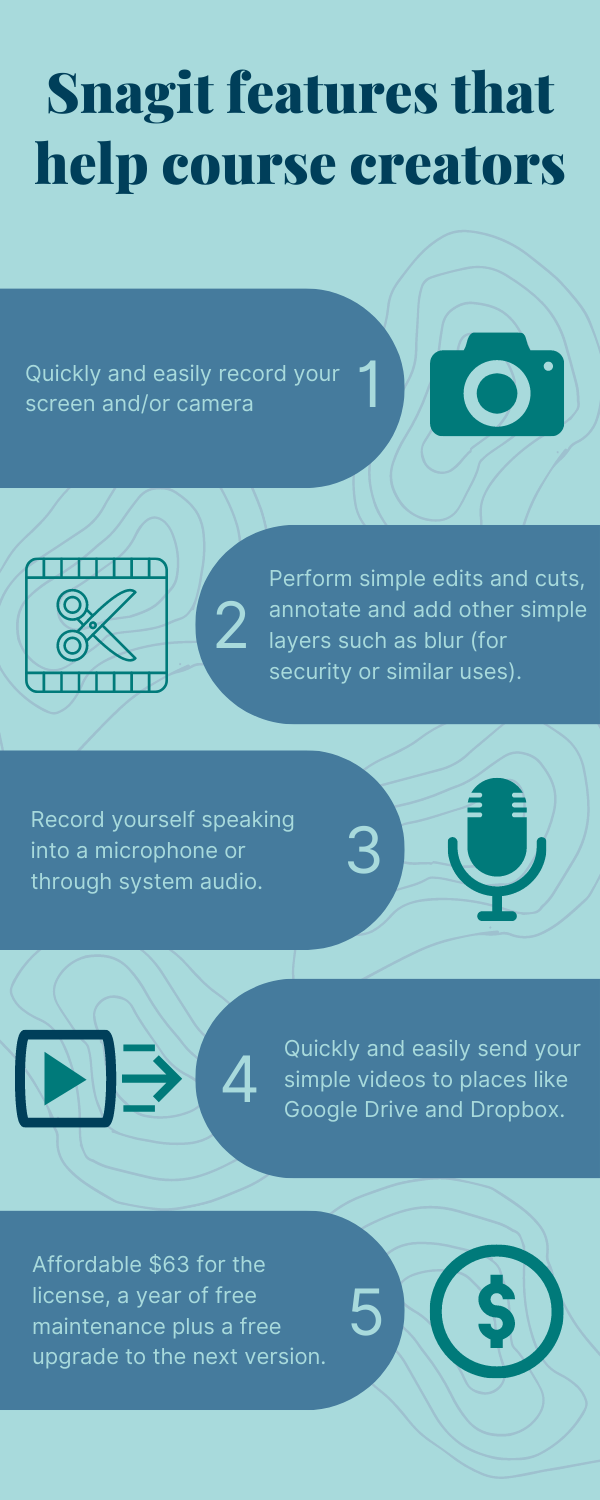 The above features will get you where you need to go for the basics. When combined with a thoughtful approach to your course content and your marketing, as well as a low-cost and secure video hosting platform – Snagit can help you deliver effective results for under $65 as a lifetime cost.
But there are a few things that Snagit doesn't do that you should know about, even in these terms.
Limitations of Snagit for Video Course Creators
There are three bigger drawbacks to Snagit that make this otherwise useful screen capture tool less of a good choice for even beginner video course creators:
1. You can't edit audio in Snagit
2. Text and titling options are very limited
3. Lack of any true video editing functionality
At the end of the day, Snagit as a video creation tool mostly lives in a middle-ground space between free screen recording options (such as come with the OS on your computer or phone), and more advanced applications like Camtasia.
The lack of audio editing could really hamstring efforts to compete with other course creators, even with a solid MVP-typed video course, as consumers are much less forgiving of poor audio compared to suboptimal visuals.
Consider also that your content is always competing with other videos across the internet, where consumers are used to seeing text on screen that's eye-catching and helps deliver messaging with more impact.
Snagit can't really do that.
Worse, it's not a great solution for editing together multiple takes for a smoother delivery with your overall video content. Editing is much bigger factor to consider when weighing the pros and cons of the two solutions, so let's look explore it more closely from the perspective of what will probably prove more powerful for you as a creator.
Camtasia is Simply A More Leverageable Tool for Video Course Creators
You can work around some of the challenges mentioned above by pairing Snagit with other free or very low cost software solutions in your overall video creation flow.
But at that point a prudent businessperson needs to ask if the extra steps and time are worth their cost, over what might be saved using something more advanced like Camtasia.
That especially goes for the last limitation of Snagit listed above – video editing.
Camtasia, unlike Snagit, is purpose-built for many of the most common primary features for course creators. Its recording interface is intuitive and flexible. It allows you to edit audio and clips and add layers and transitions. In so many words, it provides a more advanced video creation experience, at a less steep learning curve than more niche entertainment industry options like Adobe Premiere or Final Cut Pro X (FCPX).
With Camtasia, you get all the screen recording capabilities of Snagit plus many more: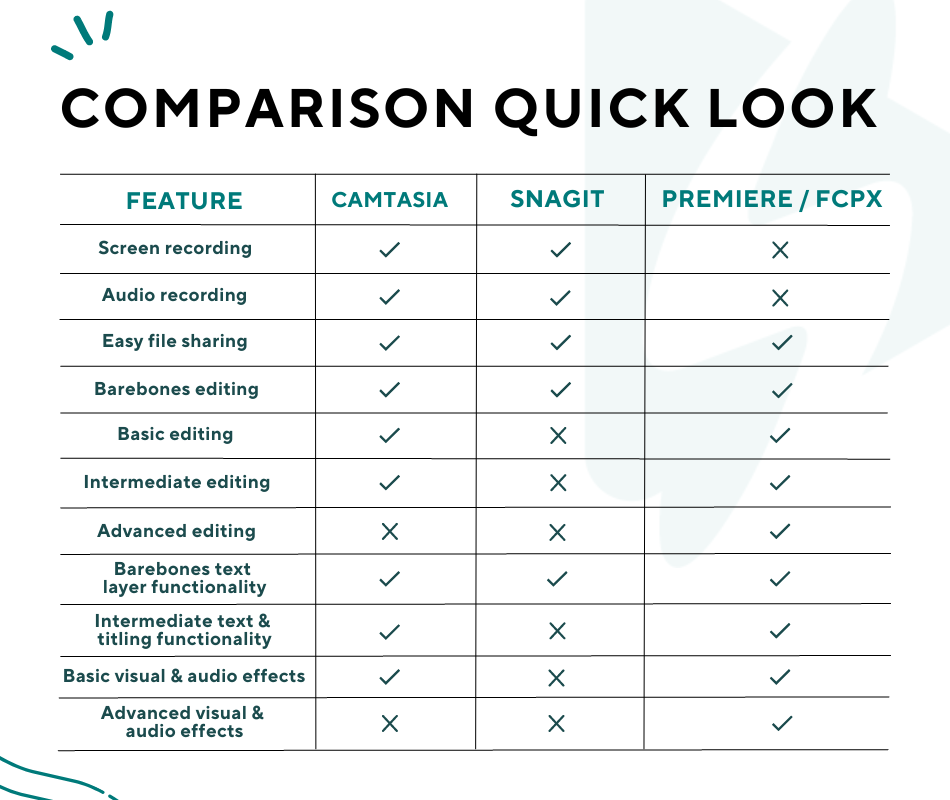 Again, your choice of tech stack for your video course creation may differ, depending on your own plans, needs and style. But while Snagit will quickly prove limited despite its easy learning curve, Camtasia can perform many of the core functions that might otherwise require a more professional tool (with a steeper learning curve), such as Premiere.
Conclusion: Pick What Works for You Now, But Don't Forget to Plan for Growth
Finally, we arrive where we began.
At the end of the day, we recommend choosing your screen recording and editing solution(s) based on your current content needs.
For a cheap and fast way to test an MVP, maybe Snagit could work as a first tool for screen recording and editing options that will get the basics done.
After that, your choice would depend on multiple other factors, the most important usually being:
Cost and value
Learning curve
Impact
For what you'll need it for, including all the reasons discussed here today, that's why Camtasia is probably a better bet for you as a video course creator, even at the higher price of $299 against Snagit's $62.99.
One Last Word: You Can Always Adjust
It's worth noting that Camtasia costs the same as Final Cut X, and that Premiere has low cost monthly options for both a more streamlined version of the software (Rush) and a pro-level version (Pro). Video course creators may not need most of the advanced features included in these more niche editing applications – or the more complex workflows that come with them.
This overall suite of available low-cost tools, though, does provide video course creators with powerful flexibility.
A sample growth trajectory for your video course software stack might look as follows:
1. Snagit: Early testing and MVP development
2. Camtasia: Higher/deeper quality during growth phase(s)
3. Pro software: When you're ready to level up again
You could also outsourced labor at any stage, particularly when it comes to Level 2 and 3 from that list. Or, if you're going all-in from the start, perhaps begin by maxing out what Camtasia can do before looking at other solutions, if that even proves necessary.
Secure Video Hosting For Courses Built For Growth
Whatever you use for production software, and however you go about creating your successful course – at least you won't have to worry about affordable, secure hosting and marketing solutions.  Try for 14 days risk free, no credit card required.