Building courses online can be extremely rewarding whether you do it as a teacher or as a content creator sharing your expertise with other people.  You do need a very good course creation platform to make your courses easy to navigate and to faciliate the teach process.  They can even help you market your course and get more students.  If comparing Kajabi vs ClickFunnels is on your "to do" list for researching platforms, then we think you will get some unique information in this article.
So, which one is the best? Well, that depends! (Don't you just hate that answer!). We're kidding…there are actually some big differences between these 2 big players in the field and we're going to break down some important distinctions for you.
Like some of our other comparison articles, these 2 platforms are meant for different use-cases. So that makes some of these comparisons a little awkward to explain. We'll do our best though and hopefully by the end of this article you'll be a lot more educated on what each platform can and can't do.
We will look at Kajabi and ClickFunnels in 5 different areas:
– Customization – How much can I customize the website builder as well as the course builder
– Marketing – Are there built-in marketing tools? Are they easy to use? Do I need external tools?
– Technical ability – How hard is this to set up? Do I need to spend weeks studying?
– Cost – If you are just starting out then your budget is probably a concern. Are there hidden costs besides what I'm seeing on the pricing page?
– Video capabilities and hosting – My course includes tons of videos so I need to make sure that I am (and my students are) getting the most out of it.
On top of this, we've also looked at some of the more commonly touted pros and cons of both Kajabi and ClickFunnels.
Customizing Your Course And Website
Let's get into how much customization can be done with the website/page builder as well as the course builder. It's important to know how their design options compare to each other as well as flexibility without knowing too much about HTML or CSS (or knowing anything at all!).
Kajabi
As far as building out a website and its pages, Kajabi makes it pretty easy to get this done. They offer a bunch of themes and then plenty of page templates. When you are customizing the page, you will use different elements to add and edit on the page which are all drag and drop.
And if the drag and drop builder doesn't get you there, you can edit the pages with code. You do need their most expensive plan in order to have access to editing the code.
With building out your course, you can start with a built out template or create one from scratch. Courses consist of Categories and then Posts. Categories would be your main lesson topics, and then Posts would be the individual lessons (Posts are also very similar to how to write blog posts in Kajabi).
It's a SaaS platform so not going to be as customizable as something built on WordPress for example, but you are trading ease of setup and a simple, clean design for being able to customize in a million different ways (like you can with LearnDash and WordPress for example…if you are interested check our article on LearnDash vs Kajabi as well).
And just like the website, if you are on the Pro plan you can edit the code of the course and customize even further.
ClickFunnels
ClickFunnels also offers a similar drag and drop system to build out their pages. Pages are very customizable as Clickfunnels provides tons of different element types to add to your pages and also allows you to add any HTML or Javascript to the page as well.
Just be aware that Clickfunnels is not really built for making full-fledged websites. You have to sort of patch together pages by using their funnel builder to connect the separate pages. So you would create a page as part of a funnel, then rename the funnel to whatever page it's supposed to be (like Contact page or About Us page). And then you'll need to manually create any header or footer navigation with their custom code options.
So it is customizable as a page builder, yes.  But not actually easy to create a site or really made for it.
The nice thing about Clickfunnels is the ability to add/edit custom code is available on all plans, not just their most expensive plan.
As far as courses go, the same remains true. Clickfunnels isn't really meant for course creation. Yes, it can be done by creating a membership area with videos added to pages which are locked in a members-only area.   It does the job, but won't have that course "feel".
The winner in this section? We'd love to give it to Clickfunnels since you can actually build just about anything with Clickfunnels. Problem is that it's just not built to create full websites or courses, so Kajabi gets to the winners circle on this one.
Marketing – Kajabi vs Clickfunnels
Both Kajabi and Clickfunnels have built-in tools for email marketing and funnel building. Let's see how they each approach these tools and what differences can be found between them.
Kajabi
Kajabi focuses on tagging contacts which segments them. Once tagged and segmented, you can add them to various email campaigns and send them content that suits them in particular (based on the tag). The campaigns can be tailored for delivery time and how long in between to wait between sending emails. You can also send one-time broadcast emails as well to any segment that you wish.
They also include a wide variety of email templates to choose from to get you on track immediately with your messaging.
Kajabi takes care of all of this for you without needing to use any other services. You can send transactional emails as well as promotional and service-related emails.
Kajabi also offers what they call pipelines, which other people might call funnels. Funnels are pages connected in way that send visitors from being a lead to being a customer. Kajabi has some already set-up pipeline templates that you can choose from. Or you can build one from scratch. Kajabi keeps it pretty simple when it comes to building these out, which can be good if you are just starting out. But you are looking for advanced, multi-step funnels then you will have to create that rom scratch.
ClickFunnels
ClickFunnels also takes care of segmenting and automating email campaigns, similar to Kajabi, but you will need another service to help.
Clickfunnels itself only sends transactional emails. If you want to send promotional emails or anything else you would need to sign up for an SMTP service like SendGrid. This service is the one that actually send the emails, and then you connect it to your Clickfunnels account via API.
Now as far as funnels is concerned…well, the word is in the name so you'd like to think that Clickfunnels would do a good job with…funnels. And yes they do. They are one of the market leader SaaS companies when it comes to building funnels. There are tons of options to upsell, downsell, and cross-sell customers.
This is really where they shine.  For example, if you build a membership area for your course it's easy to publish that members area with some unlocked and some locked content.  This is a good way to show some of your content/lessons for free, while still locking most of it.  When a visitor clicks on locked content, they can be gathered as a lead or led directly to sales page to purchase the course.
Clickfunnels has over 100 themes and templates to get you started on your funnel and getting it online quickly. They also include conversion tracking to see which funnels and pages are performing better.
Even though you need an outside SMTP service to take full advantage of email marketing with Clickfunnels, we still have to make it the winner overall for the marketing category. Their funnel builder and how it incorporates into the email marketing toolset is really tough to beat.
Clickfunnels Membership/Course Area With Locked & Unlocked Content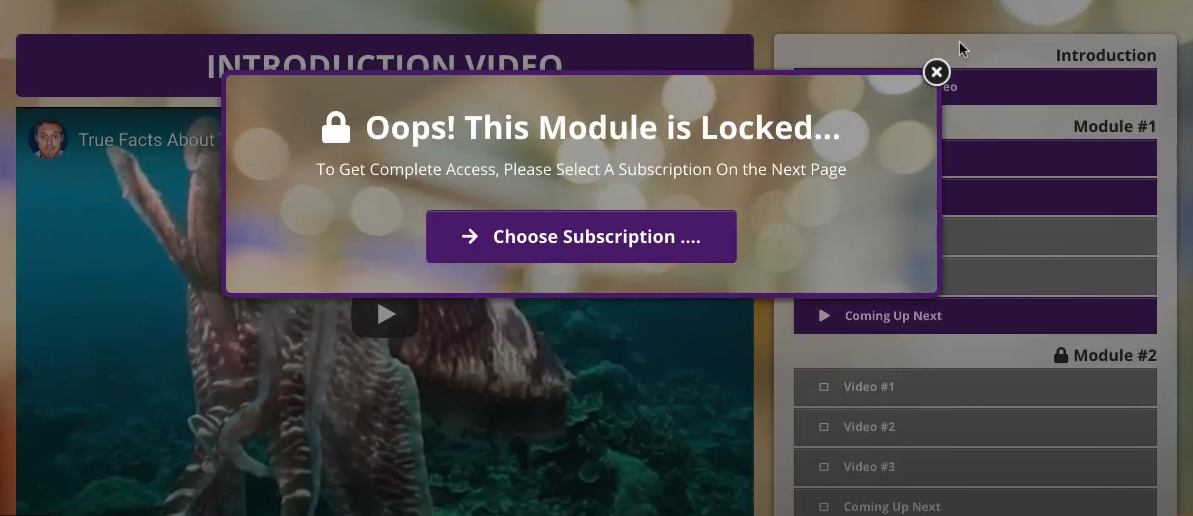 Technical Abilities
If you are not particularly "techy", you'll want to make sure your course building tool is easy to use and has a friendly user experience. Here's the rundown on Kajabi vs ClickFunnels from this perspective.
Kajabi
Kajabi has a reputation for being one of the easiest platforms on which to build courses, so it will be easy for non-technical people to work with it. As mentioned before, some customization options might require extra-coding, but you can probably do very well without them too.
ClickFunnels
ClickFunnels is also believed to be easy to use, although it might require a bit more time investment upfront in order to learn its interface. But once you get the hang of it, it should be fairly straightforward.
Where Clickfunnels gets a little tricky is tying those pages into a cohesive website. It's not really meant to build full-fledged websites. Clickfunnels is more of a page builder and marketing funnel creator. Having said that, it's still entirely possible to create an entire website. It's just not as easy.
So… who's the winner here? If you're not particularly tech-savvy and want an easy user experience, Kajabi is probably the better choice.
Cost – Kajabi vs Clickfunnels
Finally, let's look at the cost element of both Kajabi vs ClickFunnels:
Kajabi
Kajabi comes in three pricing tiers, differentiated by features like how many admin users you can add to one account, how many courses you can create, and so on. The plans are as follows: Basic, Growth, and Pro (at $419/month, $199/month, and $399/ month, respectively — all prices when you pay for your subscription on an annual basis.)
ClickFunnels
ClickFunnels comes in only two plans: Basic at $97/month and Platinum at $297/month. Both also have annual billing discounts.
The main differences lie in the number of funnels you can build, how many pages you can build, and so on. It's also important to note that both of the plans can be trialed for free, for 14 days.)
So, who wins here?
Well, ClickFunnels is cheaper. But it is also very important to remember that ithis is not a course-creation tool per se, so it may be less generous with some features course content creators use to build and promote their work. For instance, membership-related features might be a lot better in Kajabi.
Video Hosting for Course Creators
Naturally, you want to create a course that is as engaging, informative and eye-catching as possible. So having an easy way to include video content in your courses is vital.
Kajabi
With Kajabi you have some flexibility for your video lessons. You can either upload directly to Kajabi, who has a partner that hosts the videos, or you use a 3rd-party video hosting company.
While you do get some options when using Kajabi's player, you don't get near the amount of options, features, or security you get with a hosting company specifically for course creators.
For example, does allowing your students to search inside actual videos seem like something students would want?  With Spotlightr you learn how to make videos searchable for students and they will love you for the time-saver.
If you upload to Kajabi your videos are susceptible to piracy.  Any browser extension or plugin can download your valuable content.  With Spotlightr, your videos are encrypted, securied and protected from piracy.  We take security seriously.
If your course is made up mostly of video lessons, as it should, then you don't want to skimp on this feature. Use a good video hosting company that can help you get the most out of every video you put online.
ClickFunnels
ClickFunnels gives you the ability to add a video element to your pages. You can't upload directly to them, but you can use the embed code to add video to a page.
Because both platforms offer very similar video content features, there's no clear winner here. So we will declare it a tie.
Kajabi vs Clickfunnels Pros and Cons
Here's a quick overview and high-level pro and con list for each platform.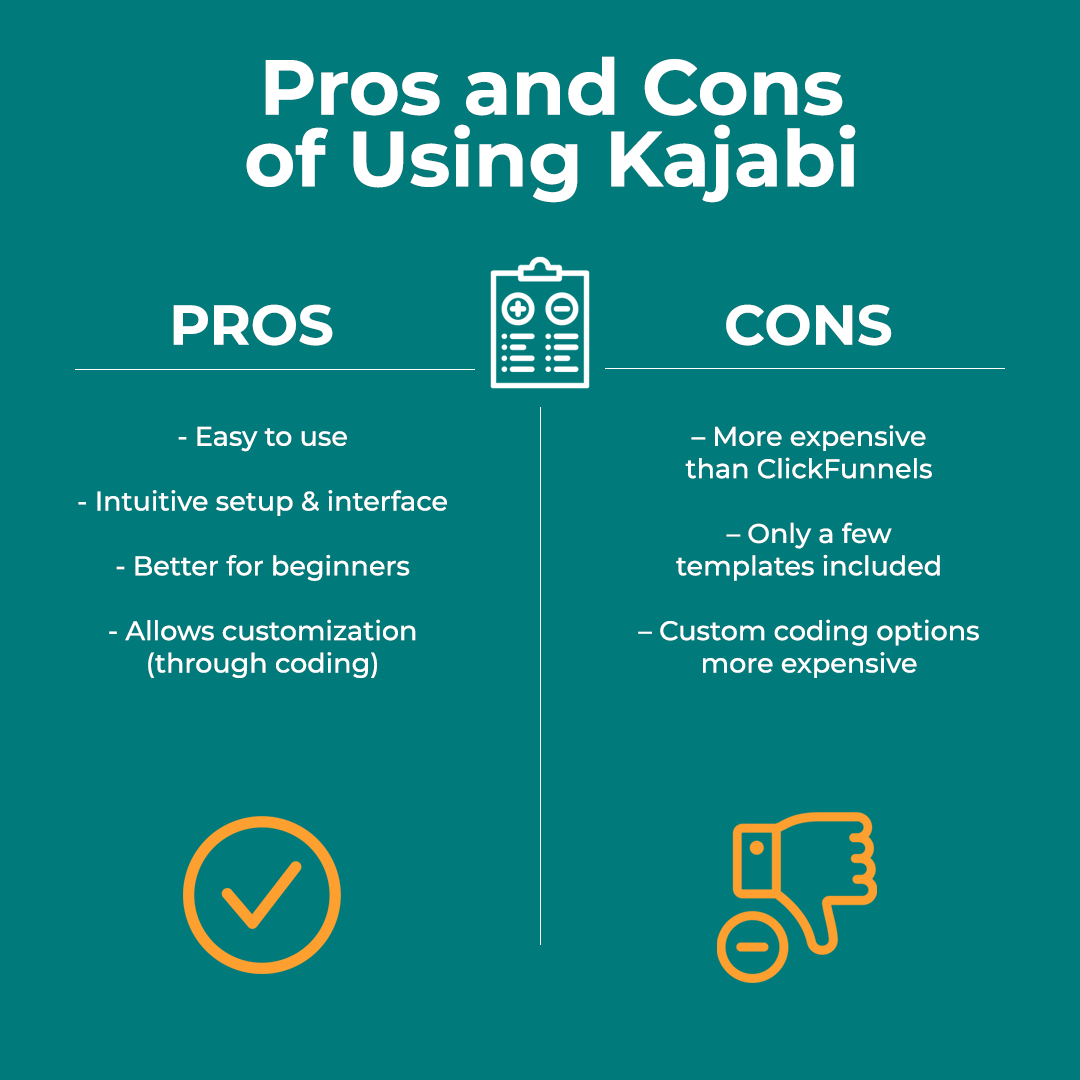 Pros of Using Kajabi
In general Kajabi is easier to use. The interface and setup are more intuitive and easier for beginners. It's built for creating courses so building your course will be straight-forward. And it does allow some added customization via code.
Cons of Using Kajabi
Kajabi is arguably more expensive than ClickFunnels. If you are just starting out, their introductory plan is $149/month which might be too expensive for some people.
While they do include some templates for their website builder, it's not alot of them. And if you want to use their custom code feature it'll cost you $399/month on their highest tiered plan.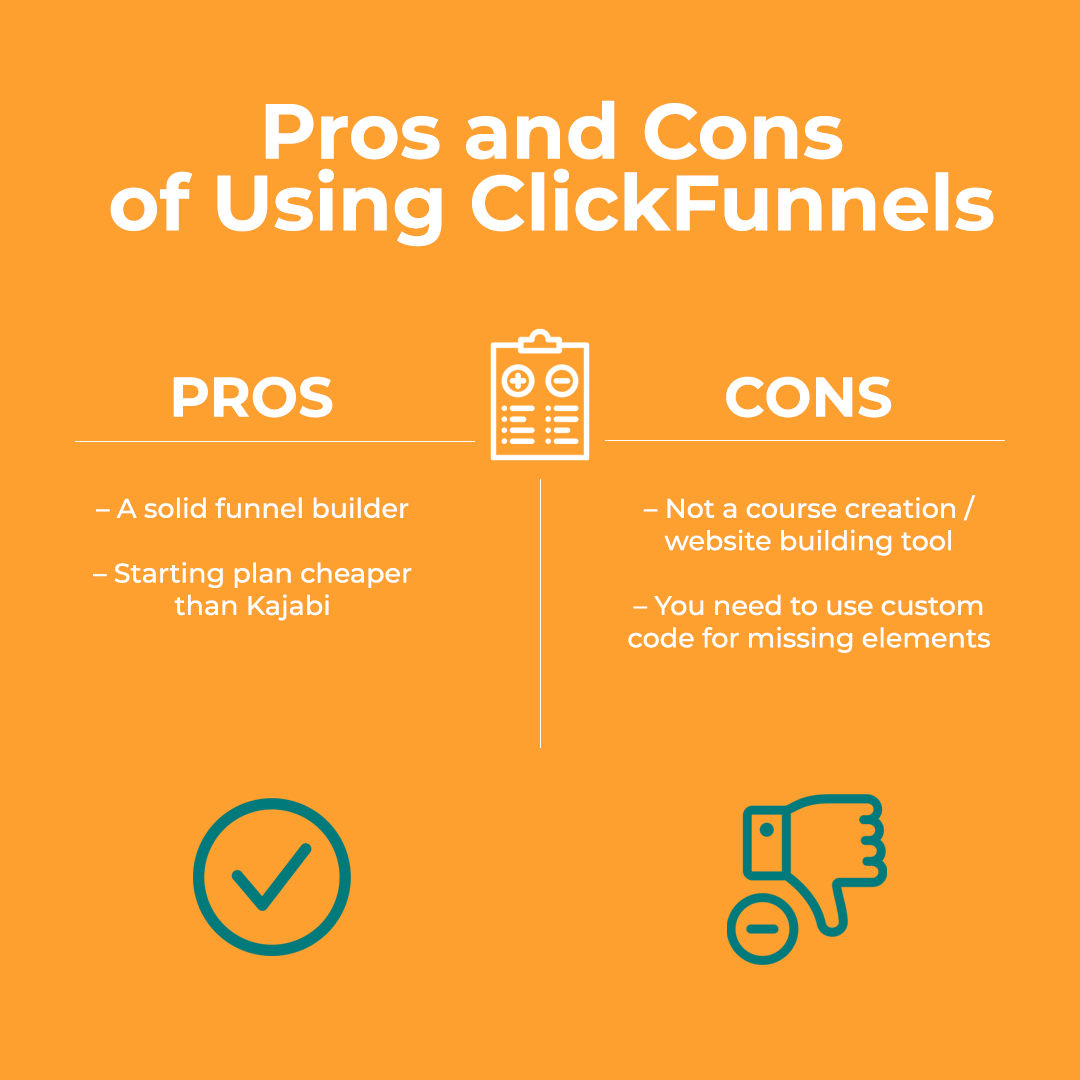 Pros of Using ClickFunnels
The biggest advantage of using ClickFunnels is definitely it's funnel builder. That's what it's built to do and it does it well. It's made for generating more sales via funnels.
It's less expensive than Kajabi at their introductory plan.
Cons of Using ClickFunnels
ClickFunnels is not built as a course-creation or website building tool so you'll need to patch together pages you create and then use custom code to generate missing elements.
So… Kajabi vs Clickfunnels: Which One's Best?
If you are a course creator first and beyond anything else then Kajabi is going to be your best choice. It has built-in templates to create them and Kajabi does it well. If you already have a website and/or course created and you are looking for an easier and quicker way to generate and customize funnels and pages for those funnels, then Clicfunnels is a good choice.
These two tools can actually work together. If you want to use Clickfunnels to collect leads and sell products, you can then use their integration to give your customers access to those products inside of Kajabi.
Host Your Courses With Spotlightr - Free 14 Day Trial
No credit card required.  Sign up for a free trial and see how Spotlightr can showcase your course and brand and help you drive more leads and course sales.  Get started risk free!