The creator economy is growing faster than ever before, and putting out online courses is a huge part of it all. If you're in the market for a good course creation tool, LearnDash vs Kajabi is a comparison you'll most likely want to make.
These platforms are very different and will cater to very different creators. Once you go through this article you will understand why and have a really good understanding of which one is a better fit for you.
We've looked at both tools and analyzed them from five main perspectives:
– How much customization can you make on the website and course?
– Does it have marketing tools or do you need separate tools?
– Do I have to be a "techie" to figure out how to set up my site and course?
– Are there any hidden costs? How much is everything included?
– What options do you have for video lessons?  Can I use my own video hosting?
Additionally, we also took a closer look at the main pros and cons of LearnDash vs Kajabi, so you can better navigate the features that are most important to you.
Customization
Let's talk about customizing the website in general and course pages specifically in regards to these two platforms.  You need a tool that will allow you to personalize them and match them with your established or soon-to-be established brand, so looking at how customizable LearnDash vs Kajabi are is going to be one of your first priorities.
Here are some key notes to keep in mind about each:
LearnDash
Because LearnDash is a WordPress plugin and build for WordPress, it's a drag & drop, no-code tool.  WordPress has thousands of themes available to choose from when you want to get a start on the look and feel of your website.  And with the thousands of plugins that are available, your no-code customization options are huge.
It will also allow you to customize your courses with tons of options, down to the smallest of details, with just the use of plugins and other WordPress options.  This will satisfy most people's design requirements.
And if you really want something very specific or custom, it can easily be accomplished with some basic coding.
You can do a lot with just the "code-free" options that LearnDash and WordPress provide, so if you don't know how to code this tool will still be a great option.
Kajabi
An easy drag and drop interface will take you a long way in customizing your website built on Kajabi.  They do offer some themes to choose from, though not thousands like WordPress, and even their pages that you build inside the themes have templates as well.  They are well designed and well optimized and drag and drop.
If there isn't anything that isn't quite perfect for you, then you can edit the code.  Just keep in mind that it does require their highest priced account.
Who wins the customization battle?
We'll have to go with LearnDash with this one.  It's hard for any SaaS to beat anything built on WordPress since it's open-source and has thousands, if not hundreds of thousands, plugins already developered for it.
Marketing
Building a course is one thing. Making sure people..
– Come back
– Complete each module
– Tell other people about it (or at least review it)
… is an entirely different affair.
As such, you will definitely want to look into the marketing options LearnDash vs Kajabi offer.
LearnDash
Although LearnDash may not connect with a lot of marketing tools as native integrations, they do provide you with the option to connect your courses with email marketing tools and CRMs via other 3rd party WordPress plugins.
In essence, they do the trick: they help you build a bridge between your courses and the marketing tools you want to use, so you can up-sell to your students, keep them in the loop, and encourage them to evangelize your content.
Kajabi
Kajabi is rather limited in it's direct integration with other tools, but they do integrate with Zapier. So if push comes to shove you can probably get done what you need with Zapier.
The silver lining? Kajabi provides its users with a built-in email marketing tool with an intuitive visual builder and what they tout as "built-in best practices". It also features a funnel builder and webinar software as well.
They also have tons of marketing training available which obviously showcase how to use their tools to their potential. So if you are looking for a platform that has just about everything there for you already, then Kajabi is for you.
If, however, you already have preferred tools and platforms that you want to use, then LearnDash is going to work better for you.
On the marketing tools front, LearnDash definitely wins for the wider range of 3rd party integrations and flexibility, but Kajabi wins for having everything built-in and ready to go. Because of the marketing tools and training Kajabi has in place already, we would give the edge to Kejabi in terms of marketing (especially if you are new to digital marketing).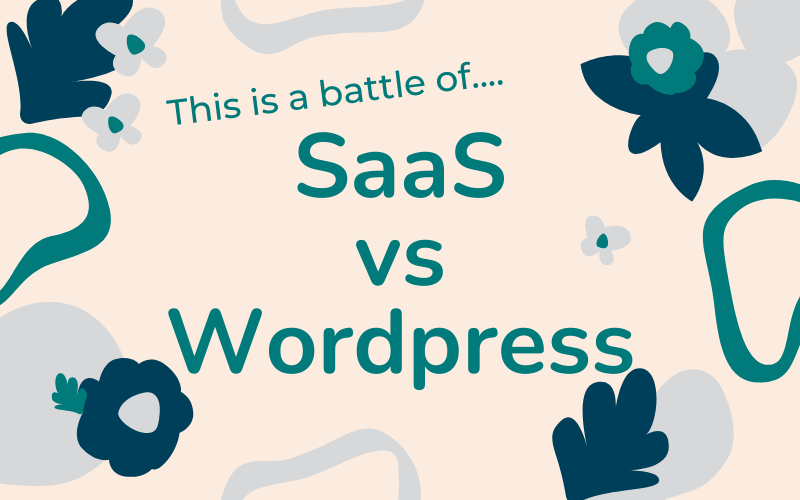 Technical Ability
Unless you're a programmer, you want to use a course building tool that doesn't ask too much of you in terms of technical skills. Here's how both LearnDash and Kajabi behave here:
LearnDash
As you may already know, LearnDash is a WordPress tool. And as such, it's perfect for people who want to be in full control of the technical side of their eLearning experience.
Each element (content areas, videos, quizzes) does come with its own settings panel so you do need to know your way around WordPress to take full advantage of the options. You don't need to know how to code, but you do need to be somewhat computer literate.
Kajabi
Kajabi tries to make things as simple as possible for its users – and it does show. For example, when it comes to quizzes and assignments, you can choose between letting students submit their answers for grading automatically or manually. And if you want to add further customizations with HTML, CSS and Javascript code, Kajabi provides its users with a basic editor – although it's not an IDE (Integrated Development Environment) that programmers are used to.
Who wins here?
Both tools are code-free. However, Kajabi is a more intuitive experience if you're not a very technical person.  If you've never used WordPress before, the learning curve with LearnDash will be much higher than Kajabi.
Cost
Of course, you also want to know how much you'll pay for LearnDash vs Kajabi (and what, more exactly, you'll get for the money).
In short, this is how the pricing scheme of each tool breaks down:
LearnDash
There are three pricing tiers on LearnDash: $159/year (Basic), $189/year (Plus), and $329/year (Pro). These are all annual plans, and the main differentiator between the first tier and the next ones is how many websites you can install LearnDash on. You will get just one website for the Basic plan, but 10 and 25 on the Plus, respectively Pro plans.
The upper tiers also include ProPanel, a solution developed by LearnDash to help their users track, in real time, how students are interacting with their content.
Kajabi
Kajabi also comes in three pricing tiers: Basic ($149/month), Growth ($199/month) and Pro ($399/ month). They also have annual plans that get you a 20% discount over the monthly cost. You get unlimited landing pages and unlimited emails with all the plans, but what makes the difference between all the tiers are features such as:
– Number of products (i.e. courses) you can include on one account
– Number of pipelines
– Number of contacts
– Number of admin users
The lowest tier plan also has Kajabi branding, limited automations, and no chat support.
So, which one is more advantageous when you compare LearnDash and Kajabi? Hands down LearnDash is more affordable. Of course affordable doesn't mean better, but if cost is a top concern for you right now then LearnDash is the winner.
If you are an already established brand with an audience, and want something robust and easy to set up, then Kajabi is likely more in your wheelhouse.
Video Hosting For Course Creators
Most courses are video-based, so it comes without saying that course builders like LearnDash and Kajabi will support video content. There are definitely differences you should be aware of.
LearnDash
Course creators using LearnDash will use third-party hosting for their video lessons. Yes, it's possible to upload videos direct to WordPress Media but this is definitely not recommended.
And since it's built on WordPress just about any HTML, CSS, and Javascript can be added without issue. Thus any third-party video hosting for courses will work well.
LearnDash's Video Progression is a popular feature and has integrations with only a few providers, with Spotlightr being one of them.
Kajabi
As you might expect, Kajabi supports both uploading and using videos hosted on third party platforms (though technically when you upload to Kajabi you are using third party hosting as they partner with Wistia).  If you upload directly to Kajabi it does have very basic stats and player functionality. The upload size limit is 4 GB as well.
If you need more customization, functionality and features (like how to brand video), as well as upload files bigger than 4 GB, you will need to use third party hosting.
The "video" category gives the slight edge to LearnDash because of its video progression feature.
LearnDash vs Kajabi Pros and Cons
Both LearnDash and Kajabi come with their own advantages and disadvantages. Here's a quick rundown of both: 
Pros of Using LearnDash
The main advantage of using LearnDash is its versatility. It can be used for a lot more than just courses – you're able to build out a full-fledged website around your course and customize it however you want. It can truly be a unique brand experience.
The fact that it is a WordPress plug-in also makes it very easy to use and customize. With LearnDash, you can easily build your own courses from scratch or adapt premade templates (which are already available) to match your needs perfectly. You can also create different types of membership sites, including subscription-based and one-time purchase memberships.
Cons of Using LearnDash
One of the main drawbacks of LearnDash is that it will take time to build out. You will need to become familiar with WordPress and the "Wordpress world" to be able to build out your course. And if you want to really take advantage of the flexibility of WordPress, you will need to be able to code or hire someone who does.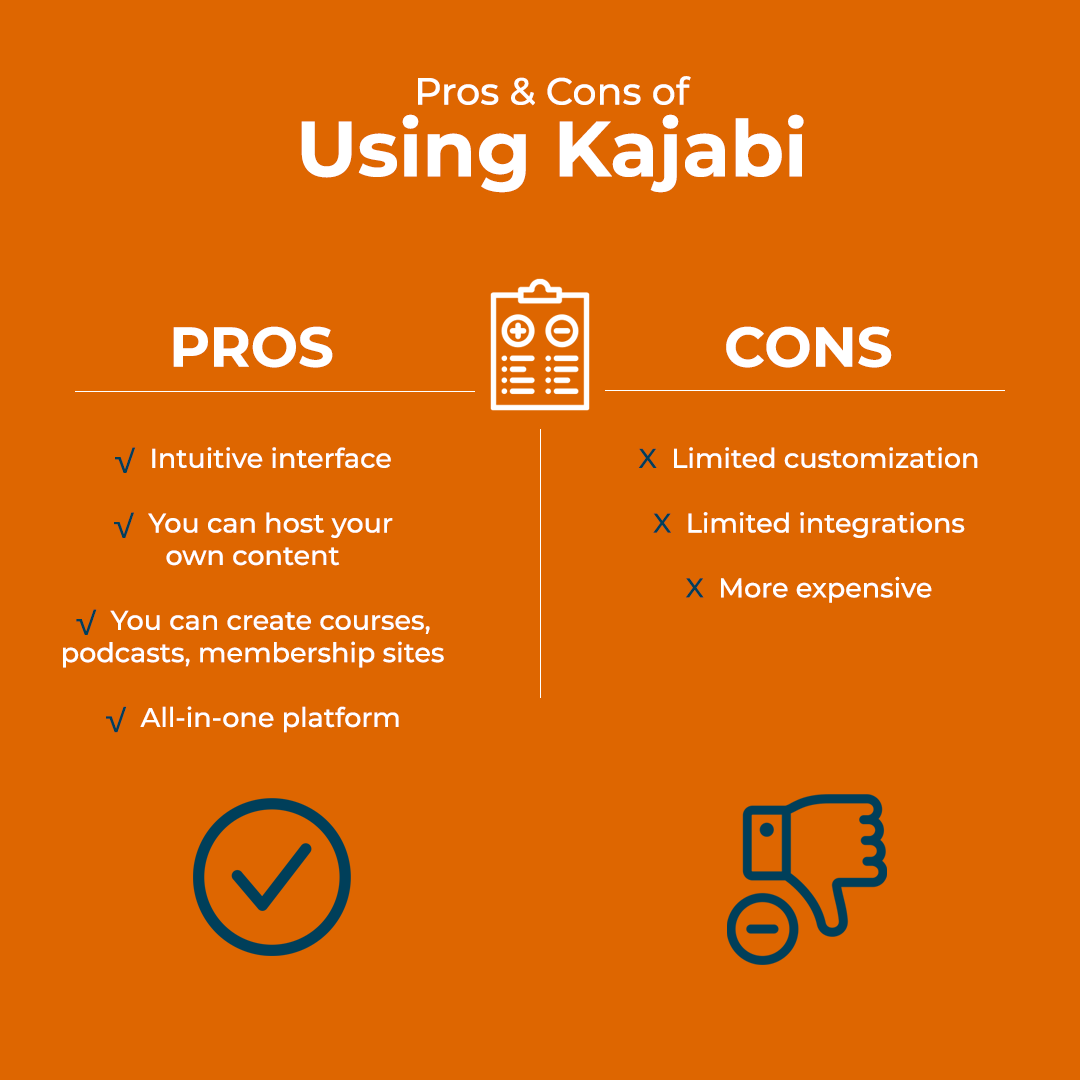 Pros of Using Kajabi
Kajabi has several advantages over its competitors, one of which being its intuitive interface. With Kajabi, you can easily upload and host your own content, create a course, podcast, or membership-based product with a few clicks. Everything that you need is already there, so you don't have to go out and subscribe to and learn other tools to use in conjunction with Kajabi.
Cons of Using Kajabi
One potential downside of using Kajabi is that its customization is limited, and so are the native integrations it provides. It's also quite expensive. However, if these are not issues for you and if you're looking for the quickest, simplest way to create your course, Kajabi will more than earn its keep.
So…Which One's the Best?
If you're already using WordPress then LearnDash is probably the best option for you. You will be able to pick it up pretty easily and there are plenty of plugins available to customize it as you need.
And if you are on a budget then there is no question LearnDash is a better choice. Kajabi is far more expensive and once you stop paying you lose access to your course completely.
If, on the other hand, you are looking for an "all-in-one" solution that will get you up and running quickly then Kajabi will be the better choice. Just be aware that you will need to pay more for it. This will also probably work better for already well-established brands who just need a solution to facilitate any training or courses they need to add to their already established websites.
If you want to learn more about other learning platforms we've compared, check out our article on LearnDash vs Teachable.  More coming soon!
Free 14 Day Trial
Spotlightr has all the tools you need to secure your videos from piracy, keep your video content on-brand, and market your courses so you can sell more courses  and increase enrollments.