If you're in the market for an all-in-one platform to help you launch and grow your online courses, you may be wondering whether Kajabi or Kartra is the right fit for you. In this Karta vs Kajabi showdown, we will take a look at five main areas to help you determine which of the tool works best for your needs:
– How much can you customize? Can you change templates/themes?
– What kind of marketing tools and/or training do they provide?
– Is it easy to use? Do I need to be a bit technical to figure it all out?
– What are the total costs? Are there hidden costs? Transactional costs?
– My course includes video. Can I use my own video hosting?
Then let's take a look at the pros and cons of each solution. By the end of this assessment you should be in a better position to make the right choice for you and your goals.
Customization – Kartra vs Kajabi
You want your website and courses to look professional and on-brand, so it's important to be able to customize the look of your course delivery platform. A good mix of templates and themes to get you started with customization available is the sweet spot.
Kartra
Kartra is an all-in-one business platform that focuses mostly on marketing and marketing automation. They don't offer "themes" to get your site started like other platforms might, but they have tons (literally dozens) of page templates that you can choose from to get you started. From those you should be able to find a homepage, about us, contact page, etc that you can start with and then customize.
Their designs are quite nice and varied so it should satisfy even the pickiest of people.
Then just use their drag and drop page editor to adjust the pages as you see fit.
It's important here to note that Kartra does not offer a blog, so if you are definitely looking for blog functionality then Kartra is not going to be for you.
As far as building out courses it has the basics you need. You can drip feed and lock content, add text and video, etc but you can't create quizzes. If that is a must for you then you'll need to incorporate third-party tools to add quizzes.
Kajabi
Kajabi takes a slightly different approach for their page and site builder. They include a handful of themes to select from to start your site. Then there's another 20 pre-designed templates you can use to select the pages.
And similar to Kartra, a drag and drop editor allows you to choose from dozens of elements to add to your pages and edit to make it as you see fit.
For courses you can use a template already created or you can start from scratch.  When you build out your lessons, you do that with their "Posts".  It's quite intuitive to build and works nicely.  
Overall, in terms of customization, Kartra takes the edget in terms of building out the site because it offers more options, templates, and design features.  Just keep in mind that you cannot create a blog with Kartra.  But in terms of the actual course we'd have to give that to Kajabi as it's clear that Kajabi is just built for courses more so than Kartra.  This one's a tie.
Marketing
Some say building the course is the easy part. And getting people to notice you is the hard part. Well, that's partly true. The marketing you do and the marketing tools available to you are certainly an extremely important aspect to your success. Let's see how they shake out in this department.
Kartra
Kartra comes with a number of powerful marketing features to help you boost your course sales. Kartra's email marketing system lets you easily segment your lists and send automated emails based on actions your students take (or don't take).
You can also use a very nice split testing tool to see which emails are more effective, and their email templates will give you a head start on getting them written out.
Furthermore, Kartra will also provide you with other important marketing tools natively (without needing to integrate other tools). For instance, Kartra will enable you to create sales funnels (they call campaigns) right from the product. They do have a bunch of campaigns built already that you can use and customize to fit, or you can build it from scratch.
Kajabi
Kajabi gets the job done nicely as well. Their tagging feature segments your audience so you can section off your list into groups and send them content specific to them. You can also set delivery times of your emails and control how many days/hours in between in email. Pretty much all the necessary features you need with a modern email service provider.
Kajabi has a funnel builder as well that they call pipelines. You can choose a pipeline "blueprint" to get started, similar to Kartra's campaign templates, and then adjust it to your needs.
Both of these platforms supply you with the important marketing tools that you need. Kartra does offer a split testing feature for email marketing, but we find that Kajabi's pipelines are easier to configure than Kajabi's campaigns. The setup just makes more sense and is more intuitive. We'll give Kajabi the slight edge in this category.
Technical Abilities
What's the learning curve? How much do you need to know about digital marketing to understand how to set it all up? Let's answer a few of these questions.
Kartra
As far as building out and customizing pages and courses, it's fairly easy. It's all drag and drop with no coding required. As mentioned previously some of the features are not super-intuitive though. When it comes to building out the course, it's a bit clunky and it's kind of clear that courses are not the number one priority for this platform.
Kajabi
In general we found that Kajabi is just easier to use and more intuitive across the platform. Their functionality is very similar, but the approach that Kajabi takes just makes more sense.
In the Kartra vs Kajabi battle on technical ability, Kartra wins the game because it is just flat-out more user-friendly.
Cost
Any hidden costs? Transaction fees? Let's take a look at how each platforms charges for it's service.
Kartra
Kartra pricing comes in four tiers: Starter at $99/ month, Silver at $199/month, Gold at $299/ month, and Platinum $499/ month. Discounts also apply if billed yearly.
The main differentiators between the plans are the number of leads, custom domains, number of pages and videos, number of emails per month, bandwidth and products.
So for example, if you're just starting out and go with the Starter plan you get:
– 2500 leads
– 1 custom domain
– 100 pages
– 50 videos
– 50 GB of bandwidth
– 15,000 emails per month
– 20 products.
Kartra does not have a free plan, nor do they offer a free trial. It doesn't advertise it on the pricing page, but if you try to leave the page you'll get presented with an offer for a 14-day trial for $1.
Kajabi
There are three pricing tiers in Kajabi: Basic at $149/month, Growth at $199/month, and Pro at $399/ month with discounts on the yearly plans as well. The main differences between the plans are the number of products, pipelines, contacts and active members included.
If you start out on their Basic plan you get:
– 3 Products
– 3 Pipelines
– Unlimited Landing Pages
– Unlimited Emails
– 10,000 Contacts
– 1000 Active Members
– 1 Website
Video Hosting for Course Creators
Most online courses are in video format, so you want to make sure that your course creation platform not only supports video, but that it also provides you with the means to make your video stand out.
Kartra
Videos can be uploaded directly to Kartra, though they do limit the amount of videos you can add as well as the bandwidth that you can use (depending on the plan you choose). So if you need more than 50 GB of bandwidth for your videos (and everything else) then you will need to be on their Silver plan at $199/month.
You can also use a 3rd party video hosting provider which is what we would recommend.  The performance and options are always going to be better than using integrated video hosting with these platforms.
For example, if securing online videos is important to you, so that people aren't able to download your valuable course content, then a video hosting platform like Spotlightr would work perfectly for you.
Kajabi
Kajabi has support for direct uploads, though they don't host the video themselves. They partner with Wistia for this. There are some basic player controls and options included as well as basic color palette changes to match your brand.
Another option is to use a 3rd party video hosting provider and embed your videos into their lessons/posts. This allows you complete control over your videos and access to all of the options the video hosting company provides.
Plus by using a specialized video hosting provider, you are privy to other benefits such as branding, player and playback customizations as well as ways for using video in email marketing to help attract more customers to your course.
Kartra vs Kajabi Pros and Cons
Let's some up some of the pros and cons for each platform.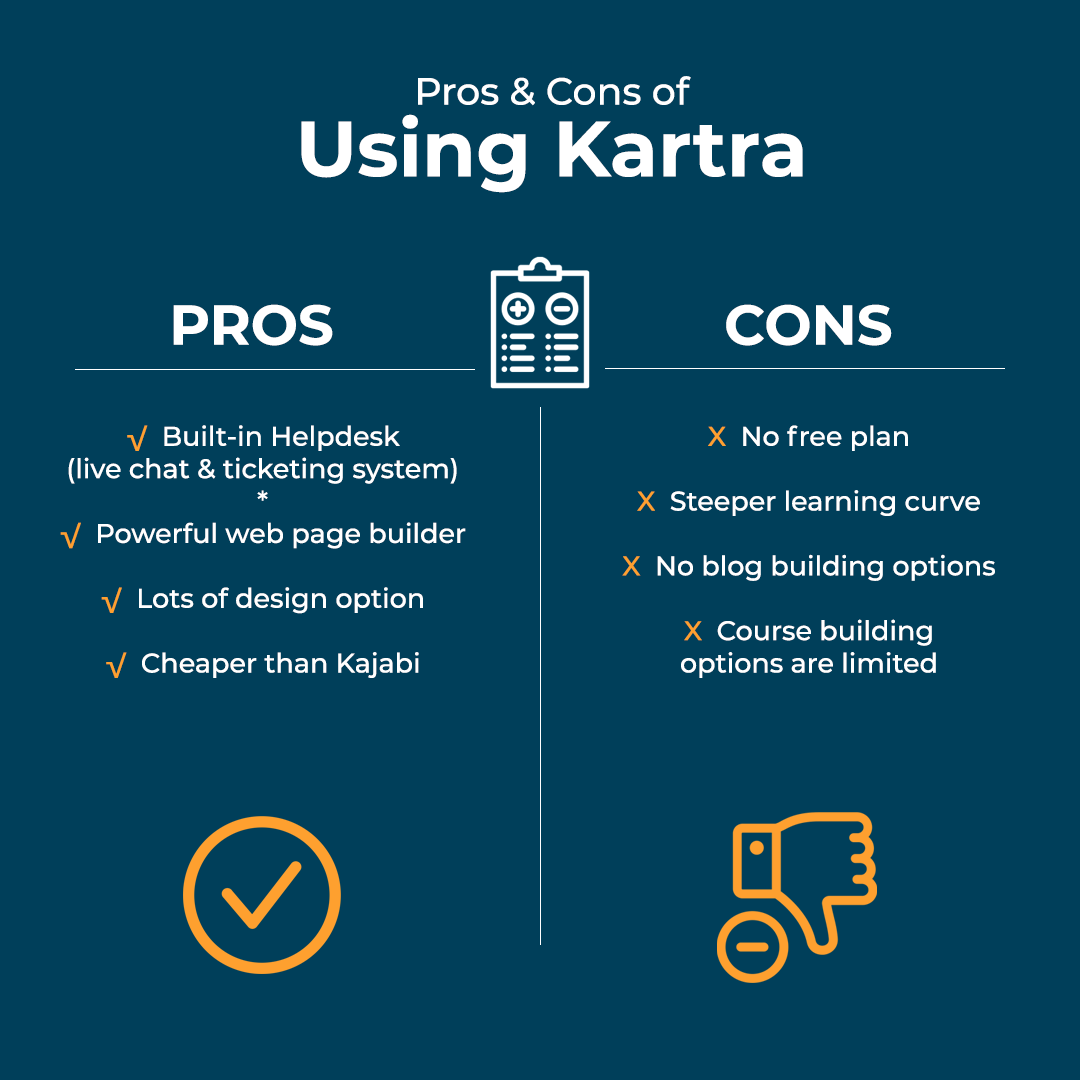 Pros of Using Kartra
While not having anything to do with course building or getting your website up and running, Kartra does also include a built-in helpdesk which includes a live chat and ticketing system. The web page builder is quite powerful and comes with lots of different design options. Overall it's cheaper to get started with Kartra.
Cons of Using Karta
There isn't a free plan with Kartra, so you will need to pay at least $99/ month to use the platform (or try it for $1, for 14 days.). The learning curve is a bit steeper when it comes to setting up email campaigns and funnels. There is no way to build a blog and their course building options are also quite limited.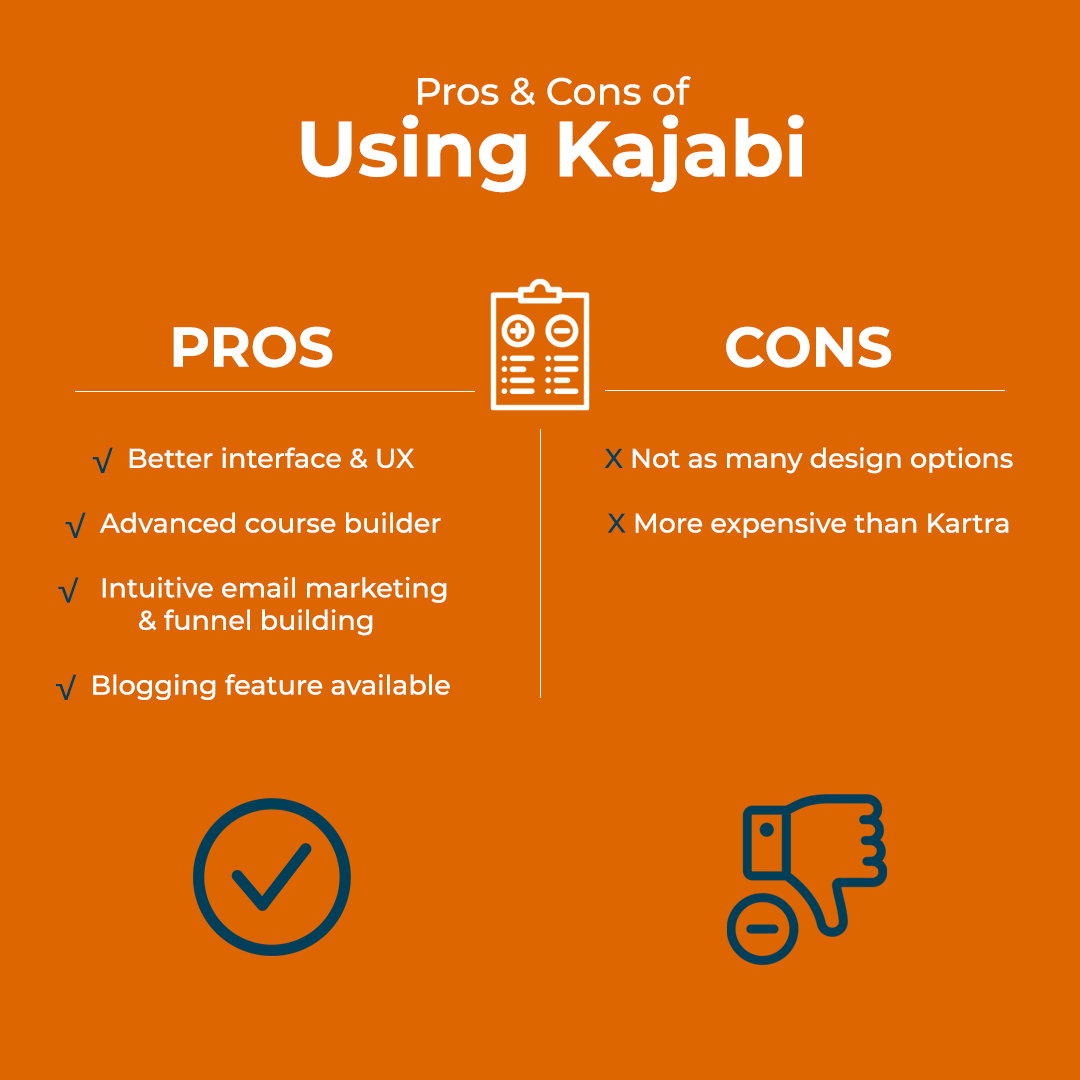 Pros of Using Kajabi
Kajabi has been in the game for much longer than Kartra, so it's had time to perfect its interface and user experience. The course builder is more advanced, has more features and is easier to use, and the email marketing and funnel building is more intuitive as well. There is a blogging feature if you need it.
Cons of Using Kajabi
Not as many design options for the website builder. It's more expensive.
Kartra vs Kajabi: Which One to Choose?
Yes we want to build a beautiful website and yes we want that to be easy and intuitive, but we are focused on the course, how it's built and what options are available for your students. Because of that we have to say that Kajabi is going to be the clear winner here for you course creators and teachers. And because the email and funnel tools are better, you should find it easier to incorporate into your business and grow your audience.
The only reason we can see choosing Kartra over Kajabi is if you really love their website builder and the designs that are included, you are a bit more technical and know more about digital marketing so the learning curve isn't a big deal, and you are OK with some limits on their course building.
Video Hosting For Course Creators and eLearning
Spotlightr has all the tools you need to build your video course and keep your students engaged, with video marketing tools to help sell more of your courses.  And with our dedication to your course security, you'll have peace of mind that your valuable videos will never be pirated. Try Spotlightr today, free for 14 days.  No credit card required!