Using video for sales has the potential to transform the buying experience for your customers and the selling experience for your team. It's easy, affordable (or free!), and low-pressure for both you and your prospect.
Think about it: Would you rather sit on a sales call, or watch a video in your pajamas? Video lets you speak directly to potential customers, on their turf, at a time that is convenient for them.
And, selling with video is scalable — making it the perfect avenue for small businesses who don't have a lot of time or deep pockets.
But all of these benefits aside, there are some common missteps people make when they start using video for sales. Fortunately, most of these mistakes are totally avoidable or easily preventable if you know what NOT to do:
1. Don't neglect to personalize your video for sales
Because nearly everyone these days has a camera in their pocket, this means any business can create and publish a generic sales video in a matter of minutes. However, only a handful will take the time to create personalized content. That's a big mistake, given that 72% of customers say they only engage with personalized messaging, according to SmarterHQ.
To be clear, personalization doesn't mean creating a new video from scratch for each prospect (though that's something you should consider too, if you have the time). Personalization means tailoring the content in your sales videos based on information you've collected about the recipient. This includes their name, company, interests, and more.
By using personalization keys, you can add a welcome message at the start of the video that greets your prospect by name. Or, you could include a customized offer inside your video for an eBook on a topic they're interested in. This allows you to provide a truly personalized video that not only mentions your viewer by name, but delivers offers that are relevant to their specific needs and challenges.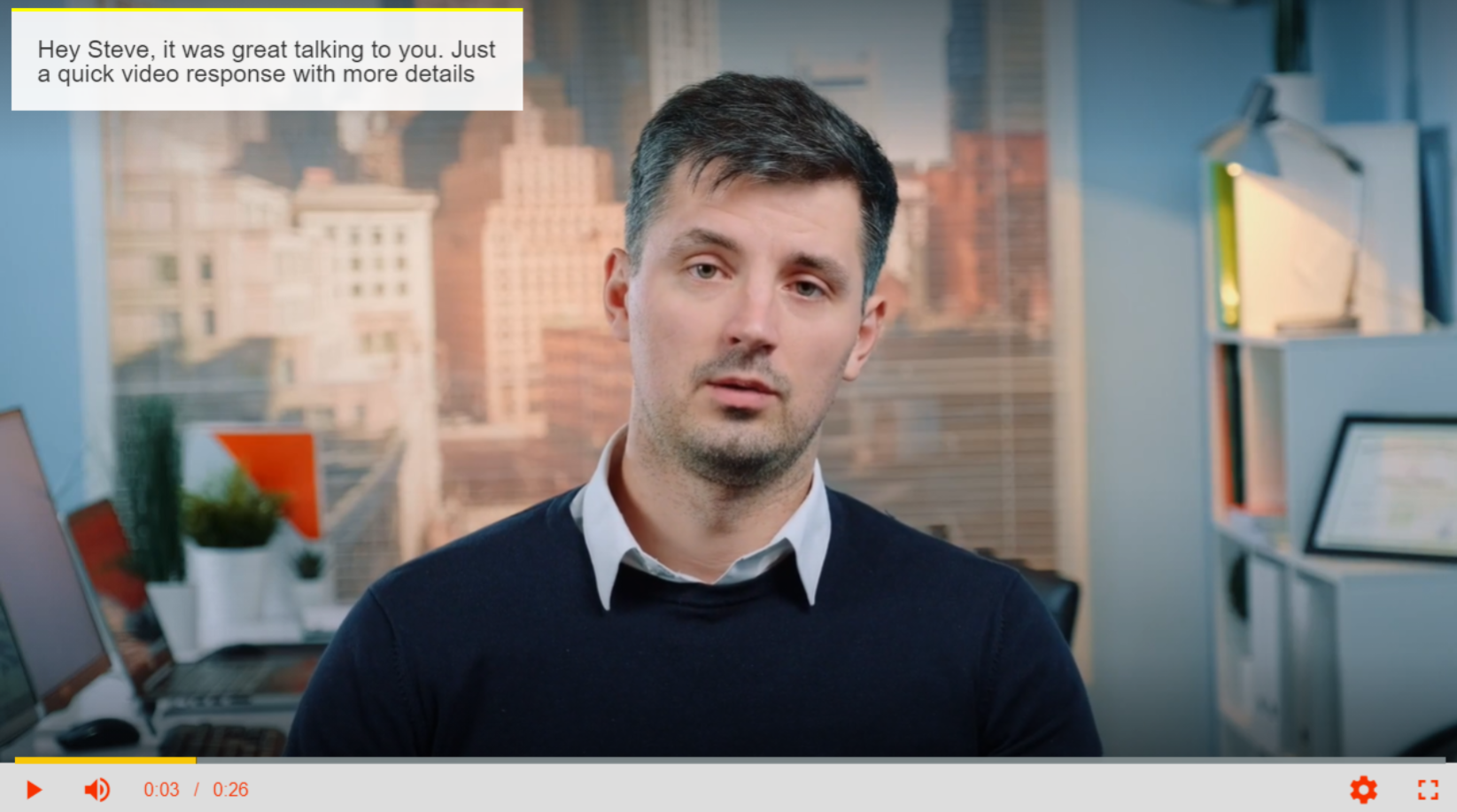 2. Don't make your video too long.
The optimal length for your videos will vary from one business to the next. It's important to experiment and find what works best for your audience specifically.
That said, most people are busy and won't watch a long-winded sales pitch. You might be better off creating a shorter clip and providing links to additional resources at the end, rather than making one long (and potentially yawn-inducing) recording.
You'll also want to keep in mind that viewers tend to drop off as time goes on — so consider putting the most important information at the beginning. This way viewers who only have the time or inclination to watch the first part of your video will still know what the video is about.
3. Don't ignore the importance of branding…
From the logo on your website to the color palette on your packaging, consistent branding is key — and that includes your sales videos. In fact, consistent branding has been shown to increase revenues by 33%, according to Lucidpress. In other words, if you want to make your sales team's job easier, you should pay attention to branding in your sales videos.
Whether you're sharing a product demo or animated explainer video, make sure your content matches your brand's colors, imagery, and tone of voice. Videos that don't reflect your brand will create a confusing customer experience and could mean the loss of a sale — so keep that in mind when creating your content.
In addition to the content itself, be sure that your video player matches the look and feel of your brand. The logo, player colors, skin, and thumbnail should all fit with the design of your website and other materials. This can be accomplished by using a professional video hosting platform like Spotlightr.
Here's a simple example of how a logo and color palette customizations can keep your video content on brand:
4. …but don't get too hung up on production.
Think you need fancy camera work and special effects to make a successful sales video? Think again.
Selling with video can be as simple as creating a PowerPoint and adding voiceover narration. If you sell software, a screen recording is a great way to give potential customers an overview of your product's features.
And, don't underestimate the power of a simple, conversational video of a sales rep, support agent, or your CEO speaking directly to the camera. As long as you're providing helpful and relevant information, anyone should be able to create a sales video that prospects watch and respond to.
5. Don't leave the thumbnail as is.
When you upload a video to YouTube or your hosting platform, a preview image from the video gets generated automatically. But that doesn't mean you should just leave it as is. Instead, take a few seconds to create a custom thumbnail to represent your video. Remember, the thumbnail is the first thing viewers will see when they look at your video, so think about choosing an image that will grab attention and make people want to watch the video.
Having a human face in your video thumbnail works well to make a connection — something that's absolutely essential in sales. You can even take things a step further by including your prospect's name or company in your thumbnail image.
Here's a simple way to add a thumbnail…just take a screen shot and create a blur effect.  Then add some text.  This is easily done with an app like Canva.
It makes the video a bit more attractive and enticing to click:
6. Don't forget a call to action (CTA).
You've poured a lot of hard work into your sales videos, so don't make the mistake of leaving your viewers' next steps up to chance. Be sure your video includes a clear CTA that tells viewers exactly what action to take and how to take it, whether that's scheduling a consultation, requesting a demo, or making a purchase.
There are a few different ways to include a CTA in your videos. The most basic is to simply tell viewers at the end of the video what action you want them to take. Another option is to add an end screen that prompts viewers to take a particular action. Finally, if you're using Spotlightr, you can include a CTA button right in your video or redirect viewers to another page as soon as they finish watching. The idea is to make it as easy as possible for your prospects to take the next step!
7. Don't allow ads to interrupt your videos.
This might seem obvious, but you don't want anything distracting your viewers from your pitch — and that includes ads.
The last thing you want is an ad for a competitor's product running during your sales video. But when you post your videos to a public platform like YouTube, you don't have much say in what ads run on your videos. In fact, your competitors can specifically target the types of people watching your videos based on their demographic information and interests.
The best way to keep this from happening is to host your videos on an ad-free platform. This will ensure your sales videos aren't competing with ads for your prospect's attention.
8. Don't use YouTube or other public video sharing platforms.
It's vital that your sales videos are as professional as you are. After all, a sales video sets the tone for the company behind it. So, ask yourself — do you really want your sales reps using the same video platform as a 17-year-old social media influencer?
While it is free and easy to use, YouTube isn't an ideal choice for businesses for many of the reasons we mentioned above. Public video sharing platforms like YouTube don't allow you to control your video's branding. If you want to add your logo or customize the player, that's simply not possible. YouTube can run ads on your videos. And, public hosting platforms lack the ability to password protect your videos — something that reps will need if they're sharing a video proposal or customized demo.
If you're using video for sales, it makes sense to use a platform that's designed for that purpose. Not only will your videos look more professional, it will make it easier for reps to create and share videos — and ultimately, for customers to buy from you.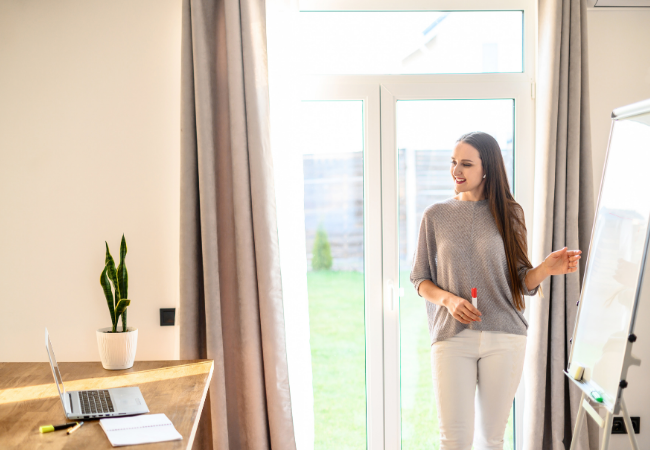 9. Don't neglect to analyze the results.
The work doesn't stop once you hit send — this is true whether you're a sales rep or solopreneur. Once you create and share your videos, you can (and should) measure their impact on sales performance. Knowing which videos drive sales can help you speed up the sales cycle and close more deals faster.
But the best video hosting platforms do more than show you which videos are performing the best. They can tell you who's viewing your content, how many times they watch a video, where they drop off, and more. This information will help you send the right videos at the right time to convert leads to customers. And, it'll help you know when you should reach out to your prospects. For example, if someone watches your product video two or three times in a row, you might want to give them a call.
10. Don't forget to test.
If you're using video for sales, even small improvements in performance can have a big impact on your business' revenue. Increasing your conversion rate from 2% to 5% might not seem like much at first. But, over time, that can add up to thousands of dollars in sales — which is why it's so important to test!
Testing can be as simple as swapping out your thumbnail image, or it might be two completely different versions of the video. From there, you can experiment with different video lengths, CTAs, offers, and so on. Keep refining until you find the "secret sauce" that works best for your audience.
What now?
As you can see, there's no one right way to use video for sales. However, there are plenty of common but often overlooked mistakes that people make. Now that you know what they are, you'll be able to avoid them and maximize every sales opportunity that comes your way.
Try Spotlightr For Free - No Credit Card Needed
Spotlightr has all the features you need to use video for sales. Super easy to set-up yet robust.  Live chat waiting to help with whatever you need.