With hundreds of thousands of merchants using Shopify, it's tough to make your eCommerce store stand out. Shopify has simplified the process of launching a business so entrepreneurs from all over the world can now easily streamline the buying process for customers.
So how do you establish your business in a crowded marketplace and boost your sales?
You don't want to be just another generic online shop; you want to appeal to your target market and set yourself apart.
To discover the keys to success in running a Shopify store, we've analyzed some the most important lessons from successful entrepreneurs and top Shopify stores.
Take your business to the next level by the following 13 key takeaways from three immensely successful Shopify stores that earn millions each month.
Whether you're just starting to get your idea off the ground or you've been working hard to build your business for a while, these critical tips will help you refine your marketing strategy, avoid common pitfalls and put your business on the fast track to success.
Let's take a look at some takeaways from top Shopify stores
Key Takeaway #1: Create a blog on your Shopify store.
Ring to Perfection, an online store selling jewelry and accessories, has managed to improve their SEO ranking and gain plenty of traffic by regularly posting interesting and relevant blogs.
Leverage Shopify's tools and resources to increase your store's online presence.
When making blogs, remember to:
1. Post well-written and engaging content that appeals to the needs and demands of your customers.
2. Choose topics that you're passionate about. Make it personal. Tell a story that resonates with your brand. You'd want to develop the brand experience you wish to create for your consumers.
3. Write compelling headlines focusing on things people may search for on Google.
4. Pepper your blog posts with the right keywords to reach your target audience.
5. Add large, high-quality preview images on your homepage to grab the interest of website visitors.
With captivating, well-written blog posts, you'll be able to push your site upward on search results and widen your audience reach. More importantly, you'll make a better connection with customers and ultimately encourage them to buy something from your store.
#2:  Make sure your Shopify theme layout is mobile-friendly and easy to navigate.
Your site should be mobile-friendly and designed to support multiple platforms.
Most consumers today use their smartphones and tablets to shop on the go, which is why it's critical for your site to load smoothly whether viewed on desktop or mobile devices.
Remember that web users immediately leave when websites are sluggish and unappealing, so you want to focus on providing a smooth shopping experience right from the start.
When you create an attractive, fast-loading site that's easily viewable on mobile devices, it will be easier to build trust and entice customers to stay and explore what you have to offer.
#3: Ensure everything is organized, professional looking and well thought-out.
Looking at some of these top Shopify stores continues to show some trends.  One key takeaway is that their websites look clean and visually appealing, and they give off a professional vibe. Once you click on their sites, you get a feeling that they're trustworthy and reputable.
MVMT, a Shopify store that sells premium, trendy watches and accessories, boasts a beautifully customized, clean layout.
While a well-customized, paid theme definitely works great, you don't have to spend much if you're just starting out.
The Night Sky, an online store selling custom star maps, successfully made a default, free theme look charming.
Just be sure to use clear, high-quality images throughout your site and fill it with engaging, personalized content to create your brand identity and give your store a distinctive feel.
Also keep in mind:
Choose a clean theme that matches your brand and conveys your brand message effectively.
Your site should have a cohesive design that smoothly flows from one page to the next.
Favor a simple color scheme to make it easy to identify your brand. A black-and-white palette with black text and a solid white backdrop is always a safe choice and easy on the eye.
Shoppers are usually picky, and the overall appearance of your Shopify store can affect your sales. A thoughtfully designed and user-friendly site will help build trust and increase conversions.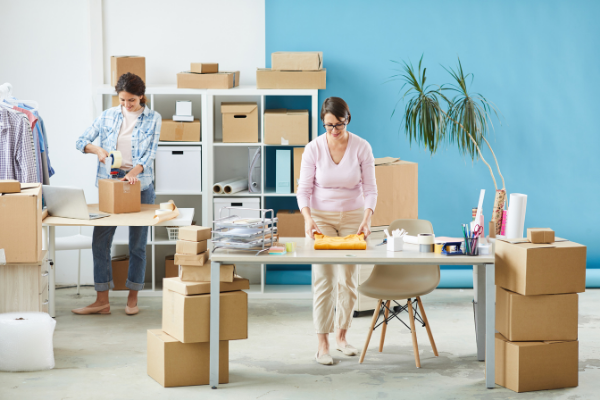 #4: Target (and stick to) a niche audience.
Have you defined the niche market for your business? Or are you simply hoping people would immediately start buying your products?
A major reason why these successful Shopify stores are where they are now is that they understand exactly who their customers are and they keep on finding ways to improve the lives of their customers.
Build a base of consumers who are interested in your product categories instead of casting a wide net and blindly offering products to everyone.
Create value and connect with your customers on a personal level to develop loyalty. Collect emails even before launching your brand, and let people know you're about to offer something valuable to stir interest.
Over time, dedicated customers will help spread the word and keep your business moving forward.
And as your business grows, aim to reach a wider audience and emphasize your unique selling proposition that will give you an edge over competitors and make your customers lifelong brand followers.
#5: Marketing a Hashtag for your Brand.
Social media sites bring huge opportunities for advertising your business. Take advantage of Facebook, YouTube, Instagram and Twitter to spread the word about your business and gain followers.
Here's how you can leverage social media to drive sales:
Use hashtags to promote your product and get people to start talking about your brand. Many business owners encourage customers to post pictures showing off how they're using the products.  Let them use your hashtags, and make them feel acknowledged by sharing the pictures on your official social network sites as well as Shopify blog.
Post amazing pictures of your newest items.
If you're just starting out, try to get some exposure from influential social media users and more established websites and blogs relevant to your product.
Lead social media users to your website by adding calls-to-action on your posts and including your website link.
Add your social media links wherever possible.
RELATED: The 15 Best Hashtag Campaigns of All Time
With millions of people using social networking sites everyday, entrepreneurs now have plenty of free avenues to market their products and services and boost sales.
Be sure to keep your business social media pages updated as often as possible.
#6:  Transform your Shopify store into an engaging and eye-catching site, with plenty of visually striking sections
Ring to Perfection immediately grabs attention with their popular collections showcased right on the front page. Their menu offers different categories, from bracelets and necklaces to rings and bags. Upon scrolling down, you'll also find customer testimonials and a sneak peek to their personal story.
Similarly, The Night Sky holds interest with large pictures of their products, happy customers hanging the custom maps on their walls and thousands of customer reviews at the bottom.
Ultra-clear, stunning images also dominate the homepage of MVMT and it's easy to access their Instagram, blog and product categories.
Beautifully taken pictures are a defining element that makes these Shopify stores stand out from the crowd.
However, take note how their sites are laid out nicely without looking cluttered. Even with numerous images, your web page should still load quickly and smoothly.
#7:  Make your Shopify store look legitimate and trustworthy, and provide a safe checkout.
Don't skimp on important details. Ideally, your customers should be able to find all the answers they're looking for while exploring your store.
Give them a sense of security by ensuring a safe checkout process with multiple payment options. The last thing you'd want is for a shopper to back out on a purchase because you have very few payment choices.
Valuable information that will increase the credibility of your site include:
Terms and conditions
Privacy policy
Contact information
Return policies
FAQs
Help section
#8:  Sell a Lifestyle using the power of Storytelling.
How do you want your customers to envision using your products? To market your brand effectively, you need to focus on selling a lifestyle. Storytelling can make a difference when connecting to your audience.
Here's how you can do that:
Craft a compelling and inspiring story about your brand. You may want to share how your business idea started from a memorable personal experience or a favorite hobby, or how you realized the necessity to offer a certain product to address a common problem.
Let your audience know what makes your brand different from the rest and why exactly your product is the best fit for them.
Write blog posts showing off lovely images relevant to your product. For example, MVMT showcases stylish individuals wearing their watches while having a romantic getaway in Paris, at the beach and at a luxury hotel.
Make it easy for your customers to visualize what your products look like when used. Add a quick preview of these pictures to the bottom of your page.
On the site Ring to Perfection, the collated images lead to a testimonial page demonstrating thousands of positive reviews from satisfied customers.
If different styles and designs are available, show the lifestyles suited to these categories.
When you communicate the kind of brand you are and demonstrate how customers should use your products, it's easier to get your message across and let your audience know if your products are the right fit for them.
#9:  Add trust badges and make it possible for customers to shop right on your homepage.
Icons and symbols that will increase your trustworthiness meter include "Shopify Secure", "100% Satisfaction Guarantee" and credit card payment logos.
Web users typically just keep on scrolling down when checking out a website, so you'll have higher chances of generating sales if your best products are presented on the homepage.
Make it simple and easy for potential customers to shop. Give them different payment options besides credit cards, including PayPal, bitcoin and Apple Pay.
Your homepage should look like a neat, personable social media page that suits your target audience.
RELATED: Which Site Seals Create The Most Trust?
#10:  Write engaging and informative product descriptions.
Established Shopify stores have well-written product descriptions that match the tone and vibe of their brand. If your product is meant to be hip and cool, you'd want to create energetic and creative product descriptions that fit your buyer personas.
Consider their interests, needs and passions when crafting your descriptions.
People will want to buy from you if your product descriptions are attention-catching, easy to digest and error-free.
#11:  Lead customers through a sales funnel.
Cut the steps in the conversion process. An easy-to-find checkout button quickly leads shoppers to the payment portal and finalizes the sale.
You don't want shoppers to bounce around from page to page and eventually lose their interest. Make it seamless to pay for your product. When people fall in love with something at first sight, they want to get it right away.
Your goal is to let your customers sit back, relax, and enjoy a fun and easy shopping experience that will keep them coming back for more.
Give social media users a fast and easy way to shop right on your Instagram or Facebook shops.
To encourage customers to buy, it's a good idea to offer free worldwide shipping when their purchases reach a certain amount. Giving consumers an option to save money, especially on shipping costs, is an excellent motivator.
#12:  Take custom pictures and use video.
Pictures make a significant impact on the purchasing decision of most shoppers, so make sure to invest in a good camera and light kit and use a clean, white background.
Beautifully taken images will make your brand more personable and your site much more attractive.
And don't forget to use video and video demo's of products whenever appropriate.  Customers love to see video content live in action.  And be sure to never use Youtube and instead use a custom, brandable video player.
#13:   Urge website visitors to sign up for your newsletter.
Finally, bolster your marketing strategy by expanding your email list. You can offer exclusive discounts or freebies to those who sign up for your newsletter.
Regularly send valuable content to keep your followers interested in your brand and to connect better.
Keep them updated with new products. Surprise discounts will definitely delight your loyal customers.
Make sure to know what your audience wants and deliver quick, consumable content that appeals to them.