One of the ways small businesses maximize their marketing budget is simply monitoring trends in the industry.
By paying attention to what the big brands are doing, they're able to spot and seize new opportunities more quickly than their competitors.
With that in mind, we looked at the current data as well as our own experience to identify the top video marketing trends you should be watching in 2021.
1. People will consume more, more, more video.
No surprise there. With everyone stuck on the couch during quarantine, video consumption spiked in 2020. In fact, Global Web Index found that over 80% of people said they consumed more content since the pandemic, with TV and online video being the primary mediums across all ages and genders.
It's impossible to determine exactly how much video people are watching, but we do know that YouTube users gobble up over a billion hours of video every day — and that's just one platform.
What that means: when it comes to connecting with your customers, there's no medium with a broader reach than video.
2. Video advertising spend will accelerate.
Given the rise in video consumption, it makes sense that brands are shifting more of their digital marketing budgets toward video ads than ever before. In fact, video ad spending is expected to reach $49 billion by the end of this year.
It's clear from this data that video advertising is a lucrative format for marketers. But what does that mean for small businesses who don't have billions of dollars to spend on ads?
First off, it means that video should be a part of your marketing strategy even if you're not planning on running paid advertisements this year.
It also means that if you're using YouTube to host your videos, there's a good chance they'll be interrupted by an ad. This is something worth considering if you're using video to promote your business.
3. Videos will get longer.
Traditional video marketing wisdom states that shorter videos are best because viewers are busy. And while that's true, in 2021 we're noticing that longer videos are getting more attention.
Take a look at YouTube's Trending page, for example, and you'll notice that many of the top videos last for 15 minutes or more.
Some of this has to do with driving ad revenue — longer videos mean more ads — but we suspect it also has to do with people's changing online viewing habits. With people consuming more video, perhaps brands and creators are betting on longer content to boost engagement. Whatever the reason, video length is definitely on the rise.
So, should you start producing longer videos? We don't expect to settle the long vs. short content debate any time soon, but it's worth experimenting with different video lengths this year to see what works best for your audience.
4. Brands will produce more low-fi video.
High production value videos aren't going anywhere, of course. But we are seeing an increase in brands filming more casual, low-fi content in 2021.
It makes sense, in a way: with so many people working from home, hauling in a film crew and equipment simply isn't practical. Customers, too, are craving more human connection and seem to be enjoying this less carefully staged content.
That's good news for small businesses, who don't have the budget for big productions.
Related: Read how to create video content with your phone for under $100.
5. Text-heavy videos will make a comeback.
Along the same lines, we're seeing a return to text-heavy videos that dominated in the early days of digital. Check out this recent video from Miro, a free online whiteboard tool: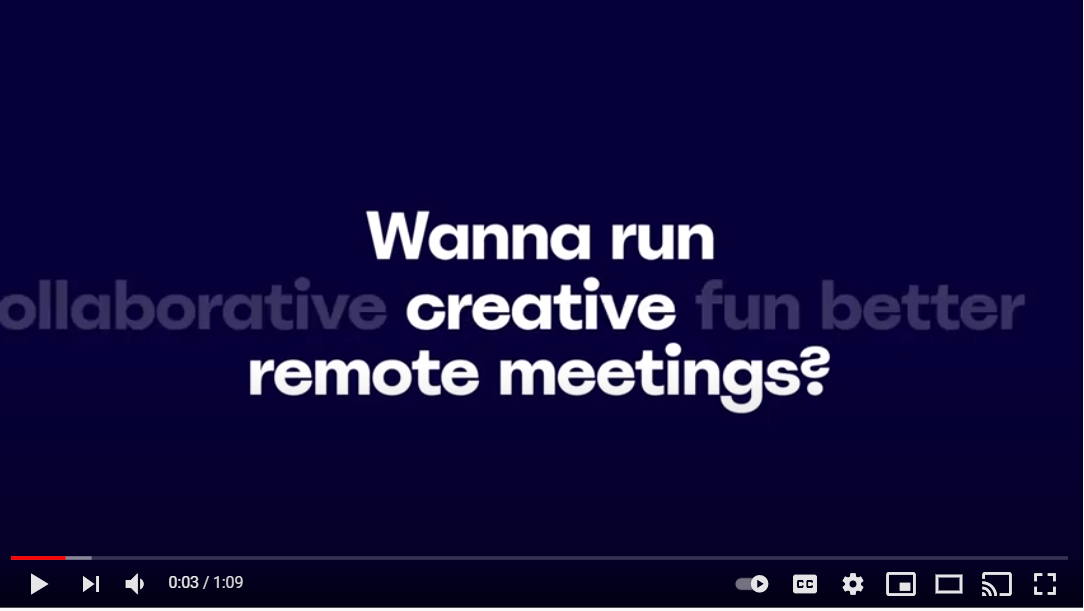 Text-heavy videos are typically much easier to produce, since you don't have to worry about lighting or sound quality. Plus, you can easily repurpose and give new life to an existing slide deck. That's especially good for small businesses that don't have a ton of resources to churn out new content each week.
6. Brick-and-mortar brands will leverage video.
With less foot traffic to stores due to the pandemic, many brick-and-mortar brands have turned to video as a way to recreate the in-person experience — minus the masks and Clorox wipes.
For example, the Starbucks at Home series teaches coffee lovers how to be their own barista (using Starbucks products, of course):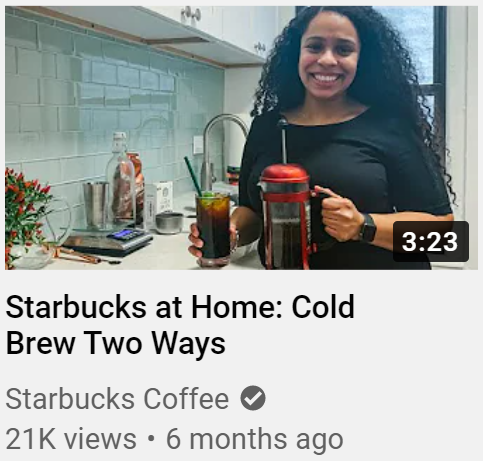 Using video not only helps drive online purchases, but it can also boost in-person sales. Consider the fact that 80% of shoppers who watched a YouTube video related to a planned purchase watched it at the start of the shopping process. In other words, many shoppers are watching product videos before they ever set foot in your store.
For this reason, we'll see brands embracing both video and in-person experiences even as physical stores start to reopen.
7. Video learning will be in demand.
Want to train your new puppy? Looking to learn graphic design? There's a video course for that.
In 2021, video courses will be hot as coaches, educators, and content creators try to reach socially distanced audiences in the comfort of their homes. The elearning market is expected to top $300 billion by 2025, and a large portion of that will be video content. There's never been a better time to embrace the potential of video learning.
Not only will we see more individuals and companies selling video courses, we'll also see more brands developing video training courses as they look for ways to reproduce in-person learning experiences such as employee onboarding.
8. Marketers will make the most of their webinars.
With most in-person events canceled due to COVID-19, the use of webinars doubled in 2020. And now that marketers have had a full year to perfect their webinar game, they'll be looking to take things a step further by finding ways to get more mileage out of their webinar content.
As such, we'll see lots of brands repurposing their webinar recordings on their websites and in other content, such as:
• Creating a video gallery on their website with past webinar recordings
• Editing webinar recordings into shorter 3-5 minute 'highlight reels'
• Transcribing the webinar, and then turning it into an article or downloadable guide
• Sending webinar recordings via email to subscribers who weren't able to attend
• Adding an email capture form and using the webinar video as lead generation content
9. Video will stand out in cold email.
Plain text still dominates cold email — no doubt about it. Which is exactly why, in 2021, astute marketers will start using video in their cold emails.
Think about it: if you want your cold emails to stand out, then you need to do something different than what everyone else is doing. Drift, a conversational marketing platform, analyzed 290 cold emails and found that only 6% contained video — which means that there are plenty of opportunities for marketers to take advantage of this medium.
Imagine receiving an email from someone who's taken the time to include a hyper-personalized video just for you, like this one from Peak Sales Recruiting. There's a good chance you'd sit up and take notice: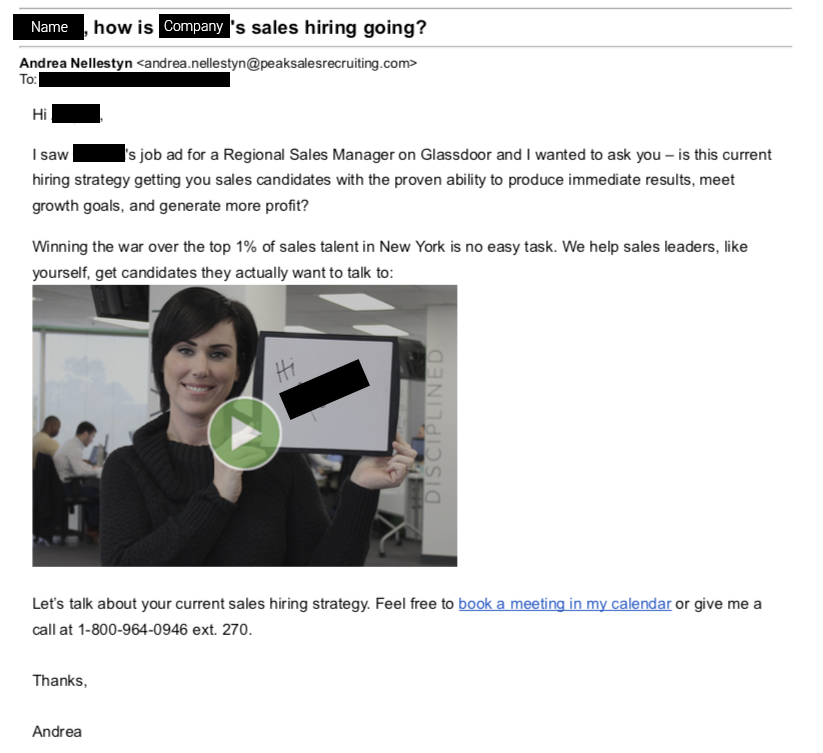 10. Interactive content will put consumers in control.
The use of personalized content is an important tool for marketers. However, consumers are catching on to automated personalization tactics — which is why interactive content is so important.
Unlike personalization, which uses customer data to tailor what viewers see, interactive content allows the viewer to actively personalize and participate in the viewing experience.
Fortunately, creating interactive content isn't nearly as hard as it sounds thanks to modern video marketing platforms.
With Spotlightr's video funnels, for example, you can create interactive videos that give your viewer the exact content they're looking for. Viewers will move into segments based on how they interact with your videos. This is a powerful tool that can help boost engagement while moving your viewers closer to a sale.
Your takeaway
So there you have it — ten of the biggest video marketing trends of 2021. While these trends may come and go, one thing is certain: video marketing remains one heck of a good investment for small businesses and big brands alike.
If you're not taking advantage of this medium, you're missing out on a big opportunity to grow your business. Sign up for a free Spotlightr account and start using video today.