When it comes to creating video content for your business, most people think it requires a lot of equipment and a huge financial investment.
That couldn't be further from the truth.
Today, anyone with $100 and a smartphone in their pocket can create outstanding video content.  Knowing how to create videos with your phone can make it quick and easy for you to consistency get content up for your audience.
So, set aside those excuses! This article will show you the equipment and software you'll need to record your first video with your phone.
Why know
how to create videos with your phone

?

Smartphone video is a great way to dip your toe into creating video content. It's easy, affordable, and requires minimal setup.

Does making video content with a phone feel like a copout or not professional enough approach? That's a common misperception.

High production value videos have their place, of course. But we've noticed an uptick in brands filming content at home during quarantine — and the response from customers has been overwhelmingly positive.

It makes sense, in a way: in a world filled with picture-perfect influencers, audiences are craving a more authentic experience. And a video shot in your home with a smartphone? Well, it doesn't get much more authentic than that.

The following tools and software represent a basic recording setup. In fact, you might already have some of them on hand:
1. Basic lighting for creating videos with your phone
If there's one thing we've all learned from Zoom meetings (aside from the importance of reliable WiFi), it's that lighting can make or break your videos. People won't pay much attention to what you're saying if they can't see you. On the other hand, bright and even lighting will go a long way toward making your video look more professional — even if it's filmed on a phone.
Unless you're lucky enough to have a recording spot near a window with lots of natural light, you'll probably need to invest in some basic lighting. For smartphone videos, a ring light is a great option that won't break the bank.
Ring lights, as the name implies, are circular lights that clip onto your phone. We use and recommend this one ($15) because it's super portable and comes with three different light modes.
As you get more experienced, you can experiment with reflectors and fill lights — but when you're just getting started, it's best to keep it simple.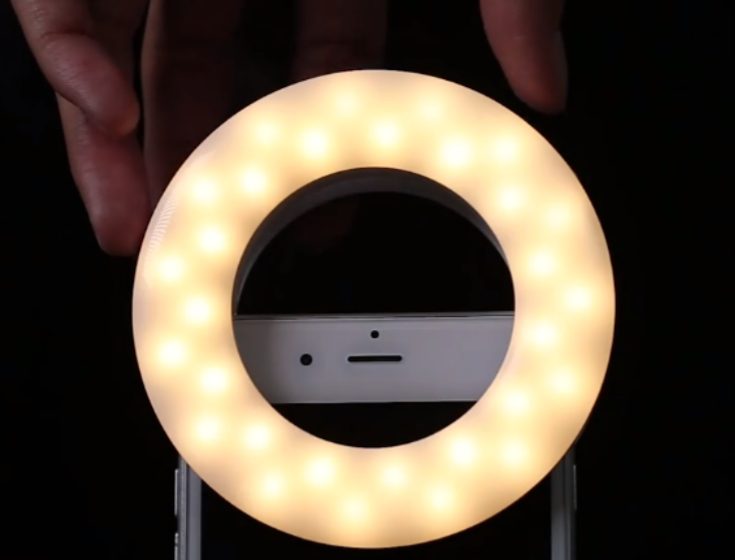 2. Backgrounds for phone videos
Now that we've got lighting covered, let's turn our attention to the background. Obviously, you don't want a stack of boxes or a pile of laundry in the background of your videos. But most people don't have a dedicated spot for filming in their homes.
If you can find a blank wall or bookshelf in your office, great! Otherwise, buying a simple backdrop curtain will save you from having to clean your house every time you want to record. And, if you choose a green screen, you can easily edit in any background you choose.
Here's one with great reviews on Amazon for under $20. Plus, it comes with clips so you can hook it onto an existing curtain rod instead of buying a separate stand.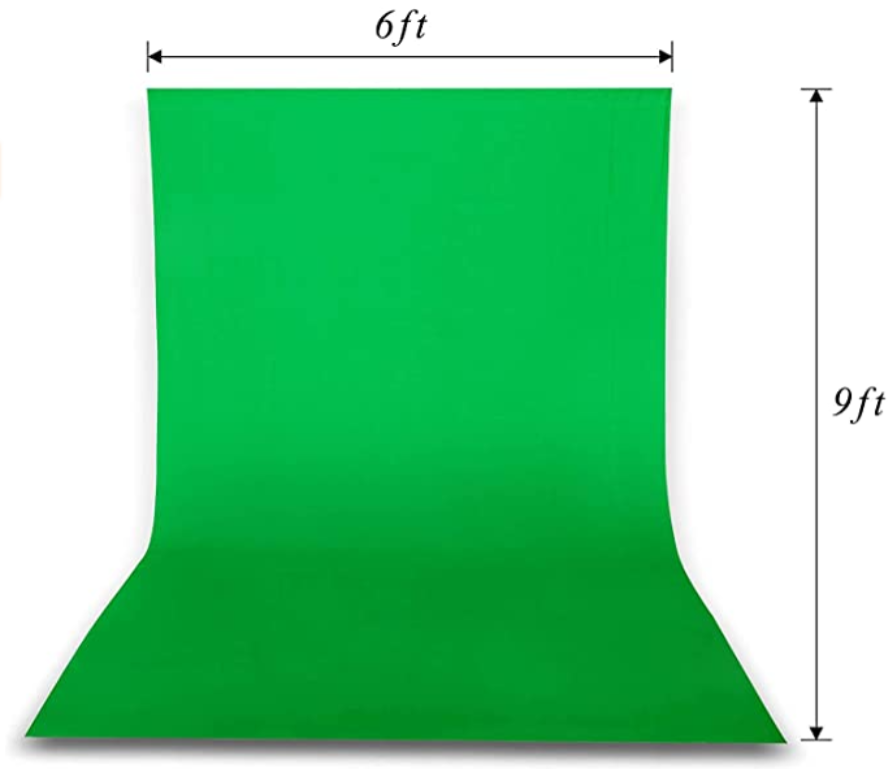 3. Tripod
Shaky cam is a surefire way to distract your viewers and make your video seem unprofessional. That's why we recommend investing in a tripod for your smartphone.
Smartphone tripods come in a variety of different styles. Some are designed to hook onto a rail, desk, or other surface. Others have telescoping legs that allow you to adjust the height to fit your needs. This travel tripod gets great reviews because it's lightweight and portable — and at under $20, you can't go wrong.
Whichever tripod you choose, don't forget to flip your camera sideways. You'll want to record in landscape mode (horizontal), since this will look best on most screens.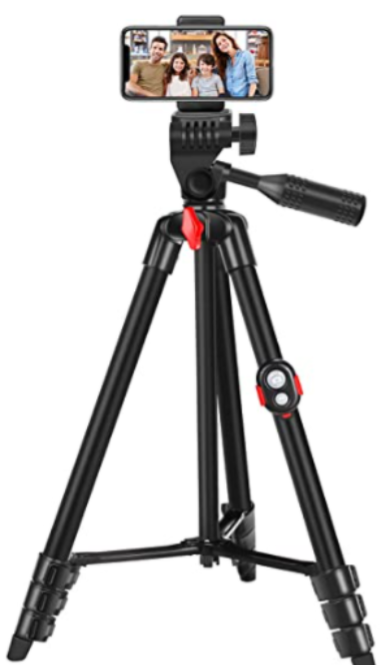 4. Microphone
In addition to a tripod, you'll want to invest in a good external microphone. Smartphone microphones are notoriously bad, especially if you're a few feet away from the camera. Even a cheap external mic will pick up your voice better. And, it will help reduce background noises like birds chirping outside or the hum of a furnace.
There are several different styles of microphones to choose from. If you'll be filming primarily at your desk, you might look into a desktop mic. However, we prefer lapel microphones because they allow you a bit more freedom to move around. And, if you're recording on the go, they don't take up a lot of space in your bag. This PoP voice mic is a great budget-friendly pick at just $14.
Whatever you do, don't forget to test your microphone before you press record. There's nothing more frustrating than recording the perfect video only to discover that you can't hear the sound!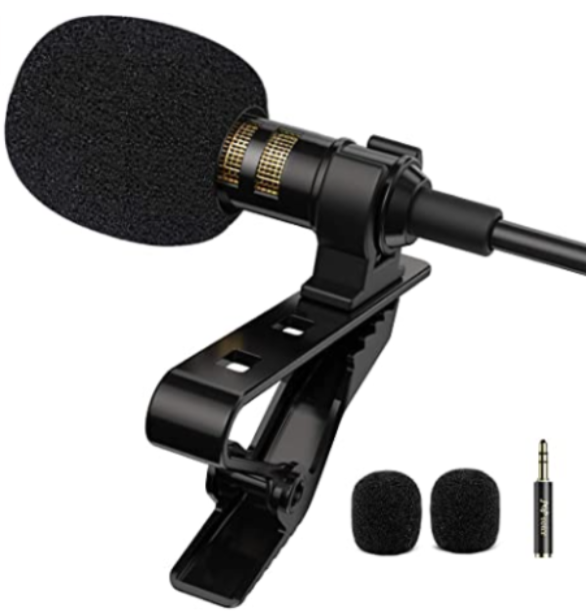 5. Editing software
Here's a tip to record videos faster and with less stress: Instead of stopping each time you make a mistake, just keep going. It's a lot faster to edit out the goofs later than to keep starting over.
For that, you'll need a good editing software. Editing software allows you to remove any background noises like ringing phones or barking dogs. And, you can add slick transitions, text, and other special effects — the sky's the limit.
Some people prefer to edit videos on their computer, but there are also apps available that allow you to edit your video right on your phone. Which app you choose will obviously depend on what type of device you have.
If you're an iPhone user, you can download the free iMovie app.
Otherwise, VN Video Editor and Quik are two popular Android apps that are free and don't watermark your videos — but you might want to experiment with a few different tools to find the one that works best for you.
Make sure that whatever you use has the proper proper settings so that you export the best quality video you can without sacrificing performance.  Whether you export at standard HD vs full HD is one consideration you should take, for example.  If you aren't sure about differences please check our piece on sd vs hd.  
6. Hosting platform
The last thing you'll need is a hosting platform so that you can distribute your videos online.
Here at Spotlightr, we use… well, Spotlightr of course! 
When it comes to hosting your eLearning videos or your marketing videos, you definitely don't want embed them using Youtube.
Whether you use Spotlightr or another service (gasp!), you need some sort of hosting platform so that you can store your content securely, share links via email and social media, and publish your video on your site without having to rely on a developer.
Most important thing? Just get creating…
As you grow, there are plenty of other "nice-to-have" items that might be worth considering. You can go wild and hook an entire recording studio to your phone if you want!
But the above equipment and software will get you up and running quickly with minimal expense.
Try Spotlightr For 14 Days - No Credit Card Required
Get your course or marketing videos up and online with Spotlightr.  It's quick and easy and we have everything you need to stand out from the crowd!