There's an online course creation tool for pretty much every type of teacher or content creator – and Kajabi vs Thinkific will surely rank among the top choices in your research. Which one's the best out of the two?
In this article, we take a closer look at Kajabi vs Thinkific from five main perspectives:
– How customizable is the website and course set up without custom code?  And can you use custom code if necessary?
– Does it include any marketing features, like a CRM or email marketing service, so that you don't need it from another company?
– How "technical" do you need to be?  Can I get this set up without being super techie?
– What's the cost?  And the value for what I'm paying?  Do customers pay me direct or pay the platform which then pays me?
– How do they handle my video courses?  Can I use 3rd party video hosting?
On top of this, we will also take a closer look at some of the main pros and cons that characterize each tool.
Customization – Kajabi vs Thinkific
Customization options can be a considerable factor in deciding which LMS to use for many people. While ease-of-use and templates can be great, being able to "make it yours" and build a brand is a very important factor for many course creators.
Here's how Kajabi and Thinkific differ from this point of view.
Kajabi
Kajabi is a fairly flexible platform that includes almost a dozen templates to build the website and also has templates for the course.  It currently has 5 templates to choose from for your courses and also has an option to upload your own that you create.
You can customize your website and course pages by adding your own logos, images and colors so it matches your brand. You can also add blocks with your own code when editing a theme/template. Keep in mind if you do want to own your own code you will need their highest tier plan.
Thinkific
On the surface, Thinkific has 3 main themes to choose from for your site, with 3 or 4 different styles for each theme.  It's quite easy to make all the adjustments you need with their drag-and drop editor. You can also edit the theme code however you want. Just be aware that Thinkific won't help you do this and won't support any changes you make with it.
Thinkific also offers a "Text & Media" section that allows you to add custom HTML. Again, keep in mind that they don't provide direct support for code customizations.
For the actual course there isn't a ton of options.  You can change the main color of the navigation to match your brand, choose between light/dark theme, add your logo, etc.  But as far as design there isn't a lot you can do.
In the Customization battle between Kajabi and Thinkific, we think Kajabi is the winner — mostly because it has more themes to choose from and has more options when building out your pages.
Marketing
Once your course is out, you will also want to make sure you market it properly. How are Kajabi and Thinkific doing in this arena? Neither offer the type of marketplace that you find at Udemy, but they both offer some nice options for you as far as marketing tools.
Kajabi
If you're looking for information on how to sell video courses online then Kajabi does a  nice job with tools and training.  The course builder is just one aspect of a bigger suite of tools that Kajabi offers. You can use it to build an entire website as well as landing pages. There is an email marketing service built-in as well, so you don't need an outside service. And you can connect them all into a funnel to turn visitors into leads and then customers.
There is also lots of training and knowledge base articles to help you put all of these tools together.
Because all of these tools are built-in, Kajabi tends to be limited when it comes to native/ direct integrations.. They do have native integrations with MailChimp, Drip, and ConvertKit. They also integrate with Zapier which will give you many more options to connect your tools.
Thinkific
Thinkific comes with a wide variety of integrations when it comes to email marketing. They include ActiveCampaign, Aweber, ConvertKit, Mailchimp, Infusionsoft, and Constant Contact. And then Zapier if you need to connect to anything else.
If you only want to send a limited number and type of emails, Thinkific also has a Student Notification tab. This will enable you to send simple 'welcome emails' and other notifications related to the student's activity in your course.
Thinkific doesn't have a blog feature, so doing any type of content marketing is going to be a bit more challenging. You can use their Custom Pages but the setup will take more finesse as it won't be easily organized and categories like a traditional blog.
Kajabi is really meant for you to use all of their tools in their "all-in-one" platform. Since they have email marketing, landing page building, and funnel reaction all there already it's easy to just take advantage of that.
At the end of the day Kajabi gets the edge on the marketing end because of all the tools that are included that work together for you. It's especially nice that they have a robust knowledge base to show you have to get everything working together. With Thinkific you have to connect different pieces and integrate different platforms. Doable of course, but maybe not preferred.
Technical Abilities
Most content creators and teachers don't want to waste their time with coding. So it's also important to choose a course creation tool that allows you to be as "non-technical" as possible.
The interface is important as well. What's the learning curve like? How long does it take to learn one versus the other? Is it heard to "put it all together"?
Here's how Kajabi vs Thinkific do from this perspective:
Kajabi
Because Kajabi offers so much in their platform, the learning curve is definitely steeper. As far as their course creator, it has all of the tools you need to build your course. Their user interface might be a little more daunting for some people. If you have used SaaS platforms before, you will probably pick it up just fine. But if you are fairly green as far as those tools are concerned, it will take a bit longer to figure it all out.
Thinkific
Thinkific does course creation and that's all they do. Their interface is a bit more simple and easier to pick up. They do have more limited template but that is certainly done on purpose so as to "keep it simple" with their users. .
Thinkific wins this round as it tends to be easier to use. If your main concern is ease of use and you just want to build a course and don't need any other tools that Kajabi offers then Thinkific might be the better choice for you.
Cost
Naturally, you also want to know which of the tools offers the best price (and what, more exactly, you're getting for your hard-earned cash.) Here's a quick cost overview of Kajabi vs Thinkific:
Kajabi
There are three pricing tiers Kajabi offers: $149/month, $199/month, and $399/ month (Basic, Growth, and Pro). You can also pay annually for a discount.
The main differences between the plans include the number of products, pipelines (funnels) and contacts you have. If you want to remove Kajabi branding you'll need the Growth plan, and if you want to use their custom code editor that'll require the Pro plan.
Thinkific
Thinkific comes in four pricing tiers, including a free one. Aside from the Free Plan, you can also find:
– Basic, at $49/month
– Pro, at $99/month
– Premier, at $499/ month
Being able to start for free is going to be important for many people. The move from Free to their Basic plan will probably be because you have more courses to build (Free has limited amount, Basic has unlimited), you want to use a custom domain or want to use coupons and promotions to help market your course.
Pro offers subscription and flex pricing so that will be something that might drive you to that plan, as well as the ability to "completion certificates" to students and give live lessons.
Just keep in mind that you do need to use other apps for email marketing, funnel building, and maybe even for blog/website if you aren't happy with Thinkific's templates. So while it's certainly cheaper to get started, costs will start adding up once you add more tools into your toolbox. .
No clear winner here on cost. Yes Kajabi is more expensive, but it includes tools you would have to pay extra for with Thinkific. Thinkific does offer a free plan to allow you to get started, and this can be important even for people looking for an all-in-one like Kajabi and have a bigger budget. We'll give the nod to Thinkific based on these factors. Because it offers a free plan, Thinkific tends to be a much more attractive option than Kajabi. So we'll have to give them the win in the Cost department too.
Video Hosting for Course Creators
Your course creation tool should enable you to be as versatile as possible with the types of video you upload, as well as where exactly you want to store them.
Kajabi
Video for your course lessons (which Kajabi calls posts) is meant to be uploaded directly to Kajabi. Kajabi doesn't host your videos,  as they partner with Wistia, but you still upload right inside of Kajabi. Then you will get to choose some basic player options like player controls color and thumbnail.
If you don't want to use that player you can also embed video from a 3rd party video hosting company right inside of the post content.  By using a 3rd party, like Spotlightr for example, you can use various tools to brand your videos completely to your satisfaction.   You can also take advantage of the various marketing tools for help with lead generation.
Thinkific
You can upload videos into Thinkific, just be aware of the size limit (2 GB) and also the fact that playback will not likely be as smooth, especially with high traffic courses, as it would if you use an external 3rd party video hosting platform.  Also your player customizations are very limited if you upload directly to Thinkific.
You can also add video to lessons via their WYSIWYG editor, which will allow you to use 3rd party video hosting.
The Pros and Cons of LearnDash vs LearnPress
Both Kajabi and Thinkific are solid options — but they both come with their pros and cons too. Here's a quick look at both: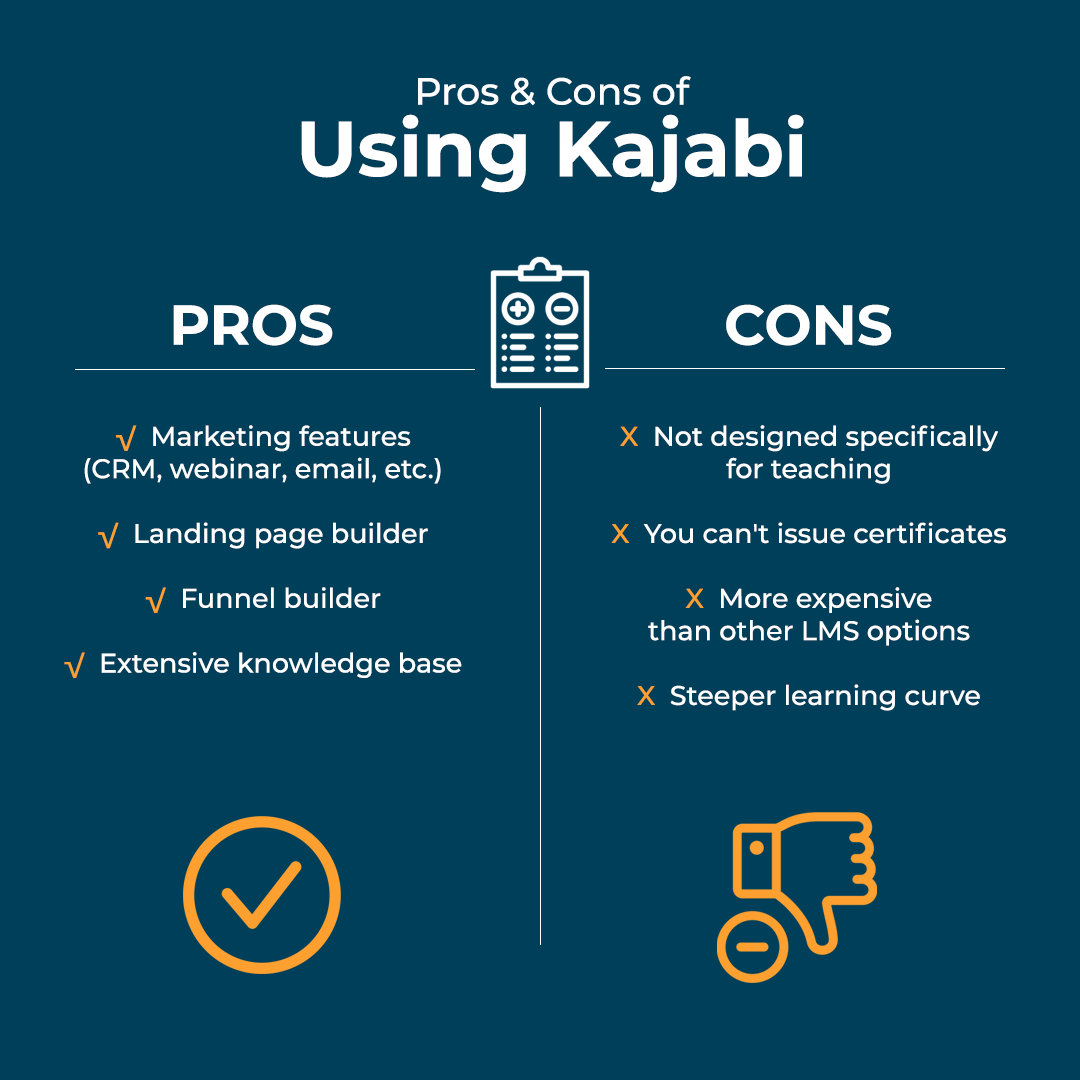 Pros of Using Kajabi
Kajabi includes marketing features like a CRM, webinar software, email & autoresponder services as well as landing page and funnel building (they call them pipeline). Their knowledge base and customer training is extensive, so you should have everything you need to build and market your course.
Their landing page and website builder is also more robust and has more features and options.
Cons of Using Kajabi
Because they are an "all in one" they do a lot but aren't "perfect" with their courses. You build out courses using their builder like any other info product, and it's not really designed specifically for teaching. For example, you can't issue certificates which is something most LMS services provide.
Obviously because it comes with more, it's more expensive as well. There is also a bigger learning curve.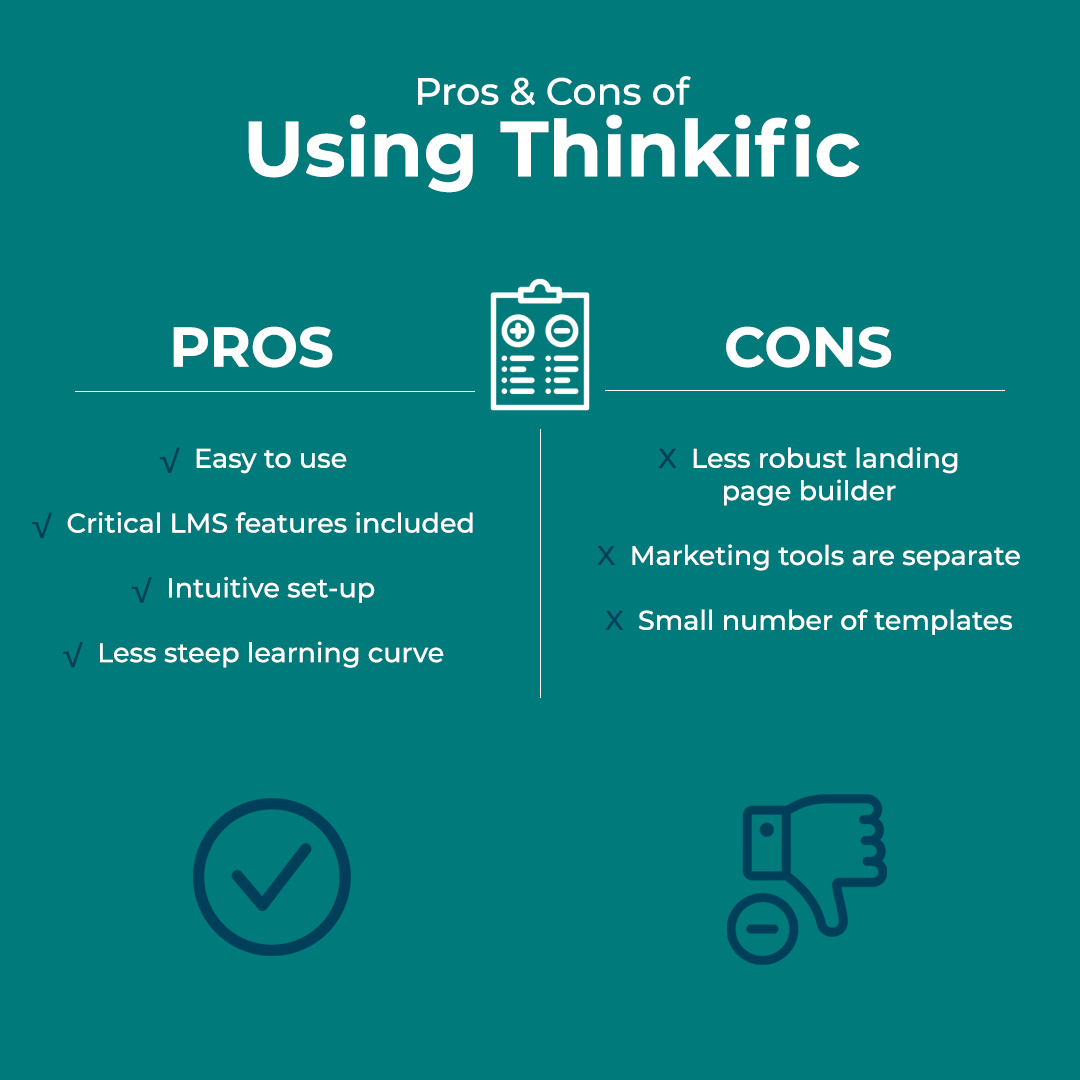 Pros of Using Thinkific
Thinkific's course creator is definitely better than Kajabi. It's easy to use and really has all of the critical features that you need. The set-up is much more intuitive for creating courses and the learning curve is much less. The student experience is a bit better as well.
The free plan is also a big plus if you are just starting out.
Cons of Using Thinkific
The landing page building isn't as robust as Kajabi, and if you need marketing tools then you'll need to sign up for those separately and connect them to Thinkific. They don't provide a ton of templates to choose from so if you are picky about your site design this might present a problem for you.
So… Kajabi vs Thinkific: Which One's Best?
The nice thing about these 2 platforms is that they are clearly for different people, so it should be pretty clear which one is for you.
If you are just beginning your journey into course creation and online learning then Thinkific is going to be the better choice. It offers a free plan to get started and the scaling plans make sense. It's easier to use and it will allow you to concentrate on the content so you can get that right.
Once you have everything up and running you can start to look into building on your success and start to introduce some other marketing tools to your toolbag. You don't even need more money to do it, as email marketing providers like Mailchimp and MailerLite have free plans to get you started on growing your email list.
If you are an already established brand then Kajabi is probably the better choice as it will already have everything you need to build your online courses and market it to your audience.
Kajabi will also be a good choice for people with an already established customer-base and are looking to simplify your life and get everything under one roof. With Kajabi you'll be able to do everything you need to build and grow your courses so you'll be able to cancel some of the other platforms you are already using, like your email service provider or webinar software.
#1 Video Hosting for Course Creators
Spotlightr is built for courses.  Keep your videos ad-free and on-brand.  Protect your videos with encryption, making piracy virtually impossible.  Marketing tools to help grow your student enrollment.
Sign up for a free 14 day trial, no credit card required.