If you're a teacher looking to take your courses online or a content creator looking for ways to share your knowledge on a particular subject, the LMS (learning management system) that you choose is going to be the most important tool in your tech stack.  It's going to determine what your course will look like, what other tools you can use with it, how your students navigate your courses, etc.  The list goes on.  Basically, It's going to dictate everything about your course.
LearnDash and Teachable are extremely popular options within the online creator communities so this article will compare them.  It's important that you understand the biggest and most important differences between them before making a decision on whether either of these is right for you and your goals.
Let's  look at the five main categories you need to look at when researching LearnDash vs Teachable:
– How customizable is each tool?
– What marketing options do they provide?
– How much tech knowledge is needed on your end?
– How much does each option cost?  Are there hidden costs to be aware of?
– How does each tool handle your video lessons?
Finally, we will wrap it all up with some general pros and cons for each of the tools so you can have a better understanding of whether LearnDash or Teachable make more sense for you.
Before we get started, let's just mention one thing for those that are just in the beginning of their research.  
What is Teachable?  Teachable is a stand-alone platform dedicated to helping people get their courses online and selling without the need to set up their own website, domain, hosting, etc and all that goes along with that.  It's the quicker, easier way to get started.
What is LearnDash?  LearnDash is a WordPress plugin.  If you purchased your own domain and web hosting, or already have your own website built on WordPress, LearnDash is a WordPress plugin that gets you everything you need to get your course online and selling.
Customization – LearnDash vs Teachable
You want to make your site and online courses yours from every respect, so it's important to know what LearnDash and Teachable offer in terms of customization.
LearnDash
One of the most important things you should know about LearnDash is that this is a WordPress plugin. Since it's a WordPress plugin, you need to be using WordPress to build your website and course.
Since you are using WordPress to build out your website, you literally have thousands of themes to choose from and then thousands more plugins to help you customize it even more…all without knowing how to write a single line of code.  If you are not familiar with WordPress and how it works, this article will give you a brief overview.
The LearnDash plugin is an add-on (that WordPress calls 'plugins') that will help you build pages out as courses and lessons in a way that is easy for students to navigate.  Like building out the website, there are many configuration and customization options even if using only plugins.  And if you know some HTML and CSS, you have even more options.
Because there is a very wide range of design and customization options to choose from when using WordPress, this will enable you to completely match your courses to your brand and target audience.
Teachable
Teachable is not as customizable as LearnDash. LearnDash offers a seemingly endless array of possibilities (especially if you know how to write a couple of lines of code), while Teachable is more focused on providing users with "ready-made" templates.  It has only one default template to use to build out the site and then you can customize that to suit your needs as best as you can.
Code-based customization is available, and the Teachable course templates do show some degree of flexibility. However, in the LearnDash vs Teachable battle for the customization crown, LearnDash is the clear winner.
Marketing
Getting your course in front of more people and selling more course enrollments is always the goal here.  If you want to promote your courses and build an email list to "feed" with new content, you also want to make sure your course-building platform provides you with plenty of marketing options.
LearnDash
LearnDash allows you to connect with a wide range of marketing and CRM tools through the use of plugins (here's how you can do it).  WPFusion in particular can connect LearnDash to a wide variety of CRMs like Ontraport, Drip, and Keap.  If you can't find a plugin that can help, LearnDash integrates with Zapier as well, which means that you can use it to connect to over 4000 different apps.
If all you want is to send out simple email notifications based on your students' activity, you can do it using the LearnDash notification add-on. This add-on allows you to send emails to your students when they have made specific actions on your site (such as completing a course, for example).
LearnDash will also enable you to use other marketing tools in conjunction with your courses and content. For instance, you can easily connect your WordPress site (where your courses are) with Google Analytics or you can install a Facebook Pixel on your site to re-target potential students on Facebook.
Teachable
Teachable integrates directly with Mailchimp and  ConvertKit, and if you want to integrate with any other email marketing tool you will have to do so using Zapier
The native integrations in Teachable are more limited than in LearnDash, but if you don't already have a preferred option, this might not be an issue. Plus, it's very likely that your preferred email marketing platform or CRM is already integrated with Zapier, so you should be able to find a way to connect it with your Teachable account.
In the LearnDash vs Teachable battle on the Marketing front, LearnDash wins by being, yet again, more flexible because it's based on WordPress and not a stand-alone SaaS product.
Technical Ability
If you're not particularly good with coding (which is perfectly understandable, as this is likely not your job), you want your course creating platform to be as easy to use and code-free as possible.
Both LearnDash and Teachable are built to be used by anyone, regardless of their coding skills. However, there are some differences between the two.
LearnDash
Remember when we mentioned LearnDash is more customizable than Teachable?
This also comes with a downside: the best LearnDash customizations tend to be achieved with coding. You don't need very advanced programming skills for this, but knowing your way around HTML and CSS does help a lot.
You can use LearnDash without writing a single line of code – but the final product may not always look and "feel" the exact way you want it to.
Teachable
Teachable is based on templates and a lot of content creators are happy with a ready-made course template that's been professionally designed, tried, and tested, and don't necessarily want to venture out in the unknown world of web design on their own.
Sometimes the fewer the options, the better!  Especially if you are not very technically inclined.
Since it's a stand-alone SaaS, it's all drag and drop and the learning curve is not very drastic.  Even if you only know how to use MS Word, email, and browse the internet it shouldn't take you too long to pick up Teachable.
If you really want to customize your Teachable course, you can do it with their "power editor". Do keep in mind that the most advanced customization options are available only on the most expensive plan.
In terms of technical ability, Teachable is your most user-friendly option (when comparing LearnDash and Teachable, at least). As mentioned before, both options are code-free and have drag-and-drop capabilities, but Teachable tends to be simpler and more intuitive than LearnDash because you don't need to understand how to build with WordPress.
Cost
LearnDash and Teachable have very different pricing schemes, so it's also very important for you to know what you are looking for and what each option offers. Here's a quick breakdown of what you can get for your money with LearnDash and Teachable.
LearnDash
LearnDash comes in three pricing tiers: $159 (Basic), $189 (Plus), and $329 (Pro) – all billed annually. The main difference between the first tier and the following two is the number of sites you're allowed to install LearnDash on (1 on the Basic tier, 10 on the Plus plan, and 25 on the Pro one).
Additionally, the Plus and the Pro plans also include the ProPanel (a solution that allows course creators to see, in real time, how students consume their content).
Teachable
The good news is that Teachable plans start at $0, and the free version includes some cool features like allowing you to enroll unlimited students, bundle products, and more.
The paid pricing tiers, which are Basic, Pro, and Business, cost $348, $1188, and $2988 per year respectively. Each tier has different payout rules and the more expensive tiers have lower transaction fees.  They also have different features that will help you build your course creator business through communities and memberships, issue certificates and graded quizzes, or advanced theme customizations.
In the pricing battle between Teachable and LearnDash, LearnDash wins by being less expensive (when comparing similar-tiered pricing plans).  You also don't have to pay any extra transaction fees, because with Teachable your students pay Teachable, and then Teachable pays you.  With LearnDash your students pay you directly.
However, Teachable does offer a free version – so if you don't want to invest anything in your course creation platform right now, you might want to settle on that option.
Video
Just about any online course includes video as it's the best way to speak directly to students without actually being inside the classroom.  This means that you want to make sure exactly what you can and can't do with video in the LMS of your choice.
It's also important to use video to market to new visitors and new audiences on other parts of your website like offer pages and even on your homepage.
Both LearnDash and Teachable definitely support video courses.  However, they do it differently.
LearnDash
Because LearnDash is a WordPress plugin and built on WordPress, you are installing it on a hosting account that you purchase with a hosting company. This means you won't be storing your content (video or otherwise) on LearnDash.  You are storing it where you are hosting your entire website.
As such, you do have one option to add videos to your courses in LearnDash is by uploading them directly into WordPress, as you would with a blog image, for example. However, this is absolutely not recommended.  It will overload your server and hosting provider and the video performance will be very poor.
You will want to use a third-party video hosting service where you can store your content.  This will vastly improve video player flexibility and performance and allow you to work with a service that specializes in video hosting and all its particularities, like being able to keep your videos on-brand and customizable.
LearnDash also offers a popular feature they call video progression.  This prevents students from moving on to the next lesson before they finish a video lesson.  So if you want to ensure students watch the entire video lesson before moving on, this might be a feature that is important to you.
Teachable
Teachable allows you to upload your own videos to the platform (as long as the videos are mp4, .mov, or .avi).  Teachable also allows you to embed videos uploaded on other platforms by using their code blocks.
If you upload directly to them, performance will be better as compared to uploading directly to a WordPress installation.  But since they do allow you to embed videos, this is the option you will want to use.
When it comes to video, we cannot declare an absolute clear winner but we give the slight edge to LearnDash.  Both allow you to embed videos from third-party video hosting so you have the ability to take advantage of all that option has to offer. Even if you don't want to use third-party video hosting due to its cost, you can still use Youtube (though we don't recommend Youtube for a variety of reasons).
In terms of performance, uploading your videos to a specialized hosting company will always win the race. Both LearnDash and Teachable allow you to do this, so when it comes to video, the "battle" starts in a tie.
But because LearnDash has some extra features for video like video progression we do give them the slight nod.
LearnDash vs Teachable: Pros and Cons
Both LearnDash and Teachable are very solid options, but they are targeted at different categories of course creators and teachers.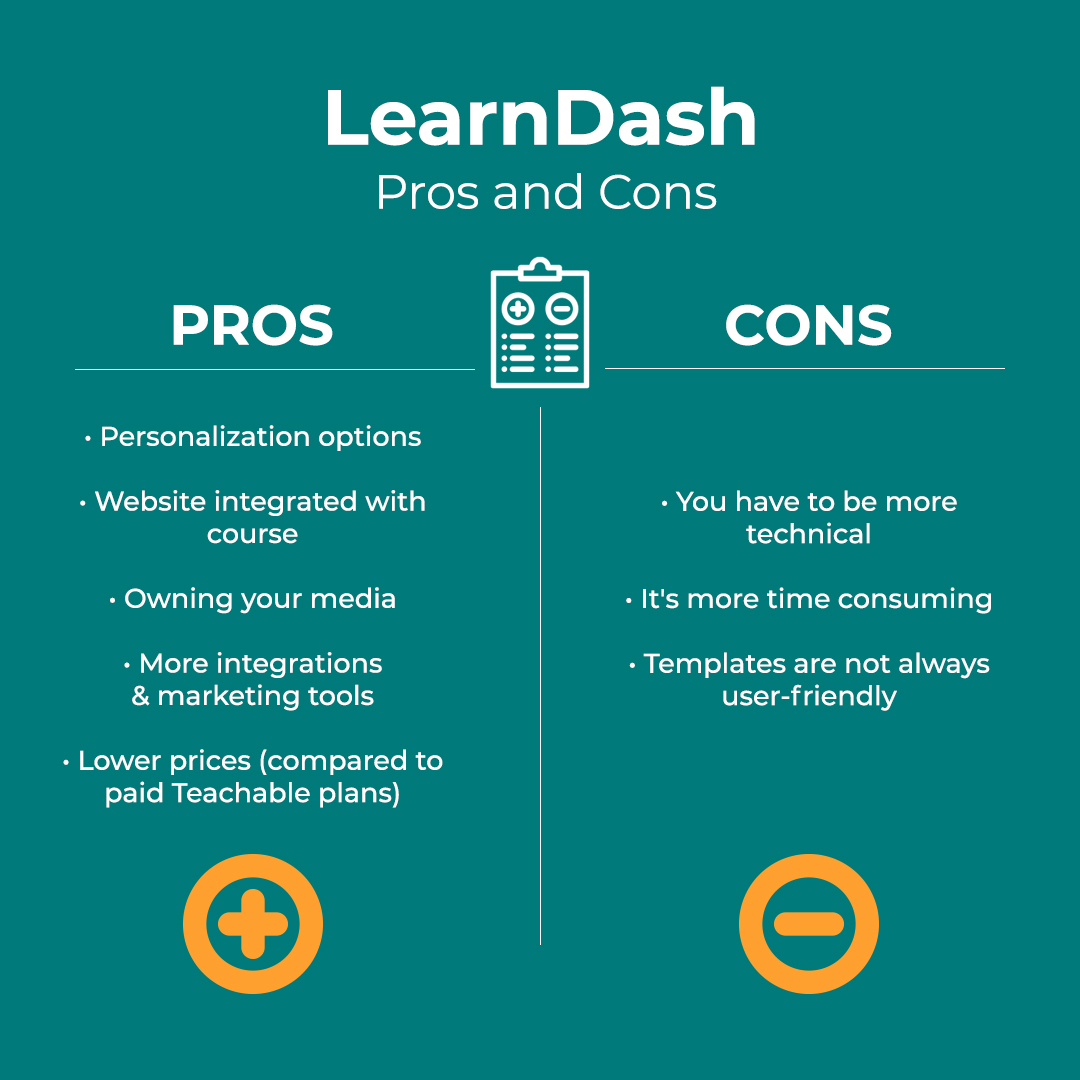 The main pros of LearnDash are the following:
– A high degree of personalization
– You can host and showcase other types of content in the same place (e.g. you can build a complete website with a blog around your course)
– You own your media (so you will never depend on whether or not a platform changes its rules, pricing, or stays on the market)
– More integrations and marketing tools are available
– Lower prices (as compared to the paid Teachable plans)
The main cons of LearnDash include:
– You might need to be more technically knowledgeable to use it at its full power
– It will take more time and energy as you need to build it with WordPress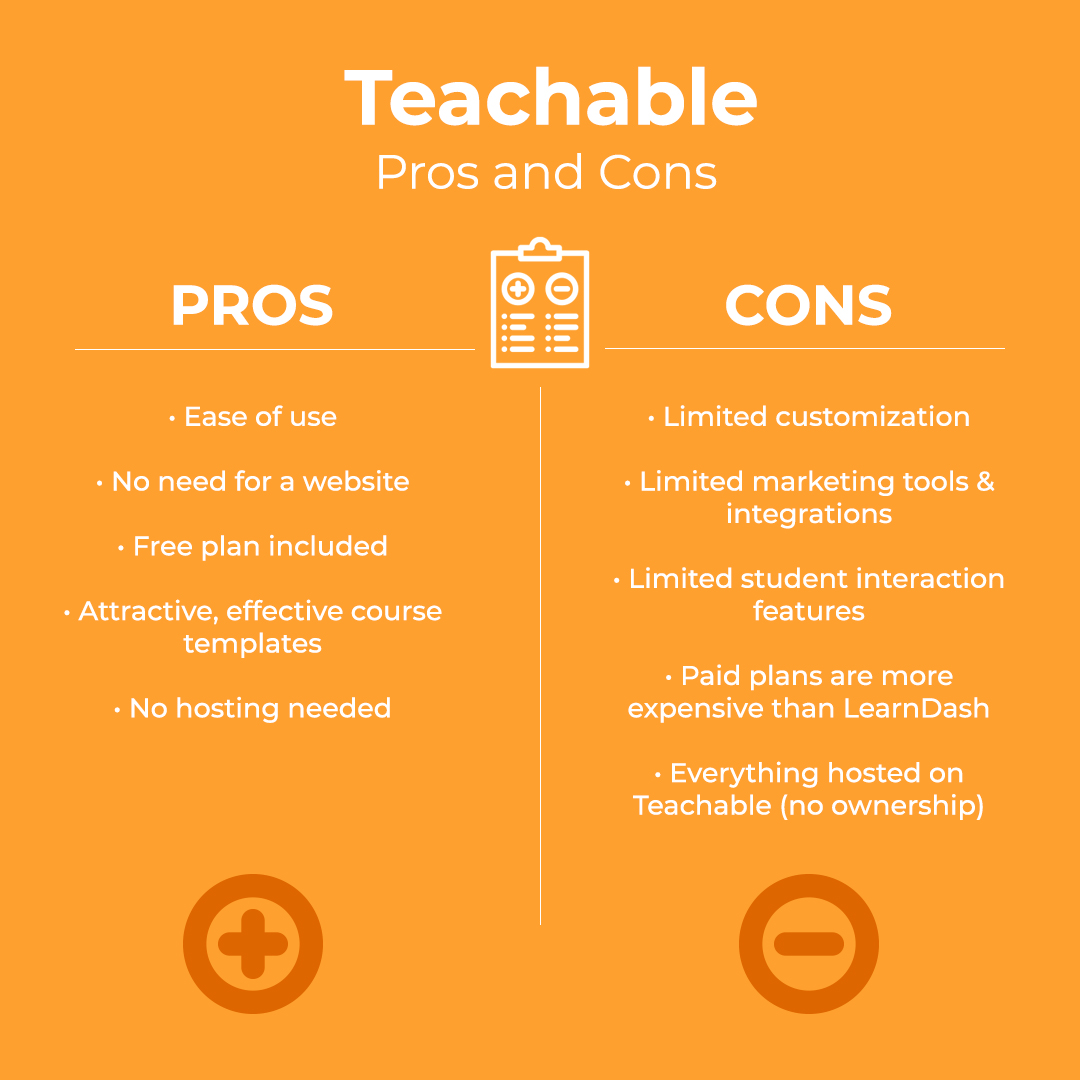 On the flip side, here are some of the main pros of using Teachable:
– Easy to use
– No website needed
– Free plan included
– The course templates are attractive, tried, and tested
– You can start using it today, no hassle, no hosting is needed
The downsides of using Teachable? Some of the users might point out:
– The limited customization capabilities
– Limited marketing options and integrations
– Quizzes, assessments, and learning enhancing options are more limited than in the case of LearnDash
– Paid plans are more expensive than in the case of LearnDash
– You don't own any of it as it's all hosted on Teachable
So, LearnDash vs Teachable: Which One's the Best?
No clear, unbeatable answer can be given here.
It depends on what you want: do you want a platform where you own your media, can connect your courses with other types of content, and, overall feel more in charge of what happens to your business or educational efforts?
Then LearnDash is for you.
Do you need a stand-alone inclusive platform that provides its own hosting, "no website needed", and is extremely easy to use?
Teachable is your better option, then.
Whichever of the tools you may choose, though, keep in mind that you should weigh your pros and cons carefully. If you change your mind at a later point, transferring your content from one platform to another is possible, but it will take some time.
Use Spotlightr For Your Video Lessons
Whether you use LearnDash or Teachable, using Spotlightr will keep your videos on brand, keep you studentes engaged, and has tools to help you increase enrollments.  Sign up for a free 14 day trial, no credit card required.