Teachable is a popular platform for building, launching, and growing your online course business. But choosing the right Teachable pricing plan can be tricky, with four options to pick from.
We'll take you through each Teachable pricing plan and share which will benefit your online course business the most.
We'll also compare it to other popular online course platforms, like Thinkific and Kajabi, and answer your questions about the platform. But first, for those who are newer to online courses, let's start with an overview of Teachable.
What Teachable has to Offer
At it's core Teachable helps creators build, launch, manage, and optimize their courses all in one place. It's a popular platform for people who don't have the time or money to build out something on WordPress for example, or for people who prefer to have a platform that has a lot of what they need under one roof.
Getting started is easy with Teachable's straightforward course builder, where you can upload text, images, videos, or downloadable files. You can also make content more engaging with built-in quizzes, a comment section for every lesson, or certifications after the successful completion of your course.
If Teachable doesn't have a built-in feature you need, you can also use integrations with apps like Mailchimp, Shopify, ConvertKit, and GoogleSheets. If you still need more, some coding and Teachable's open API will cover the rest.
Teachable helps collect and manage payments which is also a popular reason some choose this platform. Teachable lets students pay with credit, debit, PayPal, Apple pay, and Google pay. You can also offer one-time payments, a payment plan, or a subscription, giving students payment flexibility. And when you're ready to cash out, you can withdraw approved earnings daily, weekly, or monthly.
They do have some fees you have to understand so that is what we will dive into later on in this post.
Teachable Pricing Plans Overview
The current Teachable pricing options include one free plan and three paid plans:
Free plan – $0
Basic plan – $59 per month
Pro Plan – $159 per month
Business Plan – $665 per month
The platform does offer both monthly and yearly payment plans. The prices listed above represent monthly pricing. Opting for annual pricing will save you money in the long run, but it varies based on the plan you choose.
The annual Basic plan saves you 33% compared to monthly billing, while the Pro and Business plans save you 25%.
Teachable Free Plan
Teachable does not offer a "free trial," but they do offer a free plan. (Which, to us, is a forever free trial.) However, this plan also comes with some pretty significant limitations.
Creators using this plan are limited to only one admin user, one course and one digital download. Also kind of hidden is the fact that they only allow 10 video uploads on this plan. You have to dig into the help documentation to find this actual number.
On the flip side, this plan permits unlimited students. And yes, you can charge for the course you create on Teachable's free plan. But that's where things get tricky.
The free plan imposes transaction fees on course sales. Each sale will receive a fee of $1+10%. If, for example, your course was $50, Teachable would charge a $6 transaction fee, leaving you with $44 after their fees. And that doesn't include processing fees, which can range from 2.9% + $0.30 to 4.99% + $0.49. Ouch.
Who is the Free Teachable plan for?
The free Teachable pricing plan is an excellent choice for course creators looking to build their first course, build an audience by offering a free course, test out a course offer or simply test out the Teachable platform.
The way their fees are structured means that once you start to sell more it makes sense to upgrade to the next plan. There may be other reasons you want to upgrade to Basic, for example because you want to add another course, but the fees can be a big reason to switch.
We did the math so you don't have to. As we'll demonstrate more below, there comes to a point where it makes sense mathematically to upgrade. For example, if you are selling your courses for $50 each then it makes sense to upgrade from Free to Basic when you sell around 20 copies per month. That's assuming we are using Stripe with their processing fees and a US card is purchasing.
There's one last limitation that might push you from Free to Basic and that is Free's limit of 10 video uploads. If you want to stay on Free but need to add more than 10 videos, then a Spotlightr Spark plan might make more fiscal sense. You'll also be getting an incredible amount of customization, branding, security and marketing features.
Teachable Basic Plan
At a reasonable $59 per month, Teachable's Basic plan lets course creators add up to two admin users, 5 courses, unlimited digital downloads, and take on as many coaching clients as possible.
Teachable still charges a transaction fee on this plan but it's a more palatable 5% per transaction.
Opting for this plan over the free plan will also let you create a custom domain and use direct integrations, giving you a more branded look and additional functionality.
Who is the Basic Teachable plan for?
Obviously if you are offering multiple courses, but less than 5, then you'll need this plan. And if you are charging enough and/or selling enough then you will save money in transaction fees charged by Teachable by upgrading to Basic over Free. Those are the 2 biggest reasons to move from Free to Basic.
This plan lacks advanced customization and support for affiliate marketing. So if you're interested in stirring up sales by offering financial incentives to your biggest cheerleaders or giving your students a highly branded experience (like a custom domain), then the Pro plan might make more sense.
Finally there's a big marketing feature that we believe might push you to Basic and that is the inclusion of email marketing software. Anyone building anything online should be generating an email list of potential students, current students, and past students. If you are the Free package and want to do email marketing then you'll need a 3rd party platform for this.
Teachable Pro Plan
Teachable's Pro plan finally drops those pesky transaction fees, lets you build unlimited courses, and bumps your admin user limit up to 5 users. In addition to the features included in the free and basic plans, you'll also be able to give current students an affiliate link so they can earn a commission on students they refer to your course.
Other notable upgrades include unlimited courses, Zapier support, graded quizzes, course certificates, support for upsells, and a completely unbraded website.
For anyone needing some custom work, this plan also lets you use Teachable's open API. This means with some coding, you can share data across platforms, create custom apps, or automate workflows.
Who is the Pro Teachable plan for?
This Teachable pricing plan is a solid choice for large creators with a higher earning potential or smaller businesses with developers on standby. Teachable's open API opens opportunities for automation and data sharing across platforms.
If quizzes and certificates are must then you'll need this plan, which is kind of disappointing as these features are usually considered staples for an LMS and Teachable requires the highest plan to access them.
At $159 a month, the features you'll get with this plan are comparable to a platform like Thinkific. As far as costs and transaction fees, the benefit of choosing this plan over the basic plan really depends on how many courses you need to offer at a time and how much you plan to charge. Courses with a higher price tag will offset the monthly cost of the Pro plan faster than a mini-course selling at $10 per course.
Teachable Business Plan
The fourth and final pricing plan is more than three times the cost of the Pro plan. The Business plan lets you add up to 20 admin users and gives you access to advanced theme customization. This means you can custom code how things like lectures, courses, pages, and layouts appear for your students in what Teachable calls the "Power Editor."
The Business plan also lets you access advanced reporting. This feature allows creators and admins to use specific analytics like lecture completion, video stats, quiz scores, and student leaderboards. If needed, you can also export some of that data.
Who is the Business Teachable plan for?
At the high price of $665 per month, this course offers advanced features for those that can afford it. This plan is great if you want to create a fine-tuned, curated experience for your students or need access to super-specific analytics.
With a dedicated success manager, priority support and implementation and migration services this is going to be the plan used when people are moving multiple courses and students from another platform.
With such a high cost, this plan will benefit course creators with a large or scaling online course business and especially those that want to ues their 'power editor' to have custom development done to the courses, pages and overall layout of their site.
Teachable Payouts and Payments Breakdown
When researching Teachable pricing, most creators look at monthly subscription costs. But what you might not realize is that the transaction fees, processing fees, and optional BackOffice fee can significantly affect overall costs per month.
This breakdown is going to make costs much more clear for you.
A little bit of digging will lead you to Teachable payment gateway options. This refers to how course creators receive their hard earned cash. There are terms that sort of mix together here and it can be easy to get lost in infinite tabs, support pages, and terms. So let's break it down.
As just mentioned, Teachable refers to its payment options as Payment gateway options. Teachable offers three options:
Teachable:pay
Monthly Payment Gateway
Custom Payment Gateways
Most online course creators will find themselves using options #1 and #2, so we'll focus on those two choices.
Creators on Teachable are eligible for Teachable:pay if they're in one of the 78 accepted countries. If your country of operation is not on this list, then you'll have to use the Monthly Payment Gateway.
Teachable:pay offers three choices for a payout schedule: daily, weekly, or monthly. In contrast, the Monthly Payment Gateway only offers monthly payouts.
Similarly, the monthly gateway also only allows payouts to be deposited in the creator's PayPal account, whereas users of Teachable:pay can direct payouts to their bank account.
Both payment gateway options allow students to pay using credit or debit cards, PayPal (for USD purchases), and Google or Apple pay. However, both options need to have BackOffice enabled to accept Paypal payments from students. Also note that Paypal is only available in USD at this time.
Both options are also subject to the same Teachable transaction fees. Those are 10%+$1 on the Free plan, 5% on the Basic plan, and 0% on the Pro and Business plans.
Teachable BackOffice
Still with us? We know, there's alot to take in.
There's one more thing you should know about as mentioned above but we want to stress that again here. Teachable's optional BackOffice service is what allows you to accept PayPal payments from your students. In addition to accepting PayPal, you'll also need this optional service if you'd like to automate affiliate payouts and tax form collection.
Enabling BackOffice for your Teachable account does add a 2% fee per transaction.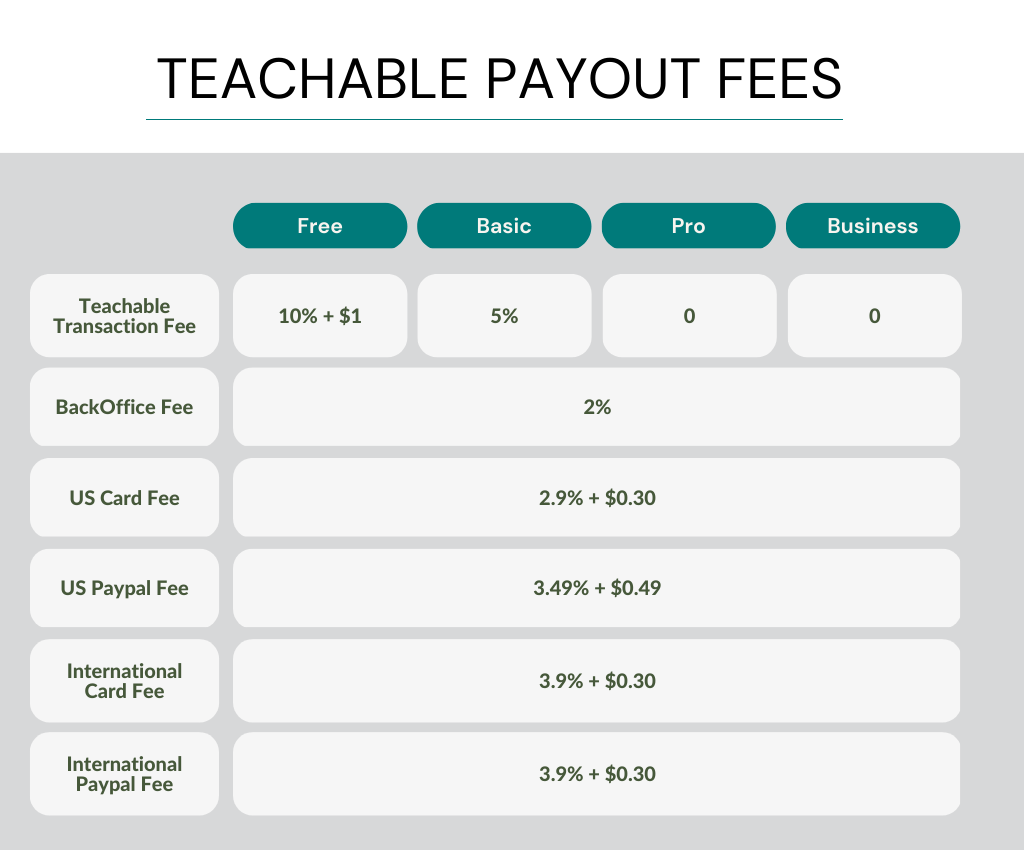 As helpful as a table can be, it's even more helpful to see these fees in action. So to give you a better understanding of the Teachable fees and where it makes sense to upgrade from plan to plan, we're going to show you what these fees mean with some real sales numbers.
In this scenario, assume your student pays with a US card and you sell 20 courses at $50 each.
In the following table, we'll apply the payment gateway transaction fee according to each of the four plans and the US card fee. Then we'll calculate the total fees for 20 courses as well as your net profit.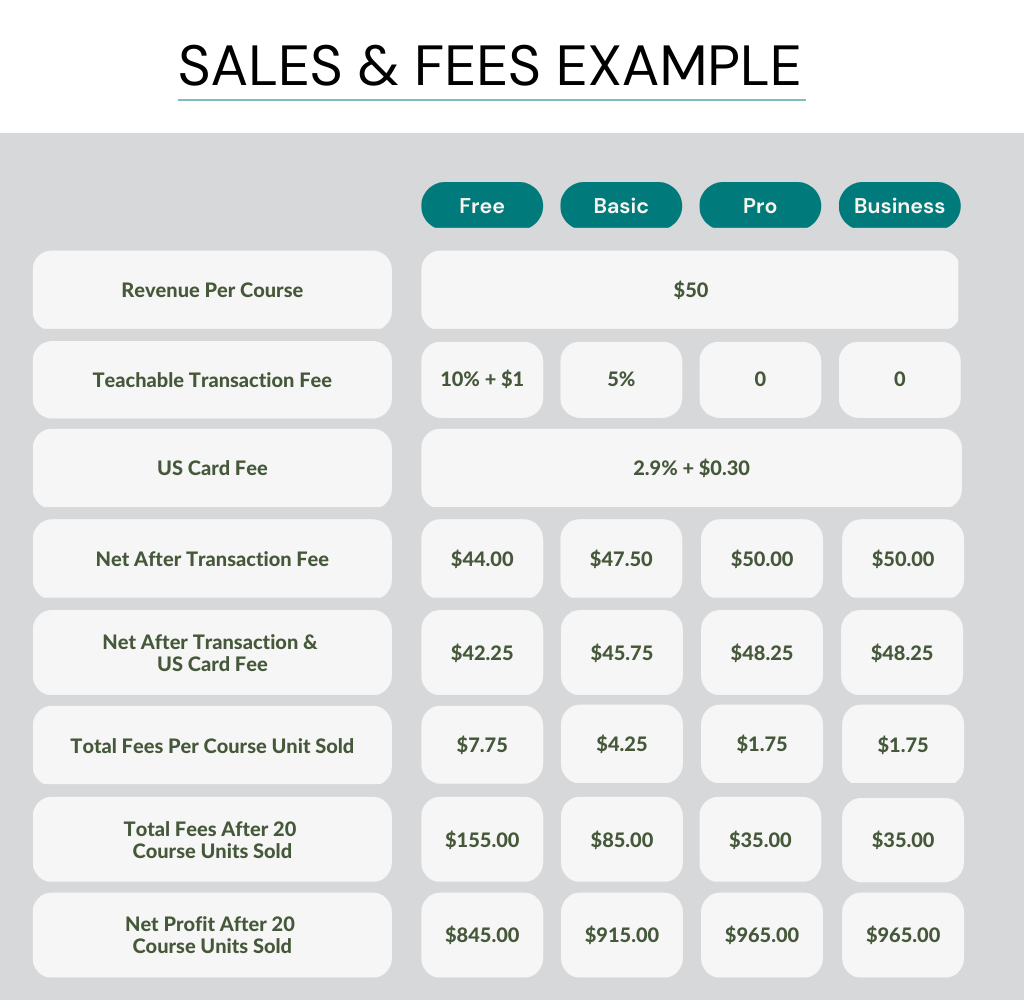 Because BackOffice is an optional service, you may or may not have to factor in the additional 2% fee. The table above does not include the BackOffice fee.
If we add that extra 2% fee we are deducting another $20 in net profit from each plan.
So the final net selling 20 units at $50 each:
Free: $825
Basic: $895
Pro: $945
Business: $945
We've taken this a step further.
We've prepared for you a spreadsheet with another example of selling 50 copies of the course. However, feel free to create your own copy to your Google drive and change the numbers to whateve you'd like.
Click here to get the sheet >> Teachable Fees Spreadsheet
Teachable Pricing Comparison
We know money talks, so let's look at how Teachable pricing compares to its competitors.
Kajabi vs Teachable Pricing
Teachable and Kajabi vary in quite a few ways, but the difference in pricing is especially significant.
First, Teachable offers a free plan, albeit with a transaction fee of $1+10%. Kajabi does not offer a free plan but instead offers a 14-day free trial.
When comparing these plans we'll stick to the monthly fees as it's easier to compare. They both have discounts when the plans are paid for annually.
Teachable's paid plans start with their Basic plan at $59 per month while Kajabi's paid plans begin with the Basic plan at $149 per month.
Teachable's next tier, the Pro plan, is also cheaper than Kajabi's middle tier, the Growth plan. With the Pro plan, you'll spend $159, compared to Kajabi's $199.
And in the third and final tier, Kajabi finally wins with the lowest price. Their Pro plan costs $399 per month while Teachable's Business plan is a whopping $665 per month.
Another difference to note is that Kajabi includes all of the platform's core features across all of its plans, whereas Teachable limits some of its features to the more expensive plans. More information on these differences can be discovered via our article on Thinkific vs Teachable vs Kajabi.
Overall, Teachable is a much more affordable option, especially for course creators on a tight budget. Still, Kajabi may be more expensive, but it includes more features and does not place transaction fees on any course sales. The winner for this one ultimately comes down to your budget and the features you need for your business.
Thinkific vs Teachable pricing
Thinkific and Teachable are great online course platforms that offer free plans. But while Teachable's free plan may not cost you upfront, it can affect your bottom dollar. Teachable's $1+10% transaction fees can add up quickly, while Thinkific has no such thing.
Both platforms also offer three paid pricing tiers with increasing features and capabilities, but Thinkific's are cheaper across the board. Starting with the first tier, Teachable's Basic plan will cost $59 per month while Thinkific's Basic plan is $49 per month.
The trend continues, as Thinkific's second and third tiers are $99 and $99 compared to Teachable's second and third tiers of $159 and $665.
Overall, the choice is going to come down to what features are most important to you versus cost versus design choices, ease of use, and functionality. If you'd like a more in-depth comparison, check out our Thinkific vs Teachable comparison.
Teachable: Frequently Asked Questions
Does Teachable have a refund policy?
Teachable has similar refund policies for both creators and students. Course creators can request a refund within 30 days of their plan's start, and it's the same for monthly and annual plans. Students enrolled in a course can also request a refund within 30 days of their purchase unless otherwise restricted by the course creator's policies.
LearnDash vs Teachable: Which is Better?
There is no clear answer in a "LearnDash vs Teachable comparison" because each has its own pros and cons. Both LearnDash and Teachable allow course creators to build and sell online courses. It's foremost important to understand what is Teachable and what is LearnDash at its very core. Teachable, being a stand-alone LMS platform, is very different from LearnDash which is a WordPress plugin.
While LearnDash offers more flexibility in terms of customization, design, and functionality, maintaining its advanced features can require more technical knowledge than a platform like Teachable.
Teachable has a shorter learning curve and might include everything you need right out of the box. But with it comes limitations, and maybe even costs, that you won't have with LearnDash and WordPress.
With their pricing plans LearnDash can get you more bang for your buck but will require more work. Teachable's user-friendly interface and free plan mean you can start immediately without much of a learning curve.
Ultimately, these course-building products appeal to slightly different creators, and it's up to you to decide which is best for your course business. Be sure to check our comprehensive comparison of LearnDash vs Teachable to help you make a better decision as to which is right for you.
So Which Teachable Pricing Plan is Right for You?
At the end of the day, each of Teachable's four plans has something to offer everyone.
If you need to get your online course running at an affordable rate quickly, the free and basic plans can likely give you everything you need. If you need more from your course platform, then the Pro plan could be a natural next step. But if you're still unsatisfied with Teachable's offerings in the Pro plan, it may be time to consider other alternatives, like Thinkific of Kajabi.
But regardless of which plan you decide to try, if you're not happy with the plan, you can always move to a higher or lower tier. If Teachable just isn't right for you, and you're not locked into an annual plan, you can cut your losses and try out a different course platform.
Host Your Teachable Videos With Spotlightr
Sure, you can upload direct to Teachable. You'll have no branding options, no security, no marketing features, no video analytics, and very limited customizations.
Start a free trial with Spotlightr today and see why course creators prefer us to host their videos over Teachable's built in video solution. Free for 2 weeks, no credit card required.