As an online course creator, you have a lot of options when it comes to choosing a platform for your courses.  Choosing the right platform from the beginning for your specific needs can alleviate a lot of stress and hours of frustration.  You don't want to pick a platform that "does too much" or one that is skimpy on features. 
Admittedly, there is a decent chance that once you are on one platform for a while your needs will change or you will outgrow the platform and need to switch to another platform.  So don't let this process be too stressful.
But at the same time, it would be quite annoying to pick a place and spend days setting up, only to realize to realize the platform is not for you. 
For many, that search begins with a Thinkific vs Teachable vs Kajabi comparison.  These are some of the most popular course creation platforms of the moment — but deciding on one of them might feel like a confusing maze.
So, which one should you choose? In this article, we'll look at all three platforms from five main points of view:
– Customization
– Marketing
– Technical ability & ease of use
– Cost
– Video hosting for your video lessons
Furthermore, we will also look at some of the main pros and cons of each platform, to give you a bird's eye view of what each of them does best (and what they don't do that well too.)
Customization – Thinkific vs Teachable vs Kajabi
When we talk about customization here, we are referring a couple of things.  First, do either of these options help you build an actual website and not just course pages?  If you already have a website and you are just looking to build on that with a course on oen of these platforms then their website builders, if any, don't matter to you.
But if you are looking to also build a website in addition to your course, then you'll need to understand if that functionality is possible here.  We'll go through both options here.
In either case, when you create a website or a course you want to make it really yours. So it's essential that your chosen course platform allows for enough customization in order to do that.  Thinkific, Teachable, and Kajabi all offer plenty of customization options.  Let's go through some of those and some differences between them.
Thinkific
This platform allows for complete customization of colors, fonts, layouts and branding. When it comes to building out the website and pages it offers a limited number of themes but they are all highly customizable.
You can choose from 3 different themes and each theme has a few different styles available. All in all you are getting almost a dozen different styles to choose from to build out your website and course.
You can also change the theme code in the backend if you want to customize it even further and you can import custom themes as well. So you really get options with Thinkific.
As far as the actual page builder, they have over 20 different "sections" you can add so you should find what you need in order to build the page(s) that you want.
Teachable
Teachable doesn't have the same type of themes that Thinkific has to build out the site. They have a default template and then all of the websites are built using that. Yes you can customize that template of course but your site is going to still "look and feel" like a lot of other teachable sites. For example you can't change much on the header or the footer so it's clear that the settings aren't as customizable.
You are able to to change some of the default theme with their "Power Editor" but you cannot import any custom themes.
The page builder itself is a bit more restrictive than both Thinkific and Kajabi as it has fewer options and elements to choose from.
Kajabi
This platform offers more themes to choose from to build the website and also offers a lot of customization. The landing page and build page builder functionality is pretty robust, so you should be able to customize pages as much as you want.
When it comes to customization, we'll have to give our prize to Thinkific, followed by either Teachable or Kajabi, depending on how code-savvy you are.
Marketing
Other than allowing you to create courses that look and feel professional, your course creation platform should also make it easy for you to market and promote your content. Here's how all three tools (Thinkific vs Teachable vs Kajabi) stand on the marketing ground.
Thinkific
Thinkific is a great option for those of you who want to have complete control over the marketing and promotion of your courses. It integrates directly with many email marketing platforms like ConvertKit and ActiveCampaign and dozens of other marketing tools.
They also have some nice flexibility in terms of their pricing options. You can create subscriptions and upsells for example.
Teachable
This is decent at giving you tools for marketing your courses but it falls in last place in this comparison for this category. .
Although it doesn't offer quite as many integrations with 3rd party platforms as Thinkific, it does come with some powerful built-in marketing features, such as the ability to create coupons and discount codes. Teachable also has a very nice 1-step check-out process which should increase conversions (as opposed to Thinkific's 2-step process)
Kajabi
Kajabi prides itself with it's marketing tools and considers it the biggest differentiating factor between it and other LMS platforms. We would tend to agree. It comes with some powerful features out of the box, such as the ability to create landing pages, email drip campaigns and email automations, webinars, and coupons.
If you don't want to use Kajabi's built-in email marketing system you can integrate Mailchimp, Drip and ConvertKit.
Once again Kajabi beats the competition here when it comes to marketing tools because of tools that are included as well as the extensive training that they offer on how to use and tie them all together.
Technical Abilities
The first part is a bit easier…you've considered your online course ideas and then come up with a winning idea.   Then you create the course.  Great!  But being able to actually get it online, and make sure that everything works properly is another story altogether. This is why you need to make sure that your chosen platform doesn't require a lot of technical know-how (if you don't have it), and is actually fairly easy to use.
Thinkific
This platform is definitely geared towards those who don't have much technical expertise. It's very user-friendly, and even the most basic functions can be accomplished without any coding knowledge whatsoever.
Teachable
Like Thinkific, Teachable leverages a drag and drop builder for creating the website as well as the courses. We do think the layout and interface of Teachable is a bit easier to use than Thinkific, and we give it the nod over Thinkific as far as ease-of-use.
Kajabi
Because Kajabi offers more features and has more tools, its learning curve is definitely higher than both Teachable and Thinkific. Yes it is still drag and drop and it's definitely completely customizable without knowing how to code, but it will take a bit more time to get your head around everything.
Overall, all three platforms offer a good level of technical support and ease of use. However, we have to give the slight nod to Teachable for being the most user friendly and easiest to pick up and build your course.
Cost
Obviously, you want to know what you get for your money, so let's take a look at the pricing structures of each platform.  You may also want to consider if there are any other additional costs in relation to each of these options.
We are going to compare the monthly options, not the annual.  It makes more sense and is easier to compare them is we look at the monthly option.  Also, in most cases you are going to want to start off with the monthly option before you commit to the annual cost.
Thinkific
One of the great things about Thinkific is that it offers a free plan in addition to three paid plans.  The paid plans are $49, $99, and $199/month.
Some of the main differentiators between the Thinkific pricing plans include the ability to create private courses, use custom branding, offer student support, as well as get access to advanced features such as automatic emails and funnels.
Teachable
Teachable is not a cheap platform — but the good news is that they do offer a free plan too, for those who are just starting out. The paid plans come at $59, $159, and $665 per month. Some of the main differentiators between Teachable pricing plans include more community and membership features, lower transaction fees, and so on.
Kajabi
Kajabi is the most expensive option and offers three main plans at $149, $199, and $399/month.
Some of the main features that make the difference between these plans include how many products and websites you can include on one account, how many contacts you can include, how many Admin Users you can add, and so on.
As far as cost, how do you pick a winner?  You can't really because each platform is different and you have to compare your specific needs with the cost and the value it brings to you.
If you are just starting out and don't need the additional features of email marketing and webinar marketing that Kajabi offers then their higher price tags for the entry level plans may be a deterrant for you. 
Both Teachable and Thinkific offer free plans to get your feet wet, and have more reasonably priced entry level plans after that.  So if you are very price sensitive then Thinkific or Teachable will make more sense to you. 
If, for example, you are trying to keep your cost for this under $100 then of them do offer that.  You just need to decide which company includes the features you need for that price.
Video Hosting for Course Creators
Because your courses will most likely be delivered in a video format, you want to make sure your course creation platform's video hosting is on point. Here's how the three main tools differ.
Thinkific
Thinkific can host your videos for your courses by directly uploading to them. There are some limitations to this, however, For example, there is a 2 GB file size limit. You will also have limited player customizations and options.
They do also let you add video vie embed by using the WYSIWYG editor that is available when you create lessons.
Teachable
Teachable is pretty similar to Thinkific when it comes to video for your lessons and courses. They give you the option to upload directly to them or use their "code block" to add any custom HTML.
Kajabi
Kajabi has its own video hosting service that is included in the price of all plans. This means that you don't have to worry about finding a separate host or paying for one. You'll also get features such as HD quality, transcripts, and more.
Using Kajabi's hosting included hosting service does come with similar limitations as Teachable and Thinkific. 
So what's the best approach to video hosting?
Whether you use a video hosting compnay like Spotlightr or not, we would always recommend you use a dedicated video hosting solution for your video lessons.  Your video player customization and branding options for your player are much greater with a separate video hositng company like Spotlightr.
You have more video marketing options as well as a variety of learning based player controls that you can use to customize and maximize your student's experience with your videos.
The Pros and Cons of Thinkific vs Teachable vs Kajabi
Nothing is ever perfect, and that's also the case when it comes to these course creation platforms. Here are some of the pros and cons of each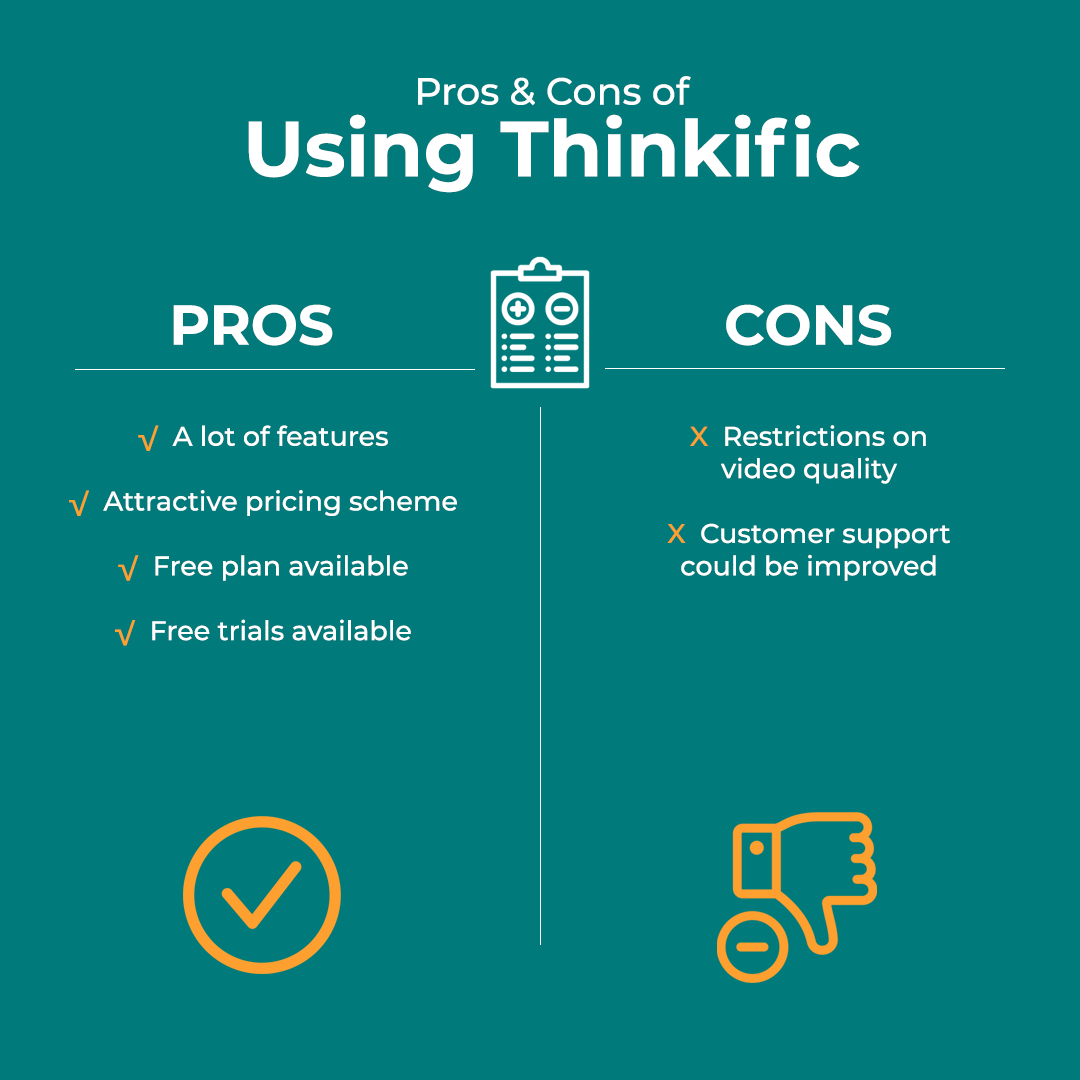 Pros of Using Thinkific
Thinkific has a lot of amazing features and a pricing scheme that makes sense for both beginners and more experienced users. It also has a free plan and free trials available for all its paid plans, making it very accessible and easy to try out.
Cons of Using Thinkific
Despite the fact that they offer great features, there are still some limitations when using Thinkific — such as restrictions on video quality and other aspects. Furthermore, some clients say that their customer support could also be improved.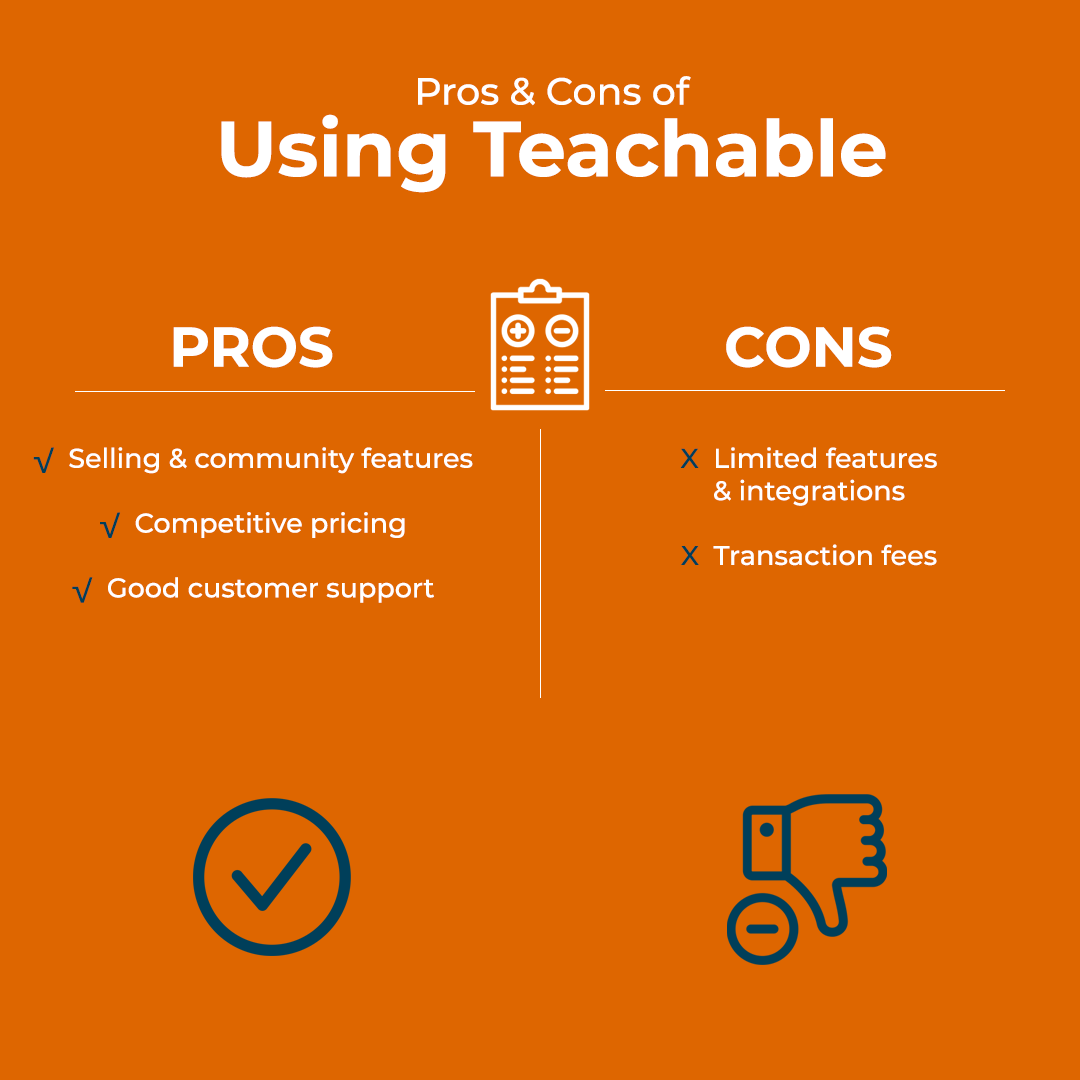 Pros of Using Teachable
Teachable has a lot of great features, especially when it comes to selling and community building. Their pricing plan is very competitive for this type of platform, and their customer support is good too.
Cons of Using Teachable
However, there are certain limitations when it comes to their features and integrations and the transaction fees might be a huge drawback for many users.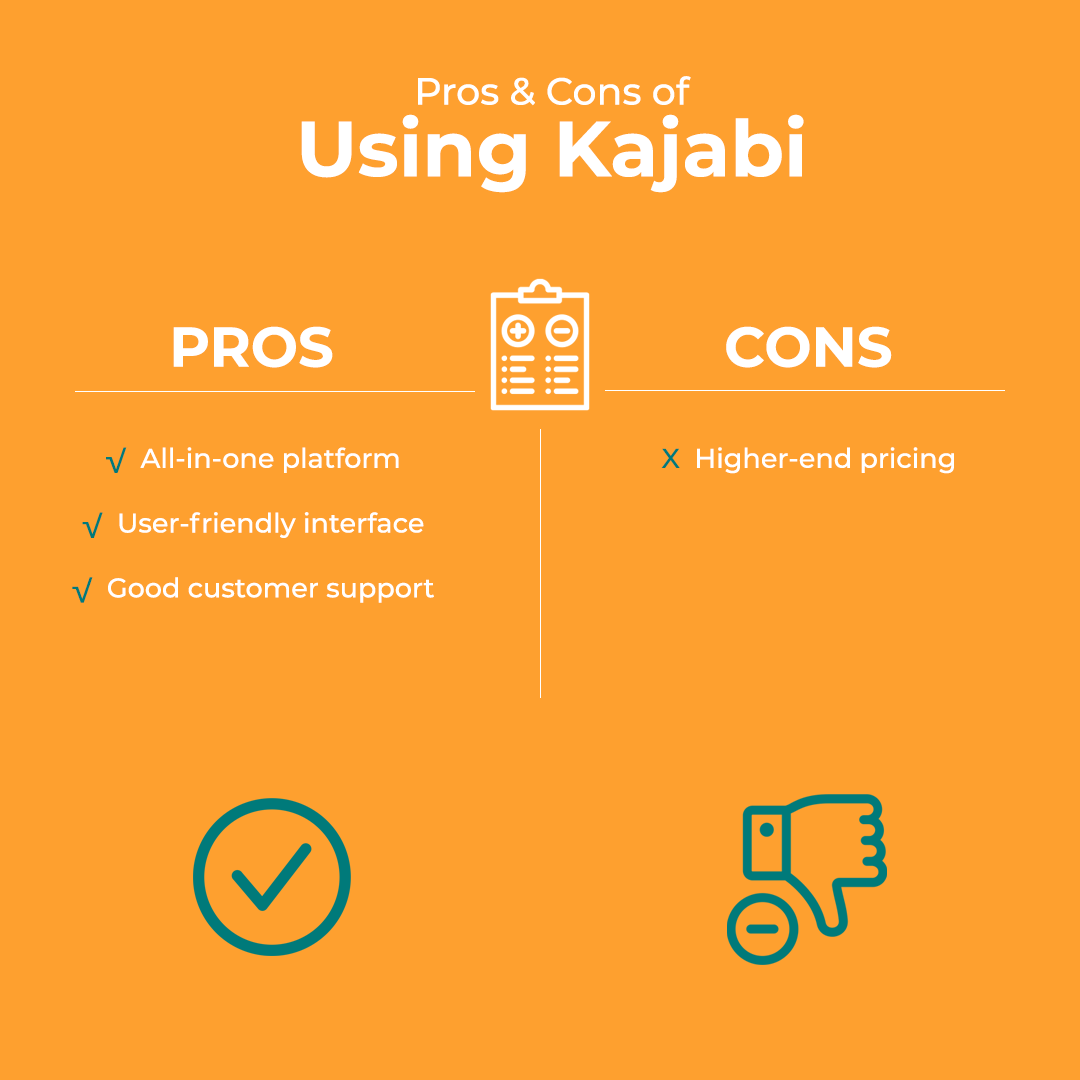 Pros of Using Kajabi
Kajabi is great because it offers all the tools you need to build, sell and market your online course on one platform. They have good customer support and their platform is very user-friendly.
Cons of Using Kajabi
The only drawback here is their pricing — which is on the high end when compared to other similar platforms.
Which One Should You Use? Thinkific vs Teachable vs Kajabi
The first decision here should be whether you want to use Kajabi, or whether you want to go the other route. Kajabi is different enough from Thinkific and Teachable that it should be clear if it makes more sense for you.
Do you want all of your marketing tools under one roof? Can you afford their plans, knowing they are the most expensive option? Are you an already established brand or already making money with your courses and need a streamlined solution? The best fit for you would be Kajabi.
If on the other hand your biggest concern right now is just getting your course up and quickly and painlessly as possible, then you will want either Teachable or Thinkific. If you don't need any marketing tools like an email service provider or webinar platform right now, or you have preferential systems you already use and don't want to use Kajabi for that, then these two are going to be the better fit.
We have to give Thinkific the winner here of the two. While not as super easy to use as Teachable, its interface is still drag and drop and still user friendly. It has a nice amount of integrations and the course builder has just the right amount of features without trying to do too much. We feel like Teachable is great if you really want the simplest and easiest and don't worry about anything else. But if scaling and marketing is of concern, Thinkific is going to be winner.
#1 Video Hosting For Course Creators
Spotlightr is built for courses. Keep your videos ad-free and on-brand. Protect your videos with encryption, making piracy virtually impossible. Marketing tools to help grow your student enrollment.
Sign up for a free 14 day trial, no credit card required.