Thinkific is one of the most popular online course platforms for course creators everywhere. They boast a diverse customer base ranging from massive brands like Hootsuite and CMF to solopreneurs and everyone in between. Regardless of where you fall in this range, if you're considering Thinkific as the home for your online courses, you'll need to pick the right Thinkific pricing plan for your business. 
Unfortunately, the answer isn't super straightforward, as everyone will have their own unique needs.  We'll give you an overview of what Thinkific has to offer, a breakdown of its pricing plans, and share who will benefit the most from each plan. The goal is to help you pick the perfect plan for your needs. Let's get started.
What Thinkific has to Offer
As a leading online course platform, Thinkific offers an easy-to-use, drag-and-drop course builder that makes creating a breeze. Its user-friendly interface makes course management easy too. You can also build a website and landing pages using included website themes.
Thinkific's courses let you incorporate video, audio, downloadables, and assessments into your learning experience. And you'll be able to monitor student progress and engagement as they complete the course.
If Thinkific doesn't natively offer a feature you need, you can integrate some tools like MailChimp, Zoom, and HubSpot. Regarding payments, creators can offer coupons, discounts, memberships, and payment plans on all but the free plan, which takes us to Thinkific's pricing plans.
Thinkific Pricing Plans Overview
Current Thinkific pricing options include 4 plans:
Free plan – $0
Basic plan – $49 per month
Start plan – $99 per month
Grow – $199 per month
Thinkific does give you the ability to pay on a monthly or annual basis. Choosing to pay annually will save you 25% on each plan. That brings the plans down to $36, $74, and $149 monthly if you break down the yearly payment into monthly ones.
All Thinkific pricing plans include 24/7 support, unlimited students, and 0% transaction fees. All paid plans also allow unlimited courses.
‌Thinkific Free Plan
With the free plan, it costs nothing to create an online course with Thinkific. The free plan has no time limit or transaction fees, making it truly free forever.
This plan lets creators build one course, one community, and two spaces per community. You'll also be able to use Thinkific's drag-and-drop course builder, website themes, quizzes and surveys in your content.
It's quite a robust offer which is what makes this platform very popular for those starting out with no revenue at all coming and who don't need many bells and whistles.
Who is the Free Plan for?
Thinkific's free plan is generous, giving creators a lot to work with at no cost to the creator. Considering how much you can accomplish with this plan, it's absolutely worth it for first-time course creators or those just looking to experiment with the Thinkific platform before handing over the big bucks.
It's fairly intuitive interface helps get you up and running quickly.  Anyone who is somewhat tech savvy can have their course up in running after an afternoon of work, assuming the course materials are all complete and can just be copied and pasted over.
Video lessons are just as easy to configure.  While you can upload direct to Thinkific, there of many drawbacks to this method.  It's recommended to use a proper video hosting company and add your videos via Thinkific's embed code options.
With a platform like Spotlightr, you can brand your videos, generate leads, and add all sorts of interactive and effective learning features to your video player.
Free Plan Demo – Video Lessons with Text Content
Before we move on to the Thinkific paid plans, we just wanted to interrupt this for a moment to demo a free Thinkific course so you can see a basic set-up of a video course with some added video features.
We created a quick demo of Thinkific using the free plan:  https://spotlightr.thinkific.com/
Feel free to sign up for the course to see how lessons look.  It's a free course.  You can use your real email or something made up, it doesn't matter.  It's just a demo and we aren't using this to collect leads.  Let's show you how Thinkific works with video, specifically Spotlightr video.
Let's quickly review some features you can add with the Spotlightr video player that you can't do if you upload your videos to Thinkific.
(There's a ton more than this, but we'll just mention a few here…)
Branding – First and foremost you'll notice the player is using Spotlightr green.  This is one of our main colors in our palette.  There are tons of branding options to choose from as we believe branding your videos is an important part of your business and student experience.
First you'll notice that in the play button itself.  With Spotlightr you can customize the colors of the play button, the background of the button, the border, the shape and size.  You can even upload your own custom play button to use.
Here's a screenshot of the video from our demo site: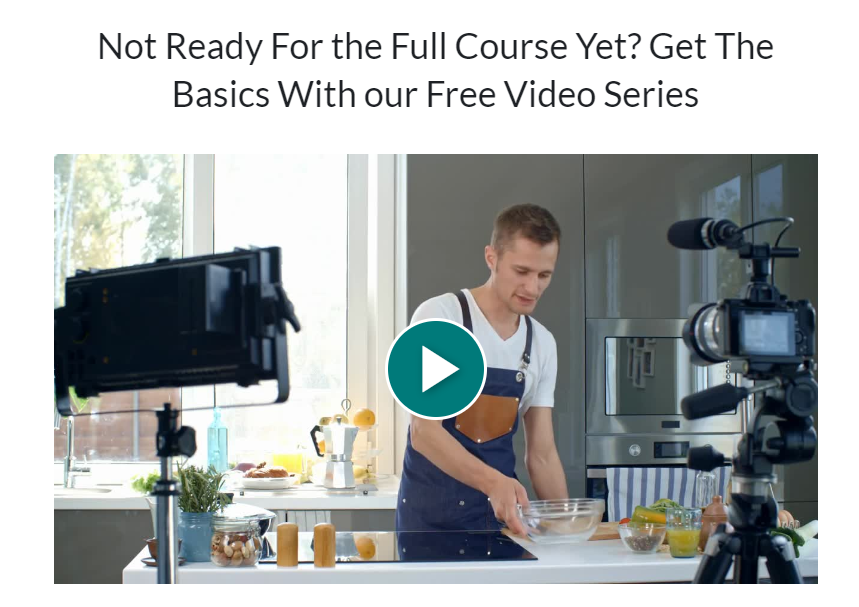 Lead Generation – You'll notice we use a video at the bottom of the Thinkific demo homepage to collect leads.  An opt-in form appears on the video at the 2 second mark.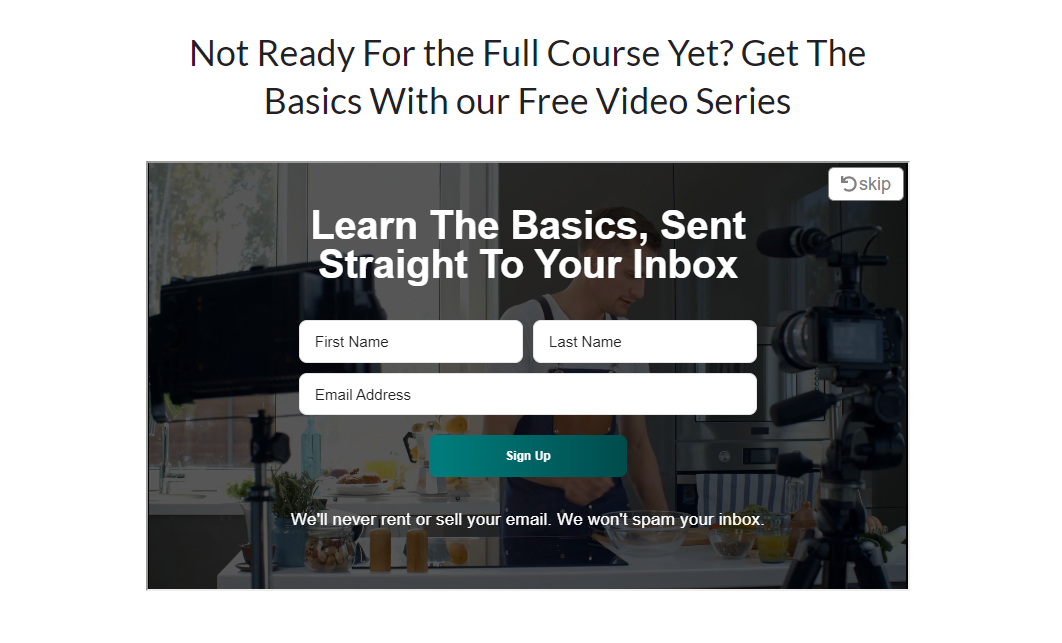 Chapter Markers
– If you want to split your video into pieces so students can scan the content and find what they want, add chapter markers for easy and quick navigation.
As you can see in the image below, when your cursor hovers over the timeline it will display the title of that chapter (cursor doesn't appear in image).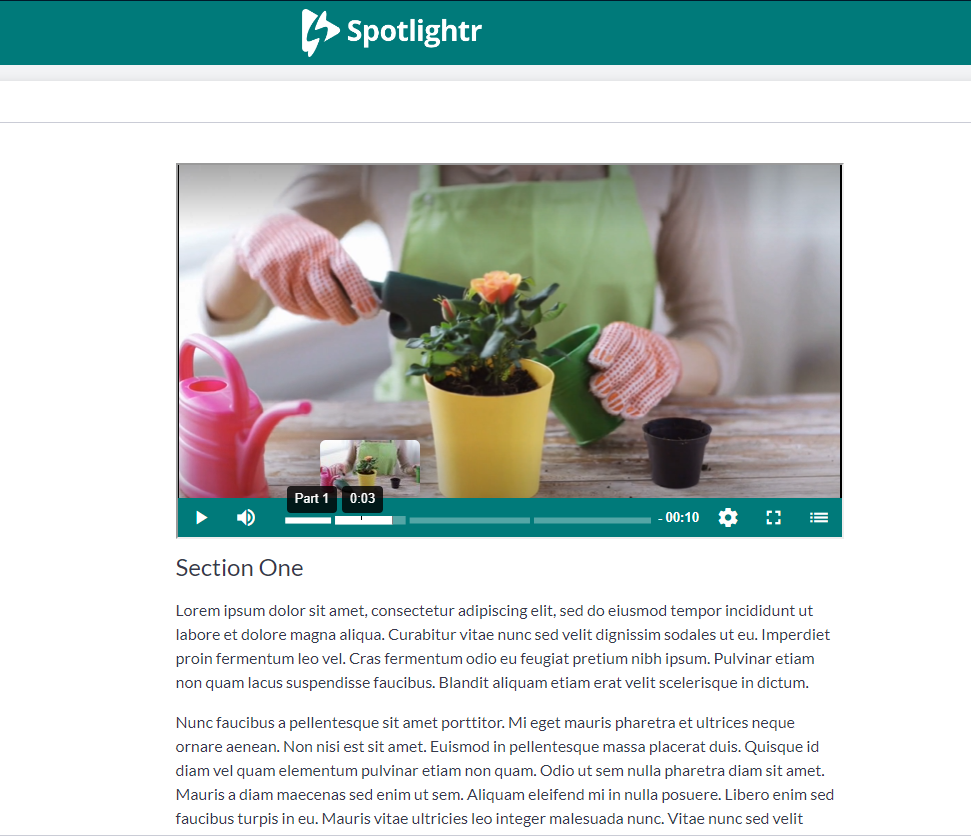 Students can also click on the chapter icon in the player controls. This will bring up each chapter title which can then be expanded to show a description. Students can click on these as well to jump to that chapter. Here is how that looks: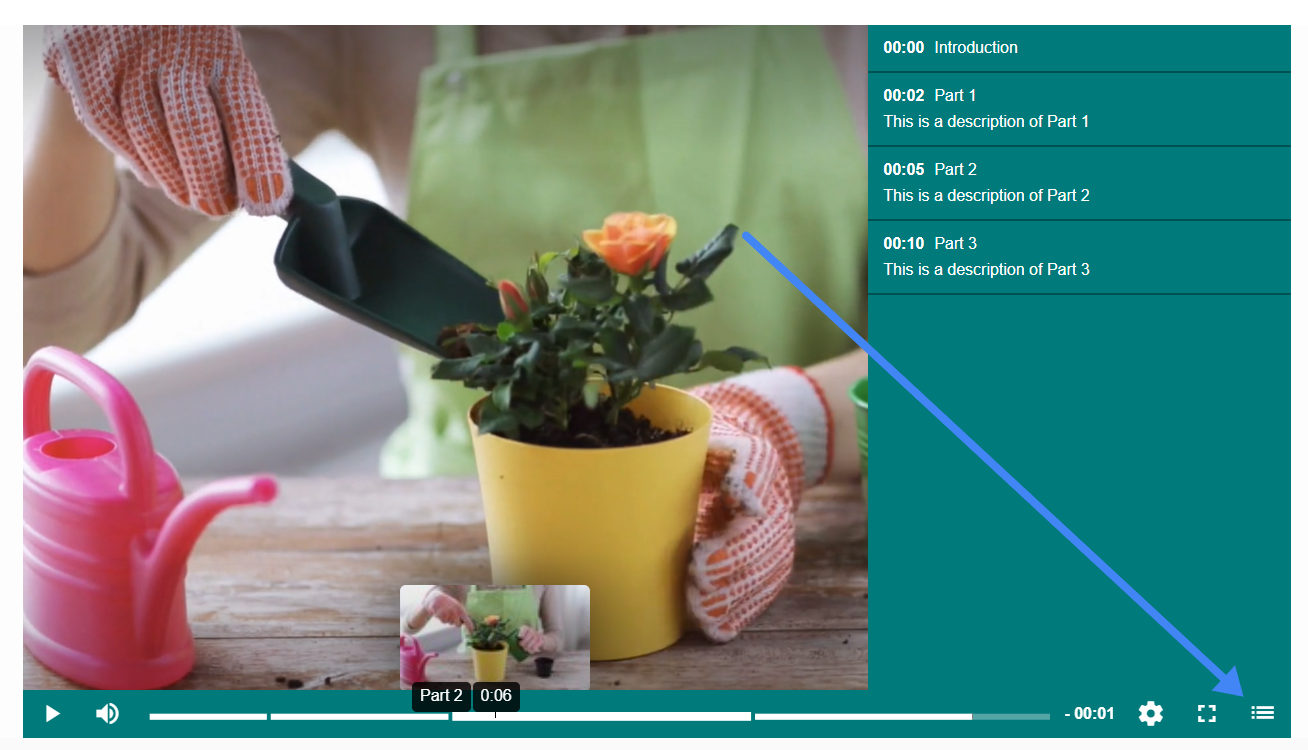 Disable Seek
– This is a great feature if you don't want your students to skip forward and need them to watch till the end. When students try to fast-forward, they can't. But they can go back and re-watch something.
The screen-capture did not capture the cursor, but here the cursor tried to click to skip forward to second :10 and received a message in the corner: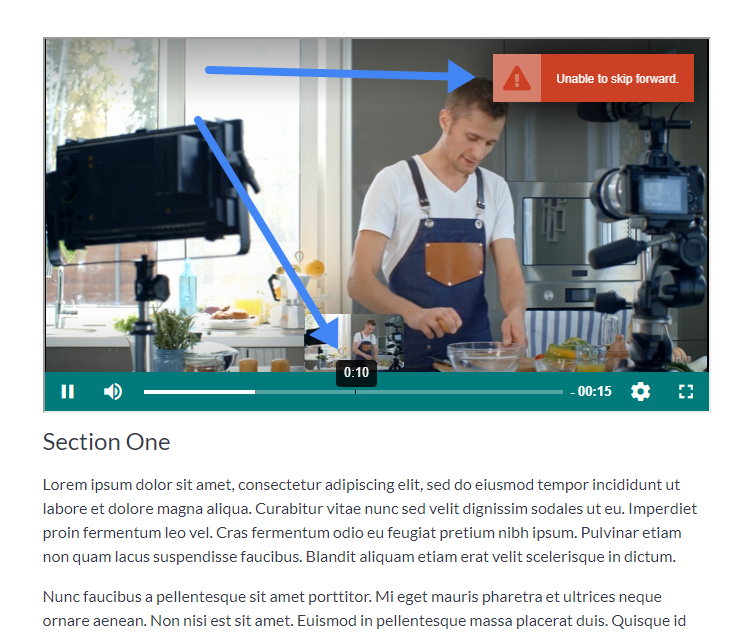 Here is the
lesson in the demo course
if you want to check it out. As mentioned above, you have to register for the course. Feel free to use a dummy email, we aren't trying to collect leads.
Playback Speed – Some students like to play videos at a slight faster speed, like 1.5x faster. The audio still makes sense and gets the lesson moved along more quickly. Add this to your controls for a better student experience.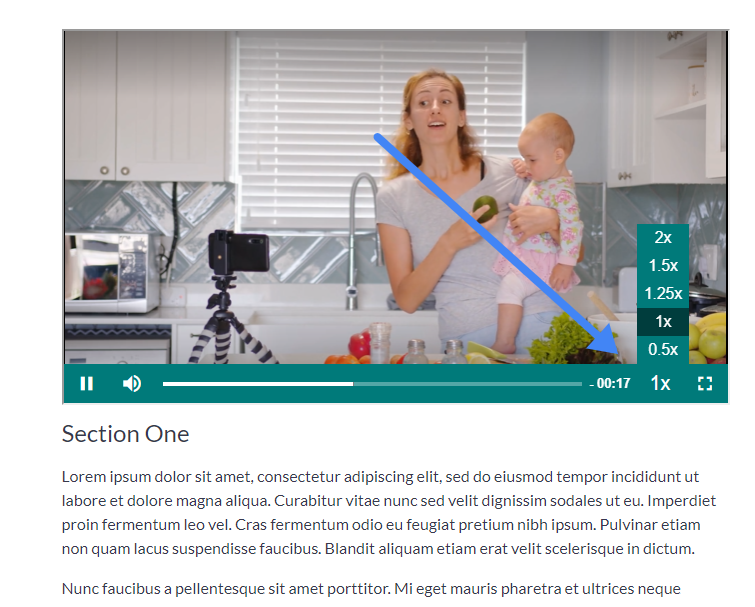 And if you've already registered for the demo course, you can check out this feature
in this lesson.
That's it for our small tour of Spotlightr features. Back to our Thinkific plans, let's get into what the paid plans offer!
Thinkific Basic Plan
The Basic plan is the first paid plan in Thinkific's lineup. This plan lets creators build unlimited courses, 5 spaces per community, create a custom domain, implement affiliate marketing, and offer coupons and discounts.
Who is the Basic Plan for?
For only $49 a month, the Basic plan gives new creators quite a bit more than they'll find on the free plan. This plan is perfect for creators who've sampled the Thinkific platform with the Free plan and are ready to offer their audience more courses. If you have an established or growing community, the coupons, discounts, and affiliate opportunities will help you drive sales and build your course business even more.
It's worth noting that you only get 30 days of support with the Free plan. So if you need support beyond 30 days this will be a good reason to upgrade.
The Basic plan is missing features like bundling, live lessons, memberships, and payment plans, which may be essential for creators depending on your niche. If you need these features, then you'll want to consider the Start plan.
Thinkific Start Plan
Thinkific's Start plan includes all of the features from the Basic and Free plans. However, at $99 per month, educators can create 10 spaces per community and create assignments, bundles, add-on packages, memberships and payment plans, and live lessons.
Who is the Start Plan for?
The Start plan is perfect for creators with highly interactive and engaging courses. For example, online coaches can use live lessons to interact with students in one-on-one or group sessions. Or, if you're an artist teaching a skill like photography, painting, or graphic design, you can have students upload files for review using the assignment feature.
This plan also gives creators access to more advanced course-building and web-building options. The Start plan has a lot to offer at twice the cost of the Basic plan, but only for those who need the added features. If that isn't you, a cheaper plan can likely still meet all your needs at half the cost.
Thinkific Grow Plan
Thinkific's Grow plan is a sizable $199 per month, but according to their site, it's also the most popular plan. This plan allows educators to create three communities and increases the limited spaces per community from 10 to 20.
In addition to these features, you can remove Thinkific branding, effectively giving you and your students a white-label experience. You'll also be able to assign two administrators and access to phone and priority email support.
Who is the Grow Plan for?
Thinkific's Grow plan is for the established and thriving online course creator. Many course creators could create three communities and use the improved support. Still, those with new businesses or small communities are unlikely to need bulk emailing, bulk enrollment, and API access features.
Depending on your payment plan, this expensive plan costs $199/month or $1,788 per year. Paying month will end up costing $2,388 for the year, so paying for the full year up front has significant savings.
Access to their API is typically the reason for the upgrade here, though removing any Thinkific branding is also a nice perk. You'll also get access to phone support.
Thinkific Plus Plan
Finally, there is one more plan we haven't mentioned yet: Thinkific Plus. This plan takes all the features we've discussed and repackages them for enterprise-level clients.
The Plus plan gives creators unlimited products, unlimited administrators, 3+ separate websites, a dedicated customer support team, email white-labeling, enterprise API access, and more. Thinkific Plus pricing isn't publicly available, as it can vary from business to business based on what you need.
Who is the Plus Plan for?
Companies who have used Thinkific Plus in the past include Samsung, Intel, Shopify, and Hootsuite, and they might use it for things like customer education or employee onboarding. Thinkific rivals learning management systems like TalentLMS and Absorb LMS in these scenarios.
This plan isn't for your everyday course creator. It's designed specifically for large businesses that expect to handle thousands, if not tens of thousands, of students at any given time. It's unlikely that many course creators will need the Plus plan, but if you do, you'll need to reach out for pricing information.
Thinkific: People Also Asked
Does Thinkific Have Transaction Fees?
In our recent post about the Teachable online course platform, we discussed the platform's transaction and processing fees. Thinkific's fees are nowhere near as complex, but they do have them. These are fees charged by the credit card processor though, not extra fees added on top by Thinkific.
Creators based in the U.S. or Canada will see processing fees of 2.9% + $0.30 per successful credit card payment. Let's say you sell one course at $50 per course. One transaction will see a total fee of $1.75.
This fee applies to all credit card transactions using Thinkific payments, including one-time charges, payment plans, and subscription payments.
ID you integrate Paypal and take payments via their service, this will subject your transactions to PayPal's processing fees which are available on the PayPal fee page.
Thinkific Pricing vs Teachable Pricing
Thinkific and Teachable are popular online course creation platforms offering free plans. However, there are significant differences between them. Teachable's free plan charges a transaction fee of $1+10%, which can quickly impact your profit margin. On the other hand, Thinkific's free plan has no transaction fees.
In addition to their free plans, both platforms offer paid pricing tiers with different features and capabilities. However, Thinkific's pricing plans are consistently more affordable than Teachable's. For example, Thinkific's Basic plan costs only $588 annually, while Teachable's Basic plan costs $120 more at $708 annually. Overall, Thinkific wins as the more affordable choice across every pricing tier.
Want a more in-depth comparison? Make sure to check out our full Thinkific vs Teachable comparison post.
Can I use YouTube videos in Thinkific?
Yes, you can embed YouTube video content in your Thinkific courses and websites though we've documented why this may not be a good idea.
Thinkific offers unlimited video hosting, however, you are limited to 2GB file size per video, have minimal customizations and branding options, no video marketing options, and no security.
An even better options however would be to use a video hosting company like Spotlightr which has a variety of affordable plans for course creators. We demo'd just a few of our features above. There's tons more.
Kajabi vs. Thinkific: Which is Better?
Thinkific and Kajabi are two popular choices for creating and selling online courses.
Thinkific is known for being easy to use and beginner friendly. It simplifies course creation and includes:
Customizable templates.
A drag-and-drop course builder.
Progress tracking.
Unlimited courses and students on all plans.
And unlike Kajabi, Thinkific offers a free plan.
Kajabi also offers an easy-to-use interface but can provide more features for blogging, email marketing, and funnel building. As a course-building platform with advanced marketing features, it's an excellent choice for creators with more complex needs or those who want a more comprehensive platform.
We think Thinkific is perfect for new or small online course businesses. They offer more than enough tools for those starting or scaling, and the free plan is an incredible value.
But for those looking to scale an existing and established course business, Kajabi will help you incorporate more marketing tasks within one platform, making your job a little easier. If you'd like our full breakdown, make sure to check out our Kajabi vs. Thinkific comparison.
So Which Thinkific Pricing Plan is Right for You?
Overall, Thinkific has a plan for everyone. Their free plan is excellent for new course creators or those looking to test out the platform. The Basic and Start plans are a great choice for creators looking to create anywhere from 1 to unlimited courses and offer a custom experience with more web and course-building options.
And for those of you with established course businesses, the Grow plan or the Thinkific Plus plan can give you all the tools you'll need to continue growing and scaling your business.
Thinkific Built-In Video Hosting VS Spotlightr
Video hosting is included in Thinkific's offering. But does Thinkific use a high quality CDN for the fasting loading and streaming possible? Can you completely customize the look and feel of the player to match your brand? What about marketing options to grow your enrollments?
Try Spotlightr for 14 days and discover why it's the #1 video hosting choice for SMEs and course creators for their video courses. Works great with Thinkific. No credit required!