UPDATED for 2023 with Vimeo's changes in their plans
The right Vimeo alternative should fit your needs
Vimeo has been around for quite a while so it certainly has brand recognition.  And brand recognition is probably one of the biggest reasons people choose them as their video hosting provider.
However, new players are always coming into the field.  And althought Spotlightr isn't necessarily "new new" (we've been around since 2013), people are starting to realize that Spotlightr is the better choice when it comes to video hosting.
You might choose Spotlightr because you want more control over your branding, analytics, and marketing. Or, it may be that you need more advanced security features to protect your videos from being pirated or downloaded without your permission — especially if you sell eLearning courses or other premium content. Others may be using Vimeo right now and simply looking to explore other options.
Or perhaps Vimeo is springing a new plan on you that suddenly triples your cost?  
As an affordable Vimeo alternative, Spotlightr offers a video hosting and marketing platform with fast streaming, a customizable player, advanced video security, and marketing features that make the most of every video you publish.
In this article, we're going to take a thorough look at both Vimeo and Spotlightr and help you discern which video platform is right for your needs.
Video Security
When you're publishing content online, especially for your business, video security is of the utmost importance. Both platforms come with features to protect your videos, but Spotlightr takes it a step further.
Vimeo:
With Vimeo, you can create private sharing links and lock your videos with a password. You can also specify which sites are allowed to embed your videos with domain-level privacy.  Anything you host with Vimeo can easily be downloaded however via browser extensions and plugins that are made to pirate videos and download them without owner permissions.
Spotlightr:
Spotlightr also offers private links, password protection, and domain-level privacy. However, it takes security a step further with HLS encryption. Encryption prevents people from being able to rip off, share, or download your video content without your permission. Once encryption is turned on, it's virtually impossible for people to steal or share your content without your permission.
If you create eLearning video courses or other premium content, Spotlightr might be the best choice for you. It's a great Vimeo alternative if security and anti-piracy is a top concern.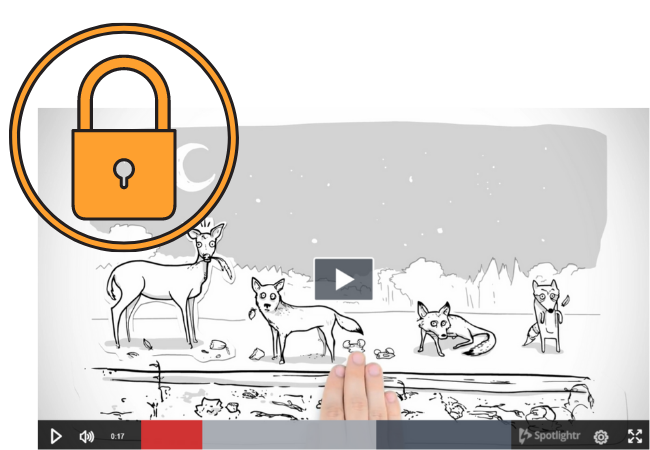 Branding & customization
Branding is important for your business, so naturally you want to be able to control the look and feel of your videos. And, you don't want visitors to be distracted by ads or third-party logos. Both Vimeo and Spotlightr are ad-free.
While Vimeo gives a few options for branding, Spotlightr is well beyond in terms of player customizations and keeping your videos completely on-brand.
Vimeo:
Depending on which plan you choose, Vimeo offers very basic to customize your video player. You can change the player's colors and add your own logo (and remove Vimeo's), but you do need the Standard account for that which is $240/year.  These features are standard on all Spotlightr accounts.
From there, you can select a custom thumbnail, enable playback speed controls, and add an end screen that directs people to your website, store, or social media channels.  Again these features require the Standard plan and an annual commitment.
Spotlightr:
Like Vimeo, Spotlightr allows you to easily change your video player to match your brand with custom player colors and skins, logos, thumbnails and end screens, and full control over playback options — but that's just the beginning. Spotlightr offers practically endless possibilities to customize the viewer experience, including:
– add annotations, overlays, links, images, clickable buttons, and coupon boxes on top of your videos
– set custom start and end times
– show or hide controls, disable the pause button, limit plays, and dozens of other control manipulation options
– make your video "float" down the page alongside other content as the viewer scrolls.
…and more.
When it comes to customization, Spotlightr has one very unique feature: custom domains. A custom domain, sometimes called a vanity URL or branded link, lets you display the name of your brand in your video link.
So when Acme LLC uploads a video to Spotlightr, instead of being branded with Spotlightr's domain (acme.spotlightr.com), the video link displays the company's domain instead (acme.com or videos.acme.com for example).
Having your own domain in your video's URL is another way to increase brand recognition and make your business more memorable.
These are just a few of the ways Spotlightr gives you total control over your videos, making Spotlightr a great Vimeo alternative.
Video Marketing
There are tons of ways to effectively use your videos to market your course when using the right tool.  While Spotlightr is the video hosting choice for eLearning and course creators, we cut our teeth on marketing features.
Vimeo:
Like Spotlightr, Vimeo allows you to create custom CTAs, collect email addresses, and integrate with marketing software — but these features are only available with the Advanced plan ($780/year) and CTA options are quite limited.  These features are standard on all Spotlightr plans.
Spotlightr:
Getting started with video marketing can feel intimidating, but Spotlightr's video hosting and marketing platform is designed to make the process as straightforward as possible. You don't need to be a programmer or fight with WordPress plugins in order to be a video marketing master.
Want to add a CTA button or opt-in form to your videos? No coding necessary — just point and click. You can easily collect email addresses and other contact information right in the player.
Beyond lead generation, Spotlightr lets you integrate with your marketing software to take advantage of automation across your entire marketing stack. If a contact completes a certain action in Spotlightr — such as watching a specific video — you can automatically tag them in your CRM for follow-up.
Personalization is another hot trend in video marketing. Personalizing your content can increase engagement with your videos and conversions. With Spotlightr, you can personalize content inside your videos with customer data from your CRM. You can even create interactive video funnels to serve your viewers the exact content they want, when they want it — almost like a "choose your own adventure" story.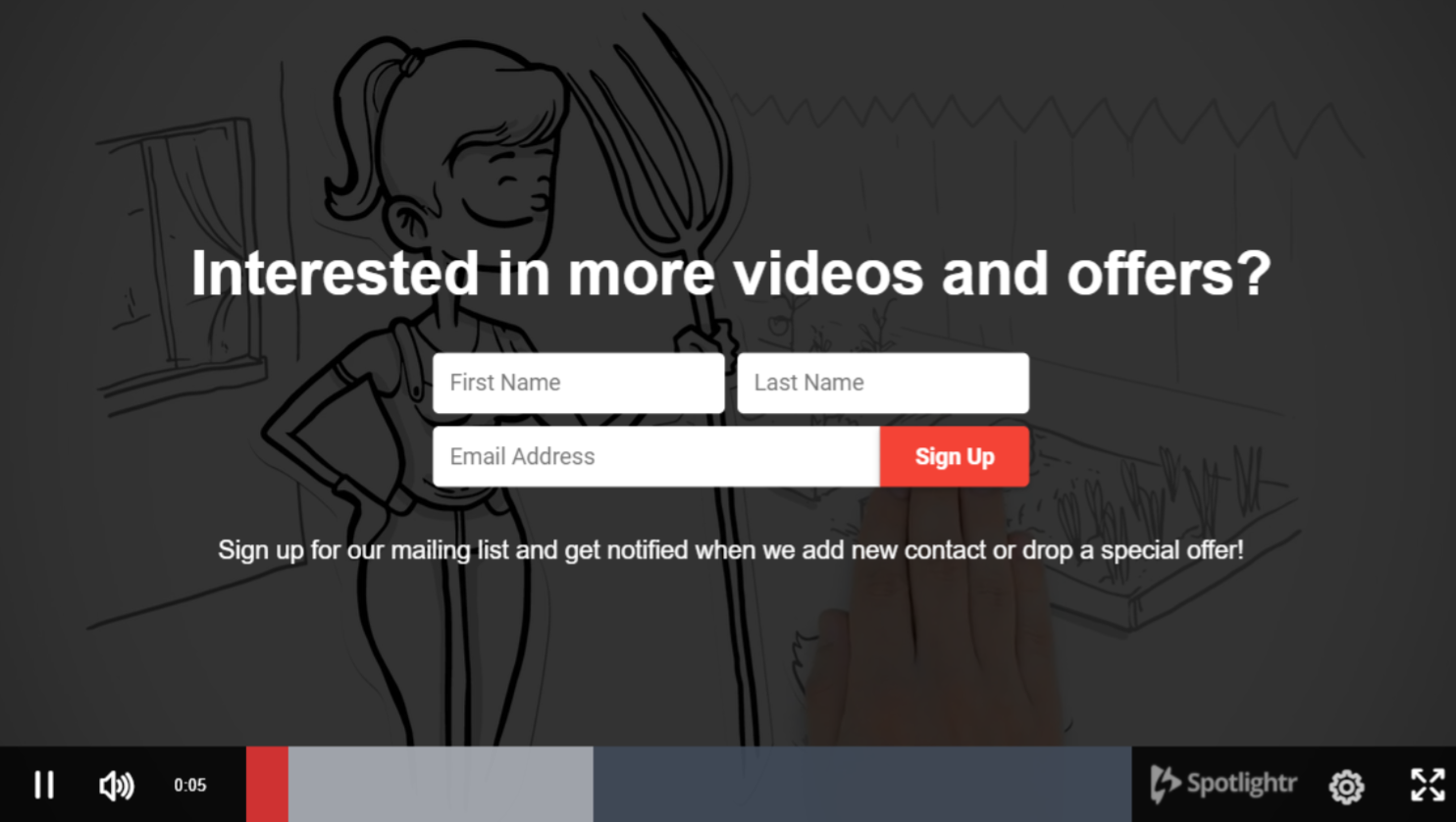 Video Analytics
All the marketing features in the world won't do you much good if you're not able to measure the results and, more importantly, identify what's working and what's not.
Vimeo:
Vimeo offers a basic dashboard of analytic tools for its users. All members have access to Vimeo's analytics dashboard, which provides information about impressions, plays, finishes, most popular videos, and more. You can also upgrade your plan to get more advanced statistics about where your viewers are coming from, how they're finding your videos, and what devices they're watching on.
Spotlightr:
If you want more detailed viewer-level analytics that's where Spotlightr shines.  Not only can you access individual views, and heatmaps of those views to see what parts of the video were watched and rewatched, but Spotlightr tracks each person's or devices views across all videos on the platform.
This ability to track how individual contacts interact with all of your videos makes Spotlightr unique. Once someone logs into a website, or submits a form with identitu information like name or meail, Spotlightr will log every video that person views going forward and associate it all to their name and/or email.
So for example, you can track which sales leads have viewed a particular video and use that information to inform your outreach efforts. Or, you can share training videos with your employees and see how much of each video they've watched.
Customer service
Opinions on Vimeo's user interface are mixed.  Because their features and options are spread out across multiple pages, it can be confusing to find what you need.  Spotlightr keeps all options visible right in front of you when you are configuring a video.
In either case if you do hit a snag you want to be able to get help quickly. And sometimes, you might need a little extra help setting something up or customizing it to your needs.
Vimeo:
Vimeo offers email support for all its customers. For Advanced members, Vimeo provides chat support for live events only. 
Spotlightr:
At Spotlightr, we want to make sure you're successful — so you'll have access to email and live chat support whether you're on a trial or paid plan.  You can also consult our detailed knowledge base for videos and documentation.
Another thing that makes Spotlightr great is our customer-driven roadmap. We make it easy for customers to submit ideas for which features they want to see next. And, you can check out our product board to see which features we've recently launched, which are planned, and which are under consideration.
Storage
Vimeo:
This used to be an area that Vimeo came out on top.  That's no longer the case with the new plans they now have.
Their "Starter" plan ($20/month or $144/year) now allows only 60 videos uploaded per year.  So if you need to add more than 60 videos and can't wait the year (who can?) then you need the "Standard" plan ($240/year, no monthly option).  This allows for only 120 videos per year.
Does your course have more than that?  Then you'll need the "Advanced" plan ($780/year, no monthly option).  That plan gets you 240 videos per year.
More than that requires contact with their sales team and an "Enterprise" plan.
Spotlightr:
Spotlightr has a range of plans to suit the needs of people in each stage of their growth.  Starting at our affordable Spark plan that includes 50 GB and goes from there.
While Vimeo is able to offer more storage, 99% of users have no where near that much video content.  So while those Vimeo limits look high, they are unnecessary in most use-cases.  Our plans have more than enough storage for the vast majority of people including educators, coaches, small businesses, and marketers — but if you need more, you can simply add on as you go.  Additional storage is $ 0.05/GB.
Another option is to use hybrid hosting which is something that Spotlightr alone offers. Hybrid hosting allows you to host your videos on another site such as YouTube, Dropbox, or Amazon S3 and use Spotlightr's player and features. This is a great solution if your videos are already hosted on another site (including Vimeo). Or, if you want to take advantage of cheap storage and still apply all of Spotlightr's features.
Pricing
Vimeo offers a free plan that includes limited storage and access to basic features. If you're looking to take things a step further beyond basic then you can upgrade to a paid plan.
Spotlightr offers a free 2 week trial to any plan, no credit card required.  You can try all of the features risk-free for 2 weeks.  Well, actually for 6 weeks.  We also offer a 30 day money back guarantee so after your 2 week trial you can subscribe and take another 4 weeks to make sure Spotlightr is right for you.
Vimeo:
Vimeo has four paid plans to choose from: Starter, Standard, Advanced and Enterprise.
If you want to test things out and/or prefer to pay monthly then your only option with Vimeo is going to be the Starter plan at $20/month.  To pay yearly the Starter plan is $144/year.
The rest of the plans require a yearly commitment.  Standard is $240/year and Advanced is $780/year.  The Enterprise plan doesn't advertise pricing and you must contact sales.
Vimeo's paid plans offer some features to choose from, but deciding which plan is right for you can be confusing. And, if you want access to features from a higher tier, you'll need to upgrade your subscription and commit to a year.
Spotlightr:
Spotlightr offers three plans to choose from:  Spark, Aurora, and Polaris.
If you prefer to pay monthly we offer monthly payments on all plans.  Spark is currently $9/month or $89/year.  Aurora $19/month or $189/year.  Polaris $49/month or $489 year.  Each come with different amounts of storage, bandwidth, and features.  Full comparison can easily be done on our pricing page.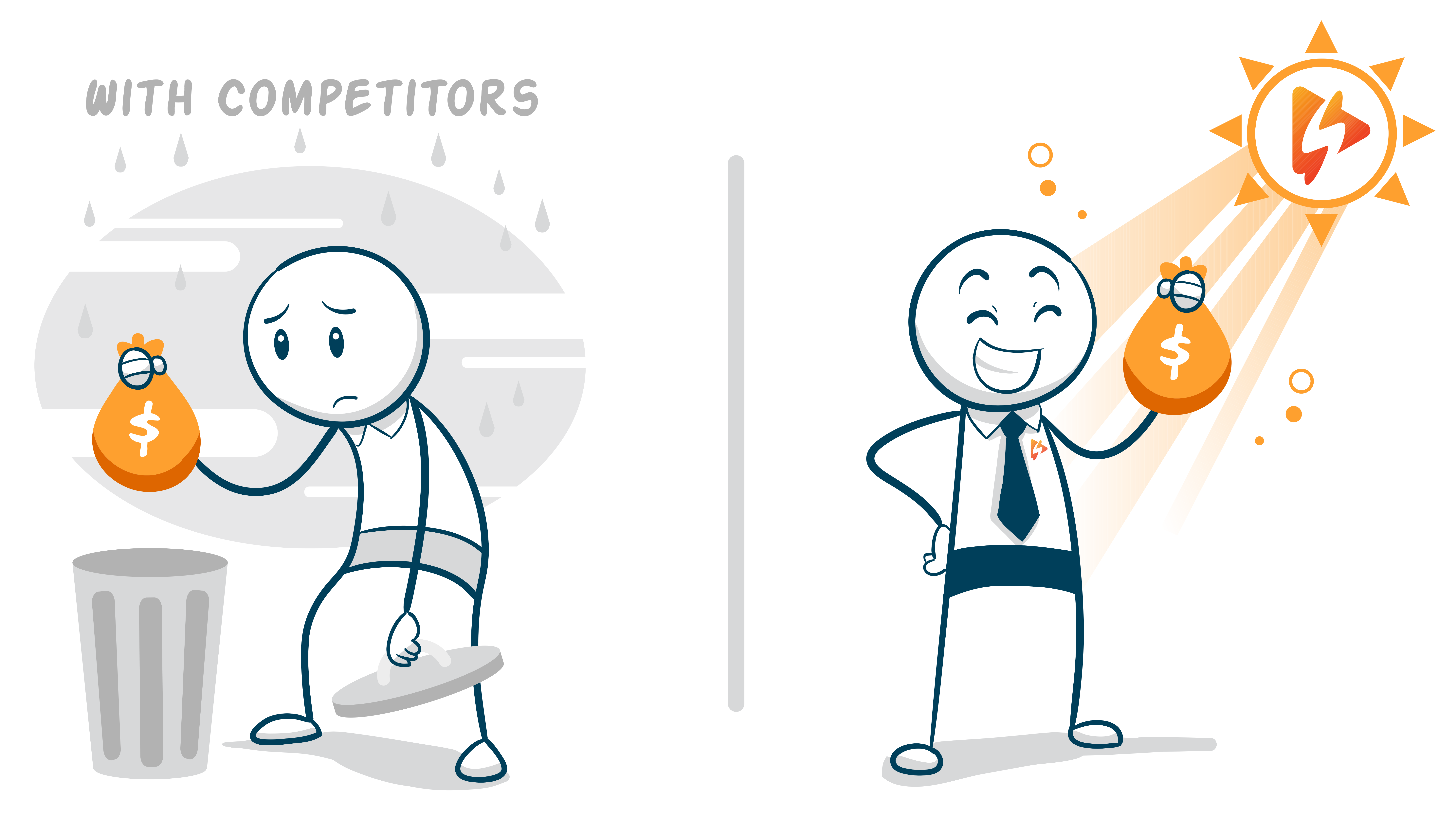 Here's what this all means in a nutshell
Vimeo is a well-known video platform that helps you host, manage, and share your videos. Vimeo offers a lot of storage, making it an ideal choice for filmmakers and creators with terabytes of video content. And, Vimeo offers some video creation tools, if that's something you're interested in.
However, nobody's perfect and Vimeo is no exception. Vimeo does OK with privacy and security overall, but lacks the ability to encrypt videos to prevent unauthorized downloading or sharing. The platform provides some analytics, but is missing details and some of the tools marketers and educators might need to track their leads and students.
And if you want access to advanced analytics and marketing features like calls-to-action, lead generation, and marketing software integrations, expect to pay at least $780 a year for it.
Spotlightr provides a video hosting and marketing platform with a customizable player, advanced security, and powerful marketing features. It's ideal for educators, coaches, small businesses, salespeople and marketers who want more control over privacy and customization.
And, should you need additional help, you'll have more options for support without paying extra for it — something that both online and brick-and-mortar businesses will appreciate. Sign up today and get started with Spotlightr for free!
Migrate Your Vimeo Videos To Spotlightr In A Few Clicks
If you are looking to move to Spotlightr, our migration tool makes it quick and painless for you.  Move some videos, or your entire library. 
And if you have any questions please notify our live chat inside your dashboard.
Start today and use our Free Trial to move your videos over and see the difference with Spotlightr!
Free 14 Day Trial - No Credit Card Required
Spotlightr is made for eLearning and course creators.  We have all the features to customize your player, keep them on-brand, and market your free video content to grow your enrollments.  And we do that all with your budget in mind.